Copy AI vs Jasper AI: Which One Writes Better? [Comparison]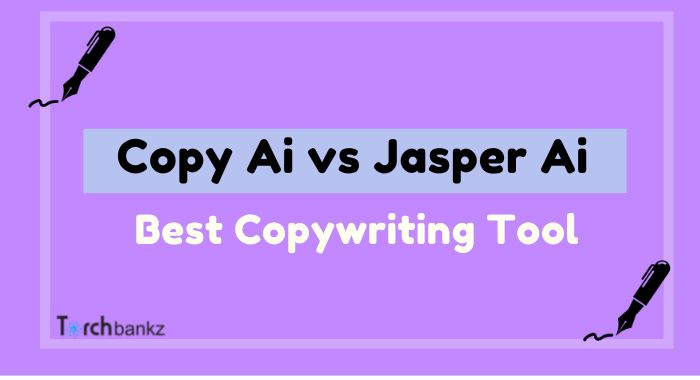 In today's Copy.ai vs Jasper ai comparison, we're going to be looking at copy.ai through a holistic view and at the same time compare it with one of the most popular AI copywriting tools, Jasper AI.
Hence copy.ai vs Jasper.ai!
These tools happen to be among the best ai copywriting software that generates unique copy any copywriter can use.
Copy.ai itself make the whole copywriting journey easy as it can easily be used to generate any content around the different niche.
We'll be looking at its features, usability, pricing plan and every other thing you can expect from the tool.
In the end, you should be able to deduce if Copy.ai is the right tool for your kind of works or better still look into other Copy.ai alternatives.
In a bit to really evaluate Copy.ai, we also bring alongside a unique copywriting tool and we'll be comparing them alongside.
We'll be comparing their features, user's experience, pricing and every other thing worth looking into.
With this, you'll have a better understanding of how they work and what's better for your business.
Let's go through this, shall we?
Copy.ai Overview
All aspects of marketing are challenging.
But when it comes to creating persuasive advertisements, many marketers have admitted to struggling with this.
There's no denying that creativity is needed to write persuasive messages that the audience can relate to and easily accept.
Most people use some parameters to help them produce creative marketing content.
While that is okay, we cannot deny that sometimes this isn't completely reliable.
It is why Chris Lu and Paul Yacoubian realized the power of artificial intelligence (AI). Rather than replacing human creativity, AI has been designed to help augment it.
As such, these two created Copy.ai, which uses OpenAI's GPT-3 Artificial Intelligence to help create unique content.
Copy.ai is designed for small business owners who can't afford to hire a copywriter or an in-house editor to write content for them.
Generally, writing ideas down can be hard and takes a lot of time. But Copy.ai simplifies this process for users.
Now content creation has always been a challenge for many businesses.
But thankfully, Copy.ai has helped even pro marketers to see a different marketing angle.
This service helps people create their content via AI.
As such, their work is only to edit the generated content. This has made it easier and quicker to write persuasive marketing copies that appeal to the user.
What Is Copy.ai?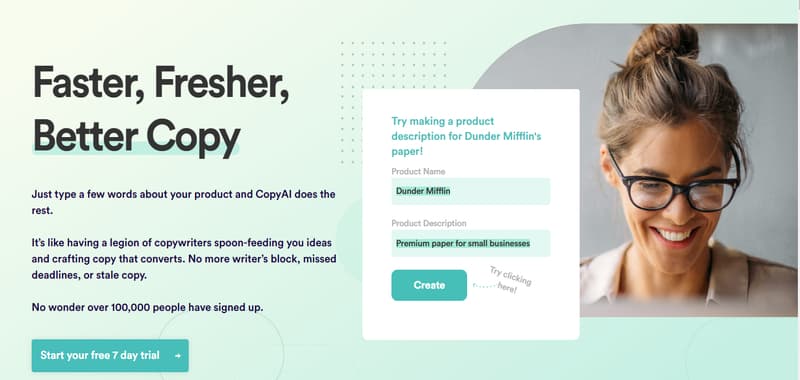 Copy.ai is a copywriting service that is built on a powerful AI model language, GPT-3. It mainly focuses on 6 copy types which are;
Blog Content,
Product Descriptions,
Social Media Post,
Ecommerce,
Website Copy,
Sales Copy,
And Digital Copy.
But, many other options are available once you sign it. Using this tool, you can generate unique content that will help increase conversions and ultimately your revenue.
Note that the platform performs all tasks of a freelance marketer. As such, not only will it reduce your expenses, it'll also save you the frustration of the back and forth communication with a freelancer.
Once you are logged into the platform, you only need to choose a type of copy you want to create from their huge list of templates.
Then give the name of your company and briefly describe your products or service. The service will generate several results where you can choose one that you like.
If there's none, you can always re-run the tool for more options.
Copy.ai Key Features
Copy.ai features are straightforward. You only need to write an excerpt of what you want your content to have, and the platform will generate a copy for you in seconds.
For instance, if you are struggling with writing a product description or caption for your social media post, copy.ai can do this for you quickly.
You will only give a short explanation of the content you need, like topics. Note that you don't have to write a lengthy description. 10-30 words are enough.
But, the more information you give, the better the copy will be. Therefore, you can provide more info for more relevant samples.
Like you can describe your audience, promotion, occasion, etc. Here is what this service can write for you;
Product descriptions
Ad copy and headlines
Emails, including thank you notes, confirmation emails, captivating subject lines, etc.
Sales copy
Blog intros, ideas, and Meta descriptions
Text for landing pages
Social media captions, posts, introductions, etc.
Let us elaborate on the sales copy that Copy.ai can create for you. Using this service, you can generate various sales copies, including Pain-Agitate-Solution, Before-After-Bridge, and Feature-Advantage-Benefit, among others.
Plus, the service can give you some ideas on your blog and social media content. Whether you want viral ideas, growth ideas, or startup ideas, this service can help you with that.
You can also play with the tone feature to include various tones like friendly, relaxed, bold, witty, persuasive, etc.
Generally, Copy.ai can reduce brainstorming and plan for content by a significant percentage.
What is Jasper.ai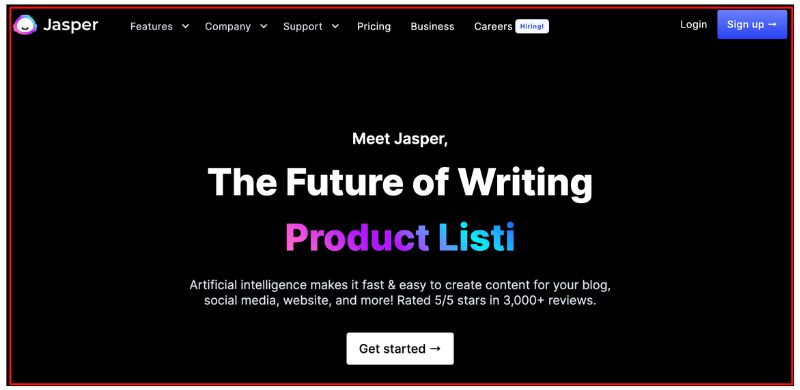 Like Copy.ai, this is a copywriting tool that still uses artificial intelligence to generate copies with a high conversation rate.
If you need help with content creation, this site can help you out. It features many pre-written pieces that you can easily access.
You, therefore, do not have to waste your time going through online articles to find something that your audience can relate to.
Jasper.ai creates unique content using machine learning. It can generate converting copies and persuasive marketing messages within seconds.
While it can generate ideas for a new copy, you can also use it to improve existing content and make it more interesting and engaging.
This service was created by the UseProof company. It's designed for those who want to increase leads, sales, and conversion rates on their website.
Once you are logged in, choose your skill from the available templates, then give a brief description of your business name, and allow the service to generate a copy for you.
Conversation.ai can help you create catchy email subject lines, Attention, Interest, and Desire framework, SEO blog posts, including the title and meta descriptions, product description, blog topic ideas, etc.
We've already gone through the features of Copy.ai. Let us now take a look at Jasper.ai features and how to decide which is best for your business.
Key Features of Jasper.ai
Jasper.ai features include;
AIDA Framework
it allows users to generate unique content within seconds. Apart from generating quick articles, it also has various templates that can help you create captivating messages.
This AIDA formula takes Attention, Interest, Desire, and Action to market a product or company.
These 4 steps capture readers' attention through the headline hence will make them interested in knowing the service or product you are selling.
Ads Copy
great copies will increase your conversion rates. But, they often take hours when done by a human.
Luckily this tool can help create creative headlines, subheadlines, and content for your advert. Simply enter the name and description of the product and watch as the system generates compelling ads.
Now, both Conversation.ai and Copy.ai are excellent copywriting software tools and have various features.
But if you're running an eCommerce store or want to generate leads, you'll be better off with Copy.ai as the features are designed for these site types.
However, if you have a website with many pages, Conversation.ai is best as setting up is easy and effortless compared to Copy.ai.
Other copies you can use Jasper.ai to write includes…
Email subject lines
SEO – Blog Posts
Problem-Agitate-Solution (PAS)
Product description
Content improver
Blog Post Topic Ideas
Video Topic Ideas
Blog Post Intro Paragraph
Sentence Expander
Video Description
Blog Post Outline
Video Script Hook and Introduction
Review Responder
Facebook Ad Headline
Video Titles
Facebook Ad Primary Text
Copy.ai vs Jasper.ai – Features Compared
Let's compare the features of both ai writing tool and see how they standout or which one has better advantage over the other ones.
AI Platform
GPT-3 by OpenAI stands for Generative Pre-Trained Transformer, which is a technology that generates images, text, and codes using deep learning.
It has more than 175 billion parameters for machine learning, which makes it the largest model in the industry.
GPT-3 is a successor of GPT-2, which provides offers to API access, which is better compared to downloading the whole model as was the case with GPT-2.
Now, both Copy.ai and Jasper.ai uses GPT-3. However, Conversation.ai deploys the GPT-3 machine learning power through Jarvis (just a name for Jasper.ai artificial intelligent software).
Here Are The Advantages of Using Writing Tools Backed with AI
Below are few of the benefit you'll enjoy while using GPT-3 AI writing software.
Makes Writing Interesting- content creation is a must if you run a website. However, some of us don't like writing or do not know how to/ what to write.
Fortunately, these tools can make your writing fun since you'll never get stuck while using them.
Eliminates Writer's Block- yes this is a real thing that is dreaded by many writers. Thankfully, these tools let you type some ideas, introduction, and concepts and give you many options to prevent you from being blocked.
Suggests New Topics and Ideas- searching for a topic is now easy as you only need to type a word or a phrase and get various relevant suggestions.
Betters Your Writing- it's not easy to find the right words and structure sentences. However, when you type the idea that you have into these tools, they'll present them in a better way.
Type of User's Interface
While Copy.ai only uses forms on its interface, Conversation.ai combines both forms and editor. As such, you can create more varying content.
We should also mention that Copy.ai features 80 commands, and Conversation.ai only has 28 of them. It's also worth noting that both platforms offer unlimited limits on their basic pricing plans.
Languages
Languages on Copy.ai include; German, Spanish, French, English both US and British, Italian, Japanese, Dutch, Chinese, Portuguese, Polish, and Russian.
While Jasper.ai supports Japanese, Russian, Chinese, Polish, Dutch, Portuguese, Italian, Spanish, German, French, and English languages.
Plagiarism Checker
Well, both platforms don't have any plagiarism checkers. However, they use artificial intelligence, which writes word by word and not sentences.
Therefore, the content generated will be 100% unique free of plagiarism. But if you like, you can still run the created content on third-party plagiarism checkers like Copyscape to be sure.
Pricing
Conversatin.ai does not have a free version. But they do offer a free trial featuring a word generation limit of 20000. Its pricing starts at $29/month, which gives one 20000 credits.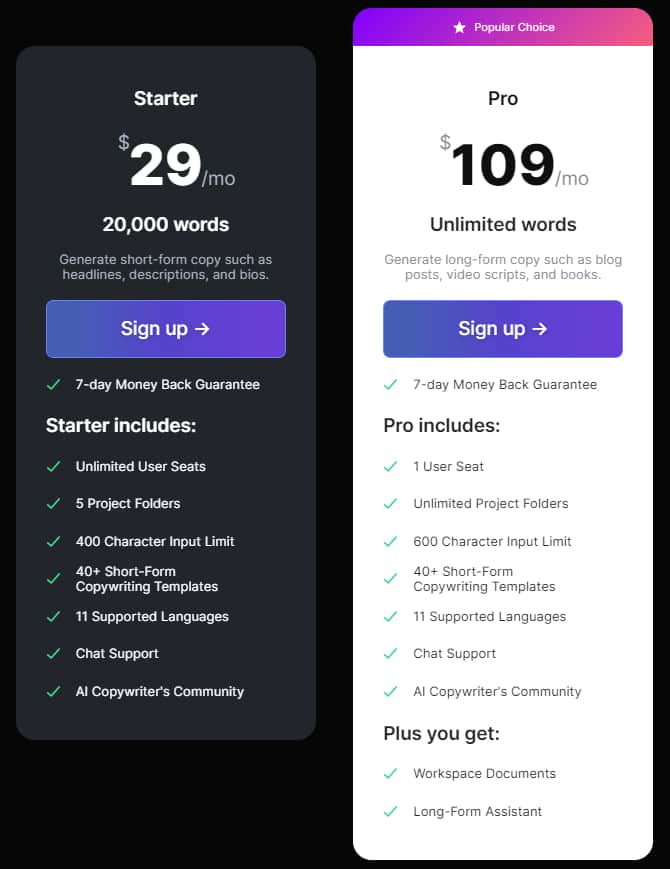 If you want more words, you can pay $10 extra to get 5000 words. Other payment plans are;
$49/month for 35000 words
$99/month for 75000 words
$149/month for 115000 words
$199/month for 150,000 words
There is also the unlimited plan that was updated recently, which costs $99/month where you get to generate an unlimited number of words along with workspace documents and long-form assistant.
Also, we should mention that all plans come with a 7-day money-back guarantee.
Should you not like the service, the company will give you your money back if you apply for a refund within seven days from your date of purchase.
Copy.ai pricing plans aren't complicated. The company offers one plan and a custom plan, which costs $49 per month when billed monthly and $420 when paid yearly.
With this plan, you are given unlimited runs, round-the-clock customer support, access to all tools, and the latest features. This is best for a small business.
However, if you want multiple seats, the company offers a custom plan that is billed yearly. This plan start from $196 for the monthly plan.
Also, note that there's a free trial if you want to test this site. It includes 100 runs per day and customer support. Plus, it doesn't require a credit card.
User Interface and Ease of Use
Both have an easy-to-use interface. Once you are logged in, you'll see all the relevant information on the homepage.
Plus, performing processes is only a matter of few clicks. But comparing the two, Jasper.ai has a better and beautiful interface.
Its homepage is well-laid out with templates that are clearly named. And, they are organized into specific marketing tags like SEO, video, eCommerce, email, blog, ads, etc.
As such, it's easy to find the specific template you're looking for. Unfortunately, with Copy.ai, the templates are not as many.
Plus, users complain that after generating text, Copy.ai exports them into a series of hardly readable boxes. Therefore, you'll need to scroll around them to see what's written.
User Community [Facebook Group]
jasper.ai has a private community on Facebook where you can interact and get help from other users of this service and their expert team.
Use the link they send you when signing up to join this group. Unfortunately, Copy.ai does have such a community.
Therefore, you'll have to contact their customer service for any issues you have. But, the company says that the premium community will be ready soon.
Quality of Support
Jasper.ai is offered by the UseProof company, which is known for its excellent customer service.
If you have any concerns, questions, or queries about Jasper.ai, login to your account, on the homepage's right side, you'll see a widget click it, and you'll be assisted with the problem you are facing.
Copy.ai, on the other hand, offers 24/7 email support. Therefore, if you have any trouble, email them at any time, and they will respond as soon as they can.
Go to the contact us page, fill in the fields required, and then wait for the team to contact you.
Learning & Training Portal
Jasper.ai has created a learning resource page to help new users learn how to use this service. There's the Jasper.ai academy that has many training videos to guide you on using the platform.
Copy.ai provides a basic tutorial on the homepage to get you started. There is a step-by-step guide to help new users learn about how to use this platform.
But if you aren't able to create a good copy on your own, you can email them for help.
Copy.ai vs Jasper.ai: Conclusion
As pointed out already, great copy plays a significant role in any online business and as such you need to invest in it heavily.
Writing great content is not enough to achieve your desire result, you need to put into consideration the cost, and time of producing the content.
While hiring copywriters might be an expensive choice, using AI might as well save you the cost and time of getting it done.
Copy.ai and Jasper.ai are both great tools when it comes to writing great copy for your business but choosing one of them totally depends on what you want.
I discovered Jasper.ai is actually affordable and saves more cost compared to Copy.ai and it also comes with more unique features.
Copy.ai is great for e-Commerce but if you're into more elaborate business then I'll suggest you go with Jasper.ai
There you have it, Copy.ai review with Jasper.ai comparison. Let me know what you think about the tools.
Which one is it going to be?

or