KoalaWriter Pricing: [Words Monthly Usage Breakdown]
KoalaWriter has become a popular choice for individuals and businesses in need of high-quality content generation powered by artificial intelligence.
Its straightforward pricing plans make it easy for users to select the best option according to their needs.
Starting at just $9 per month, KoalaWriter offers premium content generation at an affordable price, making it accessible to everyone from small blog owners to larger enterprises.
In addition to its basic plan, KoalaWriter provides higher volume options to accommodate users looking for more extensive content generation capacity.
These plans ensure that you can seamlessly generate unique and SEO-friendly content, whether it's for a single blog post or an extensive project.
As AI technology improves, so do the capabilities of platforms like KoalaWriter, featuring GPT-3.5 and the latest GPT-4 models to deliver top-notch content.
KoalaWriter offers simple, accessible pricing for high-quality AI content generation
Higher volume plans provide greater content capacity for larger projects
Utilizes advanced AI models like GPT-3.5 and GPT-4 for optimal content quality
KoalaWriter Pricing Plan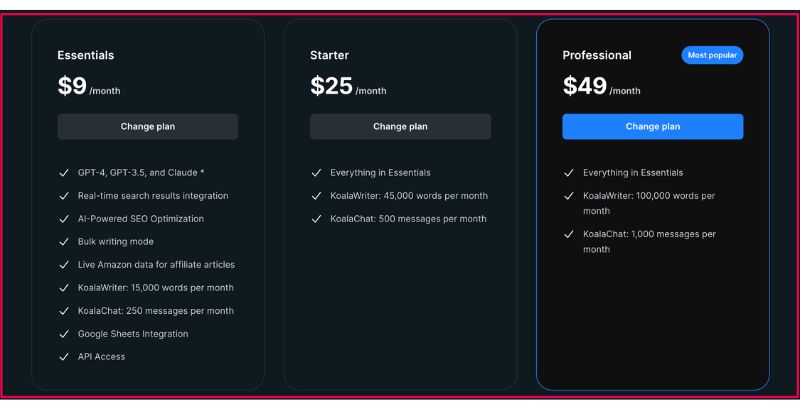 KoalaWriter offers a variety of pricing plans, catering to users with diverse needs ranging from beginners to high-volume content creators.
Each plan includes high-quality, long-form content creation, SEO-optimization, SEO-optimized content, and other advanced options.
| Plan Name | Monthly Price | Words/month | Chats/month |
| --- | --- | --- | --- |
| Basic | $9 | 10,000 | 250 |
| Standard | $25 | 45,000 | 500 |
| Professional | $49 | 100,000 | 1,000 |
| Boost | $99 | 250,000 | 2,500 |
| Growth | $179 | 500,000 | 5,000 |
| Elite | $350 | 1,000,000 | 10,000 |
| Scale I | $750 | 2,500,000 | 15,000 |
| Scale II | $1250 | 5,000,000 | 20,000 |
| Scale III | $2000 | 10,000,000 | 25,000 |
KoalaWriter Pricing Plan
KoalaWriter's pricing plans offer different levels of content generation capacity, allowing users to select the most appropriate option based on their requirements.
For those needing unique content for a small project or a single blog, the Basic plan offers up to 10,000 words per month at an affordable $9/month price point.
Larger projects or users looking for more content volume, for example, agencies or content marketers, can opt for higher plans like the Elite or Scale options.
These plans provide a higher level of available words and utility. For in-depth look at KoalaWriter full features, check out our KoalaWriter review page.
Essentials $9 /month
With the Essentials plan, you get access to both KoalaWriter and KoalaChat at a low monthly price.
This plan is perfect for those starting out with AI content creation software and can be an affordable option.
Starter $25 /month
The Starter plan is ideal for improving your content production and engagement. This plan offers a substantial increase in words per month and access to KoalaChat.
It's perfect for small businesses or those looking to expand their content creation capabilities.
Professional $49 /month
The Professional plan includes all features of the Essentials plan, with a significant increase in monthly word usage.
You get access to 100,000 words per month for KoalaWriter and 1,000 messages per month for KoalaChat, offering a powerful solution for managing your AI-powered writing and communication with ease.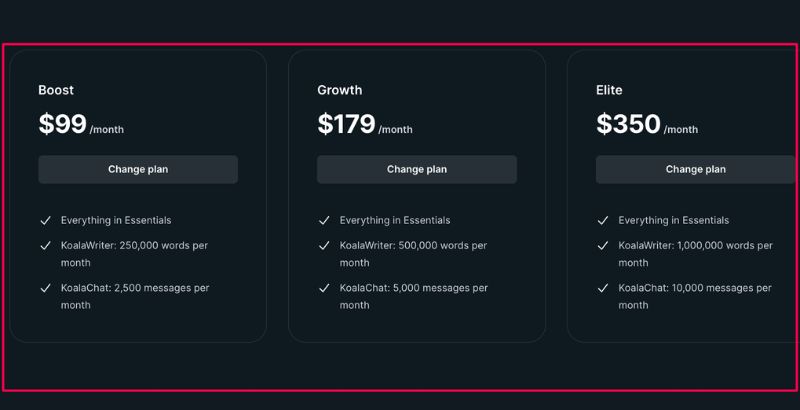 Boost $99 /month
As you step up to the Boost plan, your business can benefit from further increased word and message usage.
This plan gives you access to 250,000 words per month with KoalaWriter and 2,500 messages with KoalaChat, giving you even more room for growth and enhanced content strategy execution.
Growth $179 /month
The Growth plan is tailored for medium-sized businesses ready for advanced content production.
This plan includes a significant spike in usage volume, giving you 500,000 words on KoalaWriter and 5,000 messages on KoalaChat.
Your growth-focused content strategy can scale quickly and effectively with this plan.
Elite $350 /month
Finally, the Elite plan delivers all components essential for large-scale businesses or robust content agencies.
By signing up for this plan, you can access 1,000,000 words per month for KoalaWriter and 10,000 messages per month for KoalaChat.
With this plan, you can easily dominate your market with unparalleled AI-generated content volume and precision.
KoalaWriter Higher Volume Plans: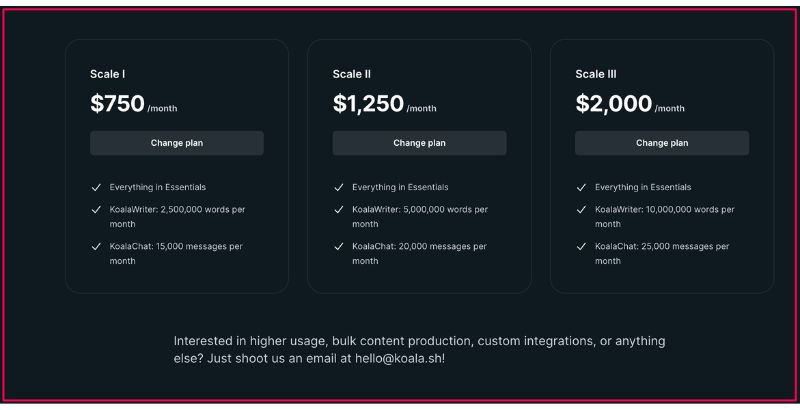 These plans are tailored for large-scale businesses that create a lot of content on a daily basis. The prices are on the high side and so also are the monthly word usage.
Scale I $750 /month
For users who require a higher volume of content, the Scale I plan is a great option at $750 per month. With this plan, you get access to:
KoalaWriter: 2,500,000 words per month
KoalaChat: 15,000 messages per month
This plan is suitable for businesses and content agencies with higher content creation needs.
Scale II $1,250 /month
The Scale II plan is designed for even higher content demands, priced at $1,250 per month. By subscribing to this plan, you enjoy:
KoalaWriter: 5,000,000 words per month
KoalaChat: 20,000 messages per month
Ideal for larger content teams and agencies striving to keep up with extensive content production requirements.
Scale III $2,000 /month
For the highest volume users, the Scale III plan comes at $2,000 per month and provides an exceptional volume of content generation features, including:
KoalaWriter: 10,000,000 words per month
KoalaChat: 25,000 messages per month
This plan is perfect for leading content-heavy businesses and large agencies seeking maximum content production capability with extensive AI-generated content.
KoalaWriter GPT-3.5 & GPT-4 Price Usage
When using KoalaWriter, you can choose between GPT-3.5 and GPT-4 for generating content.
The number of words used given to each plan is based on GPT-3.5 usage. However, it's important to note that if you enable GPT-4, each article will count 5x towards your usage.
Meaning 2000 words will cost you 10,000 words in the GPT-4 mode. The more the words the higher the cost.
The more advanced plans provide higher word limits and additional features. Regarding KoalaChat, currently, it supports GPT-3.5 and Claude language models, enabling efficient and intelligent conversation generation.
Keep in mind that choosing GPT-4 will significantly impact your usage, so plan accordingly to ensure the best results for your content creation needs.
Frequently Asked Questions
Get answers to the most Frequently Asked Questions on KoalaWriter Pricing