KoalaWriter Review: I Tried Writing Articles with It [Pros & Cons]
As a content writer myself, I've tried many AI writing tools to boost my content production and today I'll be sharing my experience with Koalawriter.
In this KoalaWriter review, I'll share my hands-on experience with KoalaWriter, its features, pricing plans, and how it compares to other AI writing tools available on the market.
Whether you're a seasoned writer or a beginner looking to try an AI content creation tool, this review will provide valuable insights and help you decide if KoalaWriter is the right fit for your needs.
KoalaWriter is an AI-powered content creation platform for long-form blog posts
The article aims to help readers determine if KoalaWriter is a suitable tool for their writing needs.
This Koalawriter review highlights the features, pricing plans, and comparisons to other AI writing tools.
What is KoalaWriter?
KoalaWriter is an AI-powered writing tool that assists in creating high-quality, long-form content.
It uses the capabilities of OpenAI's GPT technology to generate unique and SEO-optimized content that ranks on Google.
The tool is designed to simplify the content creation process by providing an outline for the content and generating the text based on the provided outline.
KoalaWriter is an exceptional AI writing tool that has become my go-to choice for content creation.
Built on the advanced GPT-3.5 and GPT-4 models from OpenAI, this powerful platform generates high-quality, SEO-optimized articles quickly and efficiently.
If you're in a rush, here's a quick TLDR of my KoalaWriter Review
KoalaWriter stands out among many AI writing tools I've personally tried. The GPT technology used by KoalaWriter allows it to generate articles with a human-like natural language understanding and composition.
This helps me create content that is engaging to my audience while keeping the entire writing process efficient and time-saving.
Also interesting is that it comes with free 5000 words you can use to test out the platform before adding your payment details.
TLDR
KoalaWriter
KoalaWriter is an AI-powered writing tool designed to make writing blog posts almost effortless. It leverages the power of OpenAI's GPT technology to produce high-quality, SEO-optimized content.
Pros:
Cons:
Key Features of KoalaWriter
KoalaWriter has cemented its place as my ultimate choice among AI writing tools. It consistently produces publish-ready articles, grants me complete control over the outline, and is available at a competitive price.
Let's glance through some of the key features you can expect when you start using the KoalaWriter to generate content for your business.
#1. User-Friendly Interface
One of the key features that makes KoalaWriter stand out is its user-friendly interface. I find it incredibly easy to navigate and use – even for a beginner.
The tool provides clear instructions and tooltips to guide me through its various functions. This makes the whole content creation process much more efficient and enjoyable.
#2. High-Quality Content Generation
When it comes to content generation, KoalaWriter truly impresses me with its high-quality output.
The AI-powered writing tool is capable of producing grammatically correct, stylistically consistent, and engaging content.
With a range of writing styles and tones to choose from, I can easily tailor my content to cater to different audiences.
#3. AI-Powered SEO Analysis
KoalaWriter uses advanced AI algorithms to analyze your content and provide SEO optimization suggestions.
This feature ensures that your content is search-engine friendly and ranks well on search engines.
Ensuring that content is SEO-optimized is a critical aspect of content creation. KoalaWriter's SEO enhancement function helps me develop SEO-friendly articles that perform well on Google.
#4. Outline Editor
KoalaWriter's outline editor helps you organize your ideas and create a structured outline for your content.
This feature makes it easy to create high-quality content that is well-organized and easy to read.
This particular feature has been incredibly beneficial for organizing my thoughts and structuring my content, making the creation of long-form content much simpler by dividing it into manageable portions.
#5. AI Image Generator
KoalaWriter's AI image generator can create high-quality images for your content in seconds. This feature saves you time and ensures that your content is visually appealing.
I use this image generator features a lot and I must tell you it isn't perfect 100%. The image generator is good for specific image generation, like if you're in the pet niche.
But for marketing or descriptive images, I won't recommend you use it. After the content is done you can source for your own image.
#6. Instant WordPress Publishing
KoalaWriter can publish your content directly to WordPress with just a few clicks. This feature makes it easy to publish your content quickly and efficiently.
This feature has also made my work easy. I don't have to copy content from Koala.sh to my WordPress dashboard.
Everything is connected to each other because I've linked my WordPress site to my KoalaWriter account.
Any content generated on my Koala account is automatically sent to draft in my WordPress dashboard.
#7. Google Sheets Integration
KoalaWriter integrates with Google Sheets, making it easy to collaborate with others and share your work.
The integration with Google Sheets makes it effortless for me to gather data and keep track of my content.
This feature saves time and ensures my work remains orderly.
#8. API Access
KoalaWriter offers API access, allowing you to integrate it with other tools and platforms, which means that it provides a way for other tools and platforms to interact with it programmatically.
This integration allows users to streamline their content creation workflows by automating the process of generating high-quality, SEO-optimized content.
With KoalaWriter's API, users can queue an article for writing, retrieve the status of an article, and retrieve the completed article.
This can be particularly useful for businesses and content creators who want to integrate Koala Writer into their existing workflows or content management systems.
#9. Risk-Free Trial
KoalaWriter offers a risk-free trial, allowing you to try it out and see if it's the right tool for you. This feature ensures that you can make an informed decision before committing to a purchase.
As a new user on Koala, you'll be provided access to 5000 words and 25 chat messages on your account without having to add your credit details.
#10. Superiority to ChatGPT
Koala Writer's AI algorithms are superior to those of ChatGPT, making it a more advanced and powerful writing tool.
If it isn't, won't I've I just stick to ChatGPT Pro and pay $20 monthly? I'm currently using both platforms and when it comes to content generation KoalaWriter is my pick.
#11. On-Brand Voice
Koala Writer can help you create content that is consistent with your brand's voice. This feature ensures that your content is on-brand and reflects your company's values and personality.
I've done this several times with some of my niche content and the results are always amazing. Also one of the top features I like about KoalaWriter.
What Kind of Contents Can You Create with KoalaWriter?
Using Koala Writer has given me the privilege to start different kinds of content projects that I wouldn't have had the time to create before.
Let's see some of the things you can use KoalaWriter for:
1. Creating Blog Posts and Articles
KoalaWriter has become an indispensable tool for crafting long-form blog posts and articles, making the process of generating SEO-friendly content much more manageable.
I choose a target keyword, modify the AI-generated outline, and click the Write Article button to get started. It's very easy to use and saves a lot of time.
2. Crafting Social Media Content
When it comes to producing engaging social media content, I equally use Koala Writer.
This AI-driven platform offers countless ideas and inventive posts, that can enhance your online presence.
Koala Writer has made managing my social media profiles more efficient and enjoyable. It also helps when i want to share my content across different social media platforms.
3. Writing Amazon Affiliate Content
If you have a niche site monetized with Amazon products, then you'll understand what I'm talking about here.
As an Amazon affiliate marketer, writing affiliate articles can be a time-consuming task. Koala Writer has simplified this process.
It allows me to create high-quality, informative, and well-structured articles that capture the attention of potential customers, resulting in increased sales and commission revenue.
4. Developing Amazon Product Roundups
KoalaWriter is also helpful when working on Amazon product roundups.
It enables writers to generate comprehensive, organized, and visually appealing roundups that showcase the top products available on Amazon.
By utilizing KoalaWriter's AI capabilities, You can produce interesting and relevant content that drives more traffic to my website.
5. Tackling Complex Writing Projects
For more intricate writing projects, KoalaWriter has proven to be an invaluable asset. The AI-generated suggestions and insights have made even the most challenging assignments manageable.
Whether I'm working on an in-depth analysis or researching a topic that requires extensive knowledge, KoalaWriter assists me in creating high-quality, coherent, and well-structured content.
Below are other things you can use KoalaWriter for:
Introduction Generator
Paraphrasing Tool
Title Generator
Meta Description Generator
YouTube Summary Generator
AI Image Generator
Paragraph Generator
Final Draft Tool
GPT Tokenizer
How I Generate Contents with KoalaWriter In Five Steps
One of the reasons I like using Koalawriter so much is how easily it has helped me scale my content product.
From my Koala dashboard, I can create multiple projects for different websites and link my Koala account with my WordPress site.
Let me work you through how I have been using Koalawriter to create content for my business in just five steps.
Step 1: I Create Multiple Projects For Content Creation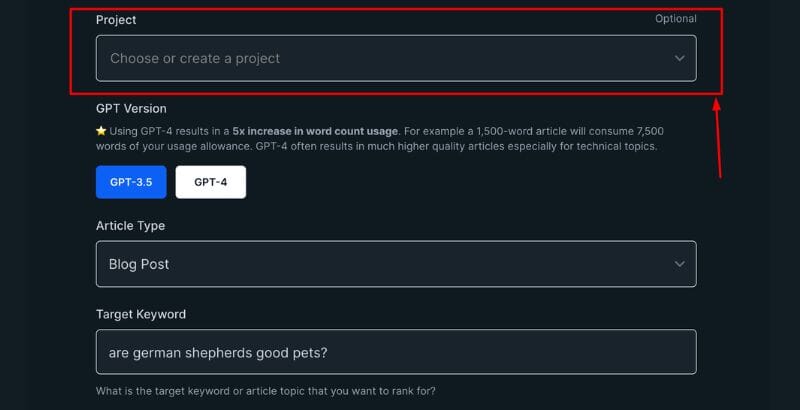 Creating a project has made it easy for me to track and organize all articles created by Koalawriter
The project is just a way of categorizing the kind of content you'll be writing with Koala. In my case, what I do is create different projects for my different tasks project.
Take for example if you'd like to use it for YouTube, you can create a project for YouTube. And if you'd like to use it for Amazon, you can also create a project for Amazon.
And if you have multiple website niches, you could also create different projects for these websites.
And the good thing here is, you can link them directly to your WordPress site using API integration.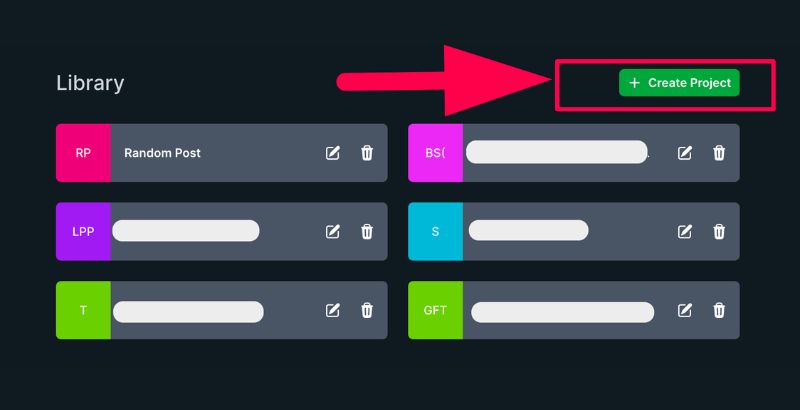 To create a new project, click on the library icon at the left side of your dashboard, once you've done that, it will bring out a new popup where you can now click on the green icon to create a new project.
Once your projects are created, whenever you want to create new content you'll see the option to choose from the projects you've created.
Step 2: I Choose The Article Type I Want To Write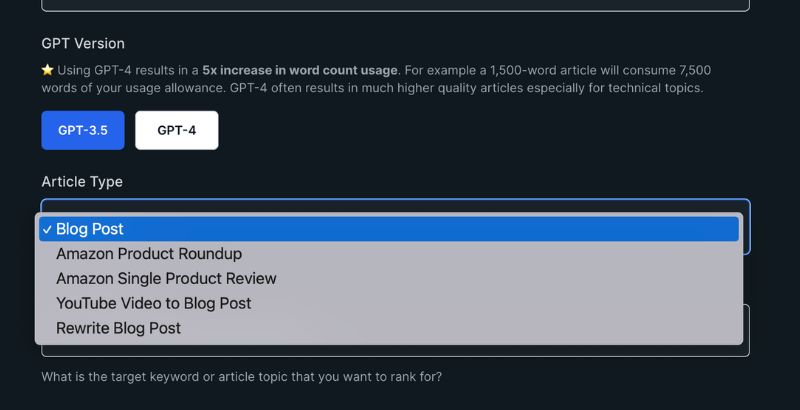 The next thing I do here is choose the article type I'd like to use KoalaWriter to create.
Currently, Koalawriter can be used to create the following:
Blog Post
Amazon Product Roundup
Amazon Single Product Review
YouTube Video to Blog Post
Rewrite Blog post
Above the article type, I can also choose between GPT-3.5 and GPT-4. I usually choose between the two based on the importance of the article I want to write.
However, GPT-4 gives me the best result when I'm writing content between both ChatGPT.
What you should also know is that KoalaWriter's pricing plans allocate a certain number of words per plan based on the ChatGPT you're using.
If you choose to enable GPT-4, the word count for that particular article will be counted as 5 times more towards your usage.
Finally, below the "Article Type," you'll see the option where you can enter your target keyword for the article you want to write.
Once I enter the target keyword, this is what will be used for the SEO optimization of the article I'm trying to write.
Step 3: I Select AI-powered SEO Optimization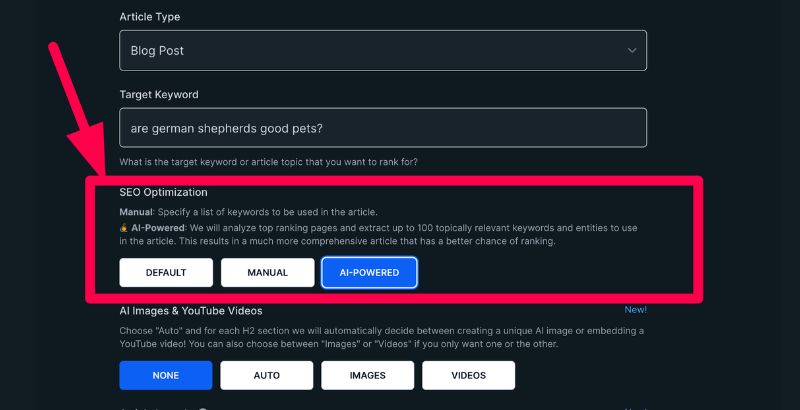 This particular step determines how well my article is going to perform on search engines. So I always go for AI-powered.
Below are what the option means:
Default – this will optimize your content for search engines based on the target keyword you entered into KoalaWriter.
Manual – the manual option will prompt you to enter or specify a list of keywords, related keywords or topics to be used in the article
AI-Powered – the AI-Powered option allows Koala AI to analyze the top-ranking pages and extract up to 100 relevant keywords and entities that are related to the topic of the article. This allows for the creation of a more comprehensive article that has a higher likelihood of ranking well.
Below the SEO optimization, there is an option to add AI-generated images to my content or videos from YouTube.
Below are what to expect from each option:
None – this means no AI-generated images or YouTube videos will be added to my content automatically.
Auto – the auto option means both AI-generated images and relevant YouTube videos will be added automatically to my content. I can also specify the number of images and videos to be added.
Images – the images feature means AI-generated images will be added to my article automatically. I can also specify the number of images that will be added.
Videos – the videos option means when I choose videos, relevant YouTube videos will be added to my article automatically. And I can also specify the number of videos that I want the AI to add.
Step 4: I Select My Preferred Article Length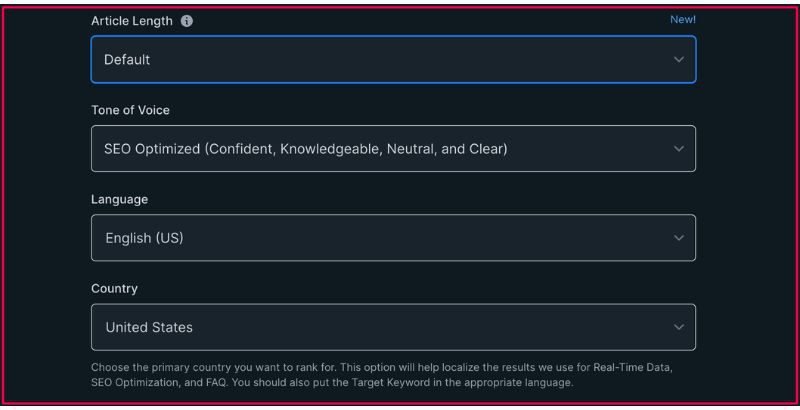 This is where I select the article length I want the AI writer to generate for me. In this section, we have Article length, Tone of Voice, Language, and Country.
When you click on the "Article Length" drop-down menu, you'll see the following option:
Default
Custom Number of Sections
Shorter (2-3 Sections, 450-900)
Short (3-5 Section, 950-1350 Words)
Medium (5-7 Sections, 1350-1870 Words)
Long Form (7-10 Sections, 1900-2440)
Longer (10-12 Sections, 2350-2940)
Based on the type of article I want to write, be it long form or short form article, all I have to do is click the drop-down menu and select the type.
Choosing article length will help manage the number of articles the AI will generate. But when you leave it at default, it can generate too many articles that are not needed, which can easily reduce your units.
For the Tone of Voice, this is the tone at which my article will be generated. When I click on the drop-down menu for Tone of Voice below are the options I can select:
SEO Optimized (Confident, Knowledgeable, Neutral, and Clear)
Excited
Professional
Friendly
Formal
Casual
Humorous
Custom
For the majority of my content, I usually use SEO Optimized and Friendly. But based on what you want you can choose any.
After that, I can choose the language in which I want my article to be generated. I can also choose the country my article is tailored towards.
Step 6: I Select the "Point of View" For My Article to be Written
In the last section here, I choose the "Point of View" I want my article to be written in. When I click on it, It will bring out the following option:
First Person Singular (I, me, my, mine)
First Person Plural (we, us, our, ours)
Second Person (you, your, yours)
Third Person (he, she, it, they)
After that, I select the toggle button that matters. I usually tick all of it. This is what you can expect when you tick any of it.
Real-Time Search Result – If I enable it, the Koalawriter will fetch search results for each section and use that data to help generate my article.
Content Outline – when I enable this option, an outline will first be generated. I can then re-order, delete, and add new sections to the outline generated before my article is written.
FAQ Section – when enabled, the Koalawriter will add a FAQ section based on SERP analysis to my outline.
Key Takeaways – when enabled key takeaways will be added after the introduction of the article generated for me.
Finally, there is a "Show Advance Options" above the "Create Article" as you can see in the image above.
When you click on the "Show Advance Options" below are the options you'll see.
Here, I can manually add links to the article the AI is going to generate for me. Additionally, I could also add a custom outline here.
If I want to add an extra Title Prompt or Section Prompt I can also do that here. Finally, from here, I can disable the intro and conclusion of the article.
So when the Koala AI writer is generating my article intro and conclusion won't be added.
KoalaWriter Pricing Plans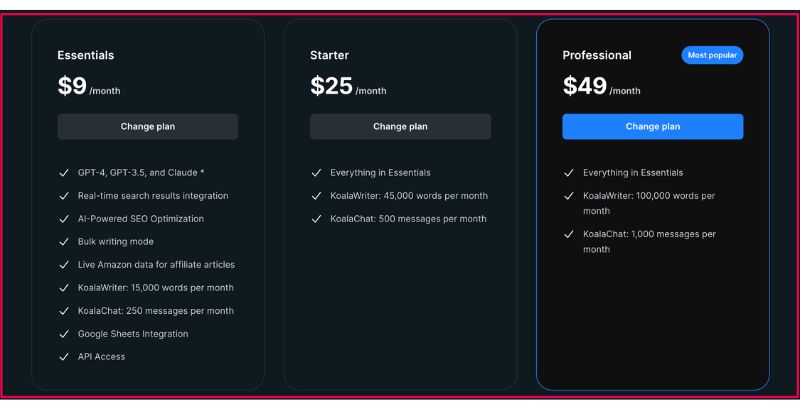 KoalaWriter's pricing plans offer different levels of content generation capacity, allowing users to select the most appropriate option based on their requirements.
For those needing unique content for a small project or a single blog, the Basic plan offers up to 10,000 words per month at an affordable $9/month price point.
Larger projects or users looking for more content volume, for example, agencies or content marketers, can opt for higher plans like the Elite or Scale options. These plans provide a higher level of available words and utility.
| Koala Plans | Monthly Price | Words per month |
| --- | --- | --- |
| Basic | $9 | 10,000 |
| Standard | $25 | 45,000 |
| Professional | $49 | 100,000 |
| Boost | $99 | 250,000 |
| Growth | $179 | 500,000 |
| Elite | $350 | 1,000,000 |
| Scale I | $750 | 2,500,000 |
| Scale II | $1250 | 5,000,000 |
| Scale III | $2000 | 10,000,000 |
Koalawriter Pricing Table
Remarkably, all pricing plans provide access to the powerful features KoalaWriter offers. As a result, users can expect to receive high-quality content, long-form articles, and SEO-optimized writing regardless of their subscription choice.
This flexibility makes it easier for beginners, small businesses, and large enterprises to choose a plan that suits their needs and budget best.
KoalaWriter Pros and Cons
As someone who has used KoalaWriter, I can confidently share some pros and cons to help you make an informed decision.
KoalaWriter Pros:
Efficient Content Generation: KoalaWriter helps me create long-form content quickly and easily. The AI-driven tool generates articles optimized for search engines, which is essential in today's competitive blogging landscape.
User-friendly Interface: I found the application very easy to navigate and use. Choosing target keywords, editing the generated outline, and creating articles is delightfully straightforward.
Minimal Editing Required: KoalaWriter produces high-quality content, which usually requires only minor adjustments before publishing. This is a major selling point for me, saving time and effort in the content creation process.
Helpful for SEO: The AI-generated articles are optimized for search engines, which aids my content in ranking higher on search results pages.
KoalaWriter Cons:
Limited Language Capabilities: KoalaWriter primarily functions in English. This might be limiting for me if I need to create content in other languages.
Repetitive Words: sometimes, the content generated might include repetitive words which is normal for AI
KoalaWriter Versus Other AI Tools
As someone who has tried numerous AI writing tools, I'd like to share my insights on how KoalaWriter compares to other tools in the market.
Some of the popular AI writing tools include:
Agility Writer
Scalenut
Writesonic
Jasper AI
Content at Scale
ZimmWriter
To better understand how KoalaWriter stacks up against these tools, let's take a look at features, output quality, and pricing, among other factors.
| AI Writing Tool | Features | Output Quality | Pricing |
| --- | --- | --- | --- |
| KoalaWriter | Easy-to-use interface, multiple content types, SEO-friendly | High | Affordable |
| Agility Writer | Advanced language model, integrations, team collaboration | High | Premium |
| Scalenut | Copywriting templates, intuitive user interface | Moderate to High | Affordable |
| Writesonic | Landing page builder, ad copy, blog writing | Moderate | Moderate |
| Jasper AI | Content templates, multi-language support, team collaboration | High | Premium |
| Content at Scale | SEO features, workflow management, advanced analytics | Moderate to High | Premium |
| ZimmWriter | Automatic keyword research, dynamic layout, content generation | Moderate | Affordable |
How KoalaWriter Compare with Other AI Writing Tools
KoalaWriter stands out in terms of providing an easy-to-use interface, catering to various content types, and offering SEO-friendly output.
It ranks among the top writing tools with its high-quality generated content at an affordable price point.
It might not have as robust a feature suite as some of the premium offerings on the list, but it provides excellent value for content creators looking for an efficient and cost-effective solution.
Frequently Asked Questions
Get answers to a list of the most Frequently Asked Questions on Koala Writer
Conclusion
In conclusion, KoalaWriter is a powerful AI writing tool that can help you become more productive and efficient in your content creation.
KoalaWriter has been a valuable addition to my writing toolkit as an AI-powered writing solution.
In my experience with KoalaWriter, I have discovered it to be a fantastic time-saver, particularly for researching and composing articles on intricate subjects.
One standout attribute is its ability to perform real-time scraping, supplying topically pertinent information. Resulting in superior content and implicitly enhanced SEO optimization.
While I believe KoalaWriter is an excellent resource for content writers, bloggers, and marketers aiming to boost their productivity, it's vital to weigh its advantages and drawbacks