Minea vs Pipiads: Best TikTok Adspy Tool?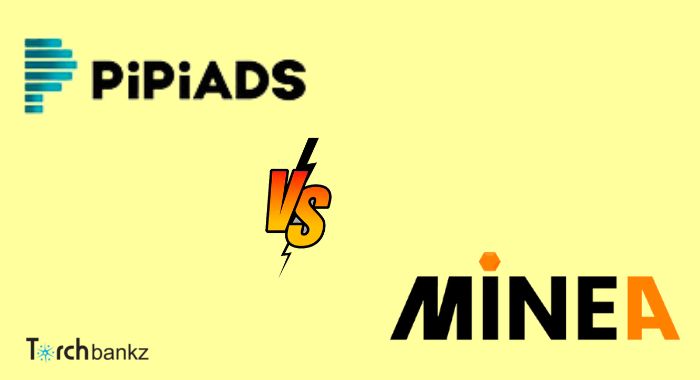 Are you looking for the best Tiktok Adspy tool between Minea vs Pipiads? You are in the right place.
TikTok is one of the largest platforms for short-form user videos.
This is why it is one of the best platforms to run ads for your e-commerce business. In running ads on this platform, you must see how other thriving competitors have been doing it.
You might wonder what the best TikTok ad spy tools are and why you need them if you're a marketer seeking to conduct ad campaigns on the platform.
Tiktok advertisements spy tools are practical tools that assist you in monitoring your rivals' advertising efforts so you may gain a sizable advantage while developing your TikTok advertising campaign.
We will be looking at the best TikTok Adspy tool between Minea vs Pipiads.
Shall we?
What is Minea?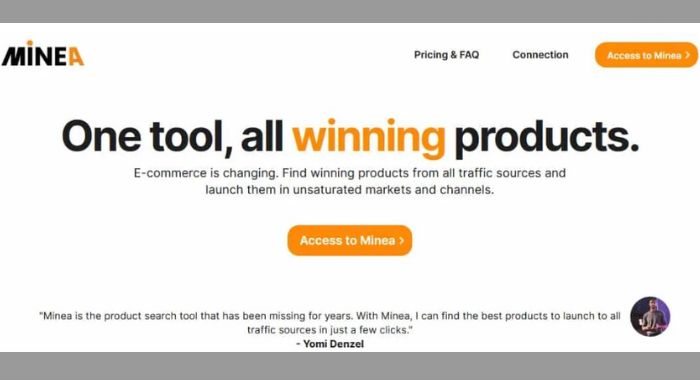 Minea is a TikTok Ads spying tool that aids in finding and choosing the best products for your eCommerce venture.
Minea is a favorite among company owners because you can hire influencers to promote your goods there.
You can quickly examine the advertisements of your rivals to identify the most effective ones and copy them.
Also, you may view the ads, the plays, the landing pages, the option to download, and the number of shares and likes.
You also have access to Chrome extensions through Minea, one of its unique features.
To assist you locate the most effective dropshipping products to market, Minea analyzes all internet advertising.
They assist you in quickly locating the top ad creatives for your particular e-commerce market.
Over 14 million advertisements for the Minea dropshipping tool have been placed on various social media platforms, including Facebook, Pinterest, and, most recently, TikTok.
What is PiPiads?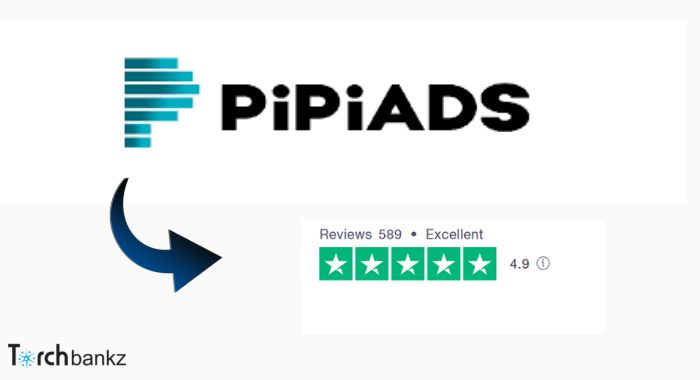 According to research, PiPiads is now the greatest TikTok advertising platform in the world.
You can locate products with a history of drawing significant traffic with this TikTok spy tool.
The platform's user interface includes a button that makes it simple to access the winning products.
PiPiads assists you in creating engaging advertisements, monitoring them, and keeping tabs on the tactics and ads of your rivals.
You will be able to see how other people who have been in the business are handling theirs with the help of this.
More significantly, PiPiads offers high-quality advertising materials that can be used as a guide for executing your TikTok advertisements.
It not only helps you choose the perfect niche for your eCommerce business but also keeps you informed about the most recent advertising trends and facts.
The Shopify tool extension is another feature that sets PiPiads apart from the competition. There, you can keep an eye on your sales as they happen (live sales)
Minea vs PiPiads: Features
Let's explore the features of both platform
Minea Features
Here are some of the features of Minea
1. Minea Adspy (Facebook)
On Minea, there is a sizable database of Facebook ads that you can browse. It has a variety of uses, with a product search tool being the first.
Moreover, they offer sophisticated search features including date, media type, gender, country, and language.
You can set the CTA to Shop Now and the Ecom Platform to Shopify if you're seeking dropshipping ads.
Searching for competitors is another application for this ad spy tool.
Consider that you are actively scaling a successful product. You can also visit here to learn about the marketing tactics employed by your rivals.
All you have to do is to enter a keyword, page name, or domain search!
They provide a ton of specific data and analytics for each advertisement.
2. Minea Adspy (Pinterest)
Even while Pinterest advertising isn't the best option for a drop shipping company, it might still be useful.
However, its unpopularity might be a huge competitive advantage.
This tool for product research can help you discover a hot product that no one else has yet heard of.
This spy program is nearly identical to their Facebook spy program. But Pinterest is the alternative to Facebook.
For each Pinterest post, there is a wide variety of filters and stats.
3. Minea Adspy (TikTok)
This tool will be useful if you're still seeking a winning product for your dropshipping business and using TikTok adverts.
E-commerce sites are another place to find the top and most popular TikTok advertisements.
However, you can't filter out a large number of non-e-commerce advertisements here. Therefore, using this can require a little extra time from you.
Additionally, it provides identical analytics as its other product search tools.
4. All-in-one Tool For Your Dropshipping Business
Minea is a multipurpose instrument that can spare you from laborious procedures. It functions with Snapchat, Tiktok, Pinterest, Facebook, and Instagram.
To help your dropshipping business succeed, it collects all the data from all of these sites.
5. Minea Influencer Marketing
Minea can assist you with influencer marketing, which is still a very successful method of attracting clients.
There are three categories: placements and promotions, brands, and influencers.
You can sort results for Placements by platform (Instagram or Snapchat), category, country, and the number of followers. You may view the shoutout and engagement rate for each placement.
A large database of Influencers is available through Minea's influencer search engine.
There are numerous criteria in the influencer marketing window, which makes it simple to find what you're looking for.
To see what goods these influencers have recently been advertising, you can also sort by the number of placements.
6. Minea Lists
It's simple to compile all the adverts you've seen in one place thanks to this feature.
Minea still offers a list of the top winning products each month, so it's helpful! You will find a winning product here if you're still looking for one.
Minea assists you in locating profitable products for your dropshipping and eCommerce businesses. It combines Facebook, Tiktok, and Pinterest search results to highlight the top products.
With Minea, you can generate a list of the top 10 products for the day right there on the interface. Following that, you can choose from the list.
7. Creative Strategy to Develop Your Brand.
Imitating a successful strategy is far simpler than coming up with a fresh concept from the beginning.
With Minea's adspy feature, you may keep tabs on rivals who are succeeding in their eCommerce ventures to see how their advertisements are performing.
You can adopt their marketing tactics on your own after seeing them. Additionally, you could detect some flaws in their marketing strategies.
This will enable you to correct your problems so that your advertisements stand out.
PiPiads Features
Here are some of the features of pipiads
1. Monitor Competitors' Strategy
PiPiADS provides the service by analyzing the advertising data from your competitors.
With the aid of this feature, you can peek inside the minds of your rivals and devise advertising plans that are superior to anybody else's.
This program lets you keep tabs on your rivals' potential future advertisements.
PiPiADS delves deeply into the most extensive competitor advertising materials, including their advertising campaigns and products. Days, ad copy, etc.
2. Top-Selling Products
The TikTok data is stored on PiPiADS, making it the platform's biggest data repository.
You can use PiPiADS's video adverts to do an online search for the best products. Additionally, you can utilize it to advertise items that your target market is interested in.
From its extensive selection of TikTok advertisements, users can use them to build branding, e-commerce, and submissions—the essential elements of an internet business.
3. User Friendly
PiPiADS provides all the information required to develop good advertising campaigns for your company.
That will enable you to make the kind of profit you've always wanted.
TikTok is quite popular. This is because using them is quite simple. Data indicated that TikTok is used by all people, from young people to seniors.
There isn't a difficult user interface to learn. It's just a bunch of videos being published and watched.
To prevent people from experiencing any pressure or strain when using this tool, PiPiADS itself tends in that direction by being as simple as possible.
With time, they are becoming more and more user-friendly.
4. High-Quality Advertising Material
This is the biggest databank in the world. PiPiADS enables you to find top-notch advertising content from TikTok, one of the most popular platforms for buyers and sellers, and duplicate it.
It's a nice tool to use to stay on top of similar business ventures without growing weary of being impacted by market shifts.
With PiPiADS, you can identify the top-notch advertising materials to use, saving you from its effects on your firm.
Minea vs PiPiads: Pricing
Let's compare the pricing plans of both tools.
Minea Pricing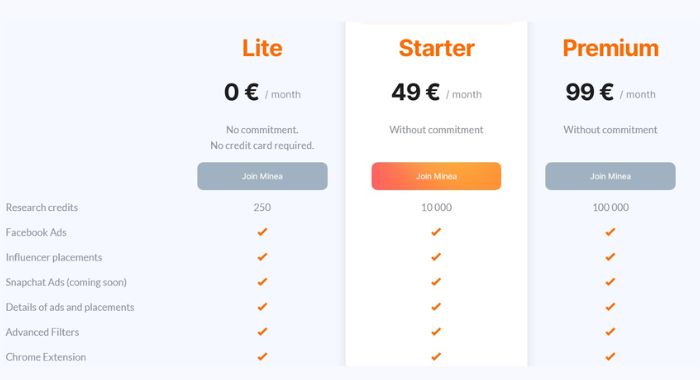 Minea has a highly open price structure.
Free Plan [Research credits- 250]
Influencer placements
Snapchat Ads (soon)
Ad placements and details
Advanced filters
Chrome extension
Starter Plan (49€/month) [Research credits- 10 000]
All the features of the free plan
Premium Plan (99€/month) [Research credits- 100 000]
All features found in the free plan
Shop Analysis
PiPiads Pricing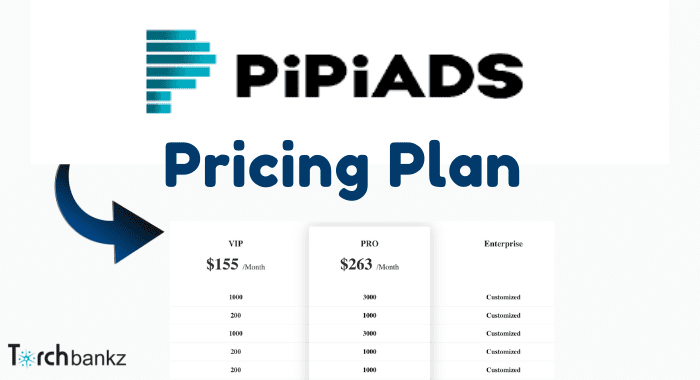 Pipiads doesn't publish a price list. You must register for it and create an account to see the price.
However, I have been able to make available the pricing details for you.
The wonderful part is that PiPiADS offers all new users a free trial.
There are three subscription options for PiPiAds: PiPiAds Starter, PiPiAds VIP, and PiPiAds PRO.
#1. PiPiAds Starter – $77/m (paid monthly) or $54/m (paid annually)
The search results display 200 adverts.
50 product descriptions daily
The search returns 50 advertisers.
Daily 50 advertiser details
No Ending Winning Product
The ideal tool for beginning to mine the best chances for your online store.
#2. PiPiAds VIP – $155/m (paid monthly) or $128/m (paid annually)
The search results display 1000 adverts.
200 advertisements each day
200 product specifics daily
The search returns 1000 advertisers.
Daily 200 advertiser details
No Ending Winning Product
It makes sense that this is an important tool for professionals.
#3. PiPiAds PRO – $263/m (paid monthly) or $181/m (paid annually)
The search results display 3000 adverts.
3000 product descriptions each day
The search's outcomes display 3000 advertisers.
A daily 1,000 advertiser information
No Ending Winning Product
Expansion of sales, scaling up, and multiple users.
Minea vs PiPiads: Similarities
Is there any similarity between both tools? Let's find out.
1. Both Spy Tools
Minea and Pipiads are both spy tools. They give you access to tools you may use to keep tabs on your Tiktok ad rivals and identify winning items.
2. Both Spy on TikTok Ads
Minea and Pipiads are undoubtedly the most powerful tools for TikTok Ads spy. Both of these solutions let you monitor rival Tiktok advertisements.
They relieve you of your burdens and demonstrate in detail what is effective on TikTok. You may view popular items, advertising campaigns, and other information.
3. Access to Winning Products
This is one of the most crucial features that these ad tools provide. They provide a list of winning products each month which is great if you're still in the product research stage.
Minea vs PiPiads: Final Verdict
Finally, we have gotten to the end of the comparison between Minea vs Pipiads.
With the above, I can say that Minea is a strong rival and even more affordable compared to Pipiads expensive pricing plan.
On the other hand, PiPiads provides you with all the resources necessary for a fruitful TikTok Ad campaign.
It provides you with everything you need to grow your eCommerce business.
Now you can quickly and easily choose between PiPiads and Minea.
Choose Minea if you want an all-inclusive dropshipping ad spy tool that's more affordable.
However, PiPiads will be your best option if you're looking for a potent TikTok ad spy tool.
Which of them are you going to try first,
or