Minea Pricing Update: [Cost Breakdown & Plans]
Are you looking for Minea pricing and its details? If yes, then this is the right place.
Minea is a product research tool and therefore, searching for Minea's pricing details means you are about to launch your e-commerce business and you want to know which products to begin with.
No doubt, starting your e-commerce business with the right products will go a long way in determining the success of your e-commerce business.
There is no point in selling products that people don't want to buy. But then, manually researching these products will be a tough row to hoe.
That is where Minea comes in handy as your product research tool. I have written an in-depth review of it. You can read more about my Minea Review Here…
However, in this article, I will be sharing with you the pricing information of Minea and the features of each pricing plan.
With that, you can make an informed decision on which of the plans you would prefer to opt for.
Read Also: Minea vs Peeksta
Minea Pricing: How Much Does Minea Cost?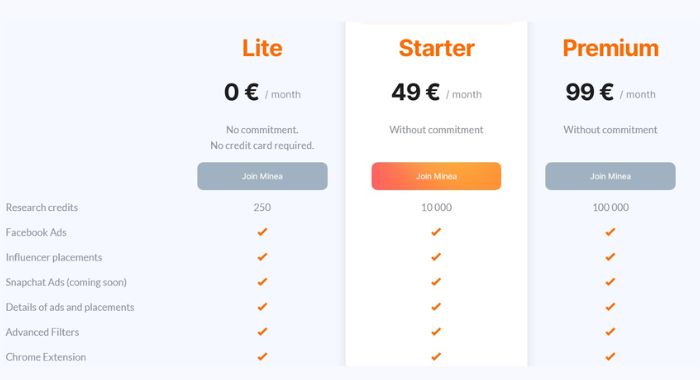 Minea has three pricing plans – Lite, Starter plan, and Premium plan
#1. Minea Lite – 0€
This is the free version of this software. Here are the features of this plan-
250 Research Credits. You have access to 250 research credits for your product research process. If you would love to do more research, you would have to wait till the next month or upgrade to a version that offers more research credits.
Facebook Ads. With the Lite version, you can run ads on Facebook. But that is the only social platform you have access to in this free plan. You can see the trending products on Facebook and how to target your ads to the right audience.
Advanced Filters. Being a platform with a dense number of products, this feature comes in handy. You can narrow down your searches with the advanced filters.
Chrome Extension. With Minea, you do not necessarily have to install the software on your device. You can operate on the go with the Chrome extension.
Influencer Research. Even with the free version, you have access to research influencers that you would want to promote any of your products.
Ads Details. You have access to a detailed analysis of any ads you run. This will help you determine if your ads are performing well or not.
#2. Minea Starter – €49/month
It consists of all the features in Minea Lite, including;
– 10,000 Research Credits
#3. Minea Premium – €99/month
It consists of all the features in Minea Starter, including;
100,000 Research credits
Shop Analysis. With the premium version, you can spy on competitors' strategies and see how their top ads are performing well. You also get to see their mistakes and then leverage them to make yours better. Apart from that, after setting up your store, this feature provides you with a detailed analysis of how your shop is performing.
TikTok Ads. Rather than scroll endlessly on TikTok to see the trending products, Minea brings all your searches to one point.
Pinterest Ads. Minea also helps you research winning products on Pinterest.
Starter Plan vs Premium Plan
These are the two paid plans on Minea. In choosing either the starter plan or the premium plan, you need to which of the plans has what you need.
If you are targeting TikTok and Pinterest for your ads, you can't access that on the starter plan. Apart from that, it is only on the premium plan you can carry out a detailed shop analysis.
Therefore, if these needs are very important to your business growth, you should consider going premium.
Minea Discount: How to Switch to a Yearly Plan to Get a Huge Discount?
You can get a huge discount on Minea Yearly Plans.
For example, if you purchase the Minea Yearly Plan, you would have successfully saved €174/year on the starter plan and approximately €357/year on the premium plan. You will agree with me that this is a better offer than the monthly plan.
How then do you get this huge discount? Follow these simple steps to get started on assessing the discounts on Minea Yearly Plans.
STEP 1: Click on this special link. It will take you to the special discounted pricing page of Minea.
STEP 2: Now, click on the Annual Discount Tab. Choose any of the Minea Yearly Pricing Plans to get started.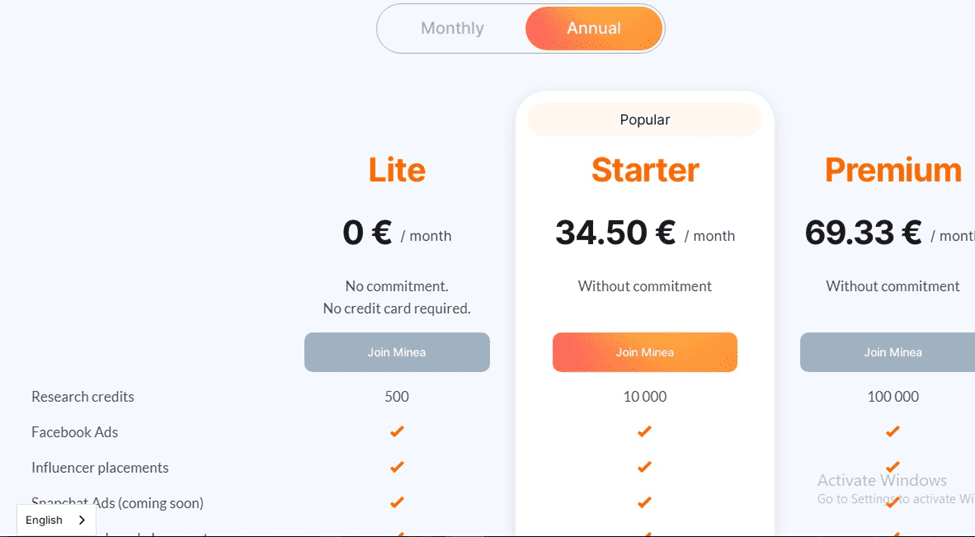 Read Also: Minea vs PiPiads
Is Minea Worth The Cost?
Minea is one tool you should invest in if you are planning to scale up your dropshipping business.
It is an all-in-one dropshipping tool that saves you from multiple payments. By now, you already know that Minea is a product research tool, and beyond discovering trending products on the platform, you can have influencers promote your products.
In business, influencer marketing strategy is a good way to build visibility. These influencers have the traction and followers already.
You are simply leveraging them. However, manually searching and reaching out to influencers might be difficult. This is why Minea has included this feature in their package.
On minea, you can see an array of influencers that are suitable for the products you want to influence. You get to see all the details of the influencers and then partner with them from there.
As an all-in-one dropshipping tool, Minea works with Facebook, Instagram, TikTok, Pinterest, and Snapchat to gather all the data you need to thrive in your dropshipping business.
Rather than going on each of these platforms, Minea brings everything together in a place
Cost
You want to be sure if the cost of the plan is within your budget. Fortunately, Minea has a free version.
So even if you do not have the budget for the paid plan at the moment, you can kick-start with the free version while you prepare to upgrade when need be.
Apart from the free plan, Minea has two other paid plans that you can select from.
Read further to see the pricing details and their costs.
Features and Benefits
Check out the features and benefits of each Minea Pricing plan to know if they are what your business needs at the moment.
You can start by drafting out all you need. Then compare with the features of each pricing plan to see which of them offers the best solutions to these needs.
Aside from that, you might also want to check the ease of usage. One of the goals of anything you are investing in should be how easy is it to use. Not only that, is it relieving you of any tedious work?
With Minea, you don't have to manually research products that you can bring into your store. By simply entering the right filters, you have a list right before you to choose from.
User Feedback and Reviews
This is also important when considering opting for any product. Check out what other users are saying about it.
Read their reviews and feedback to know what they think of the platform. This will help you to determine if it's worth the money and if it is as reliable as promised.
To see what customers are saying about Minea, you can check popular review sites like TrustPilot, Capterra, and Minea's website.
Minea Pros
What do you stand to gain when you use Minea for your product research? What advantage does it have over other product research tools? Some of the benefits of Minea include;
It is an all-in-one tool – Facebook, TikTok and Pinterest
It is affordable compared to other adspy tools. The presence of the free version makes it super affordable.
Up-to-date with the latest products. It automatically updates monthly on new and trending products.
Has a Chrome extension that enables its usage on smartphones
Minea Cons
No tool is perfect and so is Peeksta. What are the limitations that we have noticed with peeksta?
It only has one user. If you share your login details with another, Minea might get you banned. This might not be suitable if you work with a large team because it only means repeated purchases.
No AI content generator to create your product descriptions. This means you either subscribe to another tool that can write that for you or hire a copywriter.
Not suitable for digital products. Minea is more appropriate for physical products.
Minea Free Trial
Minea does not offer a free trial on its paid plans. Rather, you have a Lite version which is a free forever plan.
Once you subscribe to that, you have access to all the features that the plan provides.
Therefore, you have the opportunity to explore the tool as much as you can till you eventually decide to subscribe to any of its paid plans.
This will also help you to generate some measure of results that might provide the financial means to upgrade.
Minea FAQs
Is there a Minea free trial?
No, there is none. Instead, there is a free plan that grants you access to some of its features freely till you are ready to upgrade.
Does Minea offer a refund policy?
No, it does not. The free plan allows you ample time to determine if you are ready to subscribe to the paid plan or not.
If you are not pleased after payment, you can cancel your subscription after the expiration of the one you subscribed to.
How do you cancel a Minea subscription?
To cancel Minea's subscription, send a message to the contact team before the next renewal time. You still get to finish that month or year but a new deduction will not be made.
How to upgrade Minea membership?
To upgrade Minea membership, simply click on any of the pricing plans you want to upgrade to and you are immediately upgraded.
Final Thoughts on Minea Pricing
Minea is one tool that has gained ground in the e-commerce business especially because of its integration with multiple social platforms. Also, because of the availability of influencer placement.
Minea has considered what an average dropshipper needs and provided it on their platform. To cap it all is the fact you can decide to enjoy all of these features for free.
Therefore, even if your business is just starting and you have not gathered the means to subscribe to a paid tool yet, Minea has you covered.
When are you signing up for any of the plans?