20+ AliExpress Statistics & Trends 2023 [Intriguing Report]
Let's bring you up to date with the latest Aliexpress statistics and facts you need to know about eCommerce in general.
The first online retail transaction was completed back in 1994, and it has grown from a primitive concept to one of the significant pillars of world economies since then. 
The global e-commerce industry currently has a market size value of over $10 trillion, with retail sales of over 4.28 trillion US dollars in 2020. Achieving this feat would be practically impossible without the influence of innovative companies like Aliexpress. 
This platform revolutionized the concept of online shopping, and judging by the potential it has shown so far, this seems only the beginning.
Overview of Aliexpress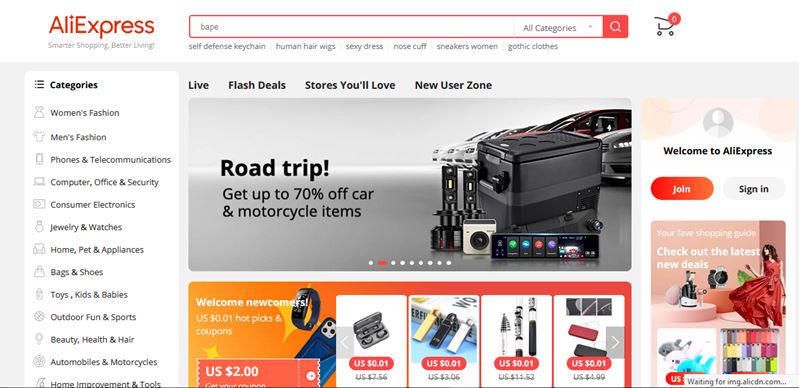 The Alibaba Group created Aliexpress in 2010 for the sole purpose of connecting Chinese industries to the global market. 
It serves as an online marketplace where people all over the world can access Chinese products and have them delivered to their doorsteps, no matter the region. 
Using the company requires no third-party systems or complex business procedures – just the customers and a user-friendly platform. 
However, unlike other online shopping platforms like Amazon and eBay, Aliexpress doesn't own any of the products it sells – it only serves as a market pool for Chinese industries.
And thanks to this, Aliexpress shaped the dropshipping industry. It changed several lives and boosted the global eCommerce space.
Aliexpress General Statistics
Aliexpress has some impressive online shopping statistics that only a few companies can boast of better. 
1. Aliexpress is Worth Over $3.63 Billion
As of February 2021, Aliexpress was worth $3.63 billion, which comes as no surprise since the platform earns over $18,511 daily from marketing adverts.
It also makes millions in profits per annum from commissions (between 5% and 8%) on direct sales. 
2. Aliexpress Serves a Global Audience 
It shouldn't come as a surprise either that Aliexpress now serves as a global audience. The website is translated into 18 languages from different regions of the world.
Aliexpress standard shipping delivers goods to about 254 countries all over the globe, including China. And depending on the location, it takes 11 to 45 days for Aliexpress to complete a delivery. 
The Aliexpress app is compatible with Android and iOS devices and has over 600 million downloads. And it comes as no surprise that the AliExpress mobile app is the top Android shopping app in Russia. 
The website features 30 major categories, under which are over 100 million products available to global customers. 
Aliexpress Users Statistics
3. Aliexpress Boasts Over 150 Million Customers
(Source: AliExpress) 
AliExpress has taken its place as one of the top sites for buying and selling globally. It boasts of over 150 million consumers. Although it is not the number one site, it is making its way to the top. 
For a site and platform that started with a few numbers, this is a remarkable feat. There is almost no one familiar with online trading in the world right now who does not know about this platform. 
A breakdown of figures suggests that AliExpress has customers from each continent and almost all countries worldwide. Interestingly, the numbers are on the rise and do not seem to be reducing. 
4. AliExpress Records at Least 20 Million Buyers Daily. 
(Source: China Internet Watch)
The user statistics of AliExpress show that it gets 20 million users daily. There are only a few websites and platforms that can boast such a high number of users.
With this detail, it is not surprising that AliExpress is one of the top e-commerce websites. Their consistency and social proof are some of the many reasons that led to this metric.
People saw other customers' reviews about AliExpress, gave it a try, and got satisfactory results. Hence, the cycle keeps expanding.
This user statistics of AliExpress puts it as one of the top 5 e-commerce websites worldwide when you check it amongst other competitors. 
5. 230 Available Regions and Countries
(Source: AliExpress  )
With over 150 million users, you might want to ask where the platform gets its teeming users. 
Well, it's definitely not from a single country or region. AliExpress is available in over 230 territories and countries worldwide.
AliExpress's traffic from Europe increased by 20% in 2020.
Irrespective of where you are or visit, you are sure to have access to this site. You can also have your items delivered without any hassle. All these show the growth expansion of the AliExpress platform. 
In 2020, compared to 2019, Aliexpress saw a spike in their traffic and users from Europe thanks to heavy advertising in southern Europe.
This means more because breaking into a European country as a Chinese company is quite difficult. Same thing with an American company (Amazon) breaking into the Asian (China) business sphere.
In the cold war between Amazon and Aliexpress, this is a big plus for Aliexpress (thriving in Europe).
6. AliExpress has 18 Enabled Available Languages 
(Source: AliExpress )
Some platforms are not doing great because there is a language barrier. Suppose a Chinese man wants to use a platform that does not support the Chinese language, that would be a problem as nothing would be understandable.
This is not the case with the AliExpress platform, as it supports 18 languages. it gives access to more people, providing them with more users and customers. There are high chances that AliExpress supports your native language.
Some of these languages are: 
English 
Spanish 
Portuguese 
Arabic
French 
Polish 
Russian 
Indian 
German
Italian 
Turkish 
Korean
Once a website supports different languages, it is usually more inviting, and AliExpress has gotten this hack. There are hopes that they will support more languages soon.
7. The AliExpress Mobile App Gained 104% More New Users in 2019.
(Source: Connectiva Systems )
It is easy to think that AliExpress is just another e-commerce website or platform. But with these user statistics, it is evident that it goes beyond that.
The number of users of this platform keeps increasing, and it is mind-blowing. In 2019, the mobile app alone gained 104% new users. This statistic does not include those who used the platform's URL.
This also suggests that the mobile app is easy to use and navigate and that people appreciate the platform's mobile-friendliness.
When platforms have a mobile app, it is sometimes dicey as they strive hard to ensure that their users do not have any complaints. But it has been relatively easy for AliExpress users. 
Aliexpress Product Statistics in 2021
8. 100 Million Products Available
(Source: Oberlo )
People love AliExpress for different reasons. One of the reasons is because it has an array of products available. When talking about available products on AliExpress, you should think in millions.
Statistics show that this e-commerce marketplace has over 100 million available products. Thus, it will be nearly impossible not to find whatever you want.
Once you go on the AliExpress marketplace, you can see items you want and other related needs. It is why some people say that they get carried away or lose track of time when they are shopping on AliExpress.
It is always lovely to make choices, which is possible when a shopping platform has over 100 million available products.
9. Free Shipping Takes Longer Time; From 20 Days and Above 
(Source: Oberlo )
While shopping on AliExpress, you can see some products that come with free shipping. Many people get giddy and excited at this prospect. However, it comes with some cons.
The majority of the products that have free delivery or shipping on AliExpress take a longer delivery time. It is because these products are sent out through the National Post Service of your country, and it takes a longer time.
This might not matter to some people. But if you are expecting a quick delivery, you should not go for this option.
10. AliExpress has over 10 product categories
(Source: AliExpress )
You already have an idea that you get a variety of products on AliExpress. One other thing you should know is that the e-commerce store has over 10 product categories.
Having category grouping on an app or website makes your shopping experience easier and faster. Knowing this makes your shopping experience more convenient while you are on AliExpress.
Some of these categories are:
Women's Clothing
Men's Clothing
Home and Garden
Shoes
Luggage and Bags
Cell Phones and Telecommunications
Mother and Kids
Computer and Office
Jewelry and Accessories
Sports and Entertainment
Consumer Electronics
These categories make the website or app arranged as you browse through it.
AliExpress Sales Statistics in 2021
11. The iPhone Tempered Glass was the Product with the Most Purchases in 2020.
(Source: Tech Jury )
Have you ever wondered what products sell out the most on AliExpress? Worry no more. It is why we have this sales statistic.
Numerous products are available on AliExpress, and people have different preferences. But in 2020, we saw that the iPhone tempered glass has the most sales.
Without a doubt, everyone agrees that apple products are top-tier gadgets in the world currently. Many people want to own an iPhone because of its different features. It is only wise and proper that they also have a tempered glass for protection.
This statistic about the iPhone tempered glass is thus not surprising or out of the ordinary.
12. There are More Than 10,000 Sellers on AliExpress. 
(Source: CEDCommerce )
The AliExpress platform will not have such a high number of products if there are not enough sellers.
We were curious enough to check out the number of sellers on AliExpress. It helped in the compilation of these sales statistics.
The result shows that there are more than 10,000 sellers on AliExpress. Not only can people buy from this platform, but it also creates job opportunities for thousands of people.
The numbers were mind-blowing. This better explains why various products are on the platform as different people bring in things that they believe will attract customers and audiences.
13. In 2020, New Stores on AliExpress's Cross-border Platform Increased by 132%.
(Source: Tech Jury )
If you think that the AliExpress e-commerce store is for only Chinese people, you are wrong. 
There are facts and statistics to support this claim. In 2020 alone, the number of international new stores on the platform increased by 132%.
People from everywhere worldwide are recognizing AliExpress, and it is becoming more accepted. This statistic indicates growth for the brand. It also shows that AliExpress is for everyone, irrespective of the country of residence or background.
We are curious to know what the new statistics will be by the end of 2021. But many people have leveraged this platform to make sales, and it can only go up from here.
ALIEXPRESS AFFILIATE STATISTICS
14. Third Most Popular in Belarus In Affiliate Programs Category
(Source: Built With)
Belarus is one of the top European countries that have many AliExpress users. Asides from buying, they also utilize the platform for affiliate marketing.
Some of its affiliate marketing programs are from the local e-commerce stores in the country.
For the AliExpress affiliate program to be one of the top affiliate programs in a European country, it skyrockets the affiliate statistics. This further buttresses the fact that AliExpress is a global brand, and it is not limited to a specific region.
15. Number One in Israel in Affiliate Programs Category
(Source: Built With )
AliExpress has positioned itself as a brand and platform that has the interest of many at heart. 
It is why its affiliate marketing program has experienced a surge, and it is doing well in many countries. One of such places is Israel. The AliExpress Program is number one in terms of affiliate marketing.
People have tried it in this country. From their experience, they are satisfied, and in turn, refer their friends and others. With this system, it is not surprising that the AliExpress affiliate program has a high popularity status in this country.
We believe that they will soon take the number one spot in more countries if the trend continues.
16. AliExpress Offers Worldwide Shipping.
(Source: AliExpress )
Research on the affiliate statistics of AliExpress shows that one of the successes of this program is because AliExpress ships worldwide. Irrespective of where you are, you can get a package if you order from this platform.
It makes people feel safer when they don't have to deal with any discomfort when obtaining their goods.
In some cases, it can get to your doorstep. On other occasions, you have to get it from a particular location, but it will be within your vicinity. It assures their claims that you can get things that you desire from the comfort of your home.
17. AliExpress Affiliate Offers a Minimum of 8.5% Commission on a Sale.
(Source: Within The Flow )
Affiliate marketers will not use a platform if they do not think that it is rewarding. When compared to other affiliate marketing platforms, AliExpress offers a high commission. It is not the highest in existence, but it ranks at the top.
Although commission for AliExpress affiliate depends on the product, statistics show that AliExpress affiliate offers a minimum of 8.5% commission on a sale. This encourages affiliate marketers to put in more effort as they want to gain more.
This commission rate is also one reason why AliExpress affiliates are steadily gaining popularity status amongst others.
AliExpress Dropshipping Statistics
As said earlier, Aliexpress shaped the dropshipping industry with its variety of products and low cost of products compared to other eCommerce stores.
This is why a lot of people started dropshipping Aliexpress products on custom Shopify stores, Amazon, etc.
Many more software solutions were built by third-party individuals to simplify the Aliexpress dropshipping process. 
Tools like EcomHunt (hunts for hot products on Aliexpress), AliDropship (provides an end-to-end solution to Aliexpress dropshipping), and several other software products.
This goes on to show how impacting AliExpress has been to several industries. Like its founder (Jack Ma) does say, the Alibaba Group is an ecosystem on its own.
That said, here are the latest Aliexpress dropshipping statistics you should be aware of:
18. 18.5% of Dropshippers on AliDropship are in the Gadgets, Devices, and Accessories Niche
(Source: TorchBankz )
The dropshipping statistics show that gadgets and their accessories make up 18.5% of what most dropshippers order. This is not to say that they do not order other items. But this is at the top of the list.
These gadgets are top sellers worldwide, so it is not surprising. If you want to go into dropshipping through AliExpress, you might want to consider the gadget niche.
19. The United States, United Kingdom, Canada, Malaysia, and Australia are Top Countries Using AliDropship
(Source: TorchBankz )
Research shows that these are the top countries that use AliDropship. They have more drop shippers than other regions.
20. 90% of Drop Shippers Using AliDropship Prefer Niche Stores
(Source: AliDropship )
The phrase 'Jack of all trades, master of none' is popular. Some people do not have an area of specialization as they try to dabble into everything.
Checking the statistics of those using AliDropship, 90% of these dropshippers prefer niche stores rather than getting products from all categories. It is easy to identify their specialization. 
Aliexpress Statistics Infographic
Summary and Conclusion – Where's AliExpress Headed?
These trends and statistics are liable to change as we progress with the year because the e-commerce store industry is on a rapid growth movement. Everyone is competing for the top position.
However, the future looks bright for Aliexpress. Whether as a seller, dropshipper, or affiliate; the future is bright.
But you can expect the competition to get stiffer as many more sellers and dropshippers join the line. 
And there you have it, the latest Aliexpress statistics and trends.
Now, you know your facts concerning AliExpress!