How To Join The Writecream Affiliate Program: [35% Recurring]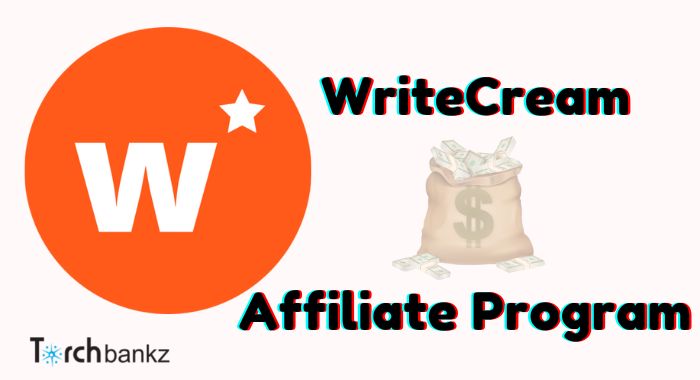 In this post, I'll be doing justice to how to join the Writecream affiliate program and equally discuss how you can promote it and earn a monthly recurring commission.
Writecream affiliate program is one of the few amazing affiliate programs you can promote and get RICH.
If you are new to Writecream and you have little to no knowledge of how Writecream works, I'll suggest you go through my in-depth review of Writecream.
Now that you know what Writecream is all about let's talk about how you can earn from it while also using the tool for your business.
Writecream Affiliate program (35% recurring commission)
Here's a link to the (Writecream Affiliate program) sign up for the free forever plan and automatically become an affiliate from within your account.
When people sign up through your Writecream affiliate link, you get a 35% commission on every purchase.
This means that if 100 people sign up through your Writecream affiliate link, you earn 35% 100 times. Good cash if you would ask me.
Let's break it down. You can earn
$17.15/month on Standard User
$24.15/month on Extended User
$350/month if it is custom, and the plan costs about $1000
You can read more about Writecream pricing here.
Writecream Overview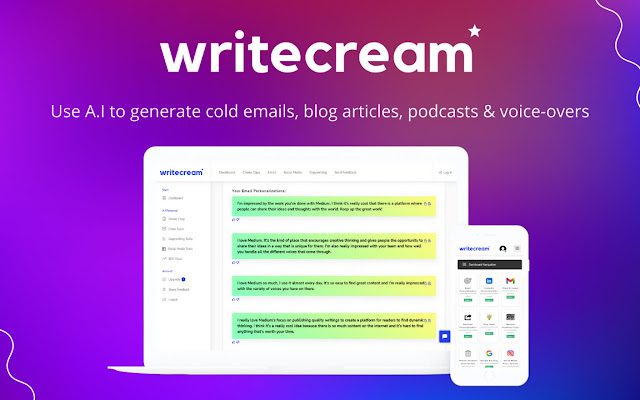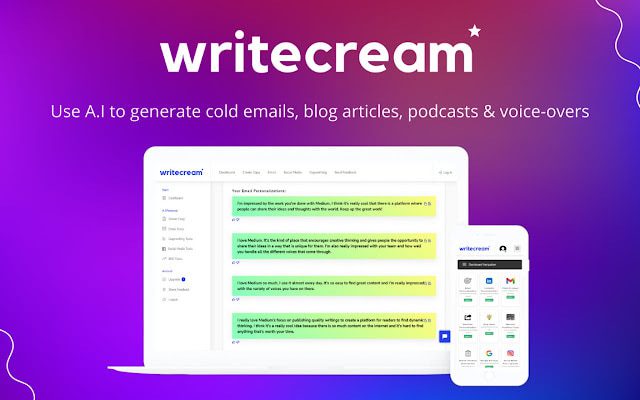 Writecream is a copywriting tool that is powered by artificial intelligence. WriteCream works with the help of GPT-3 Al.
It features an archive of templates that you can use to develop content for sales information, industry blogs, promotions, social platforms, and email marketing.
This Al software helps copywriters and marketers to create content that converts their audience.
The tool is more geared toward Sales Ads and SEO writing. It is also prominently known as an icebreaker.
You can use writecream to create Audio and Image icebreakers, backlink campaigns, Linkedin outreach, and so on.
With the help of this tool, you can create highly engaging copy for your ads campaigns such as Facebook ads, YouTube Ads, SEO Meta descriptions, and others.
Writecream is one of the copywriting tools that support long-form content. You can use it to write blog posts, landing pages, etc.
It has a huge library of templates. Therefore, if you have no idea how to begin with Writecream, you can easily start by using the templates.
How To Get Started With The Writecream Affiliate Program
To get started with the Writecream Affiliate program, you need to sign up with Writecream and have an account first. Then, you can follow these steps;
1: Go to the affiliate sign-up page and open this link https://writecream.typeform.com/affiliate
2: After opening the form, answer the questions there. They are your name, email, and the platforms you want to promote writecream
3: You will be redirected to the affiliate partner's website, where you will be required to submit your payment details
4: After which, you will be redirected to the Reditus dashboard, which is where you will be able to track all your earnings. Confirm the Email after checking all your particulars.
5: You will receive an account verification email
6: A unique referral link will be generated for you that will help Writecream track any affiliate sales to you
7: Click on the "My Partnership" icon on the left-hand side of your dashboard and thereafter, click on "Accept"
8: You will see a "Partnership was successfully updated" message which means you have been accepted
Apart from making money when customers buy the product, you can be a sub-affiliate as well. This means that when you refer an affiliate, you get a percentage from their affiliate commission as well.
Once your commission has been aggregated to about 15 USD, you can start receiving payments. There is no limit to the number of earnings you can have.
Writecream Cookie Duration
There is something called cookies on websites. Once anyone signs up to a website that has cookies, it helps to remember you and your login details.
In Writecream, there is cookie duration. That means there is a period that a customer can click on your affiliate link and make the actual purchase that will be counted as a sale made from you.
It is believed that a lot of customers might click on different affiliate links.
Therefore, if someone clicks on different clicks, it will be commissioned to the affiliate link that the customer bought from within the stipulated duration.
It varies from one product to another. In Writecream, its cookie duration is 30 days.
This means that a customer that clicks on your link should proceed to make a purchase within the 30 days framework.
If the customer buys on the 31st day, it would not be counted as a commission for you.
Also, you can send reminder emails to them since the website might have captured their details.
Writecream Affiliate: How To Get a Discount Coupon Code
Having the Writecream discount coupon code is another way to attract customers to buy from you.
Everyone loves it when they can get the same value at a lower price. Once they see that you can offer them a discount, they will tilt towards your end.
How To Promote Writecream Affiliate
Now that you already have a discount coupon code and the referral links let's discuss how you can promote the Writecream affiliate program.   
#1 Through Email List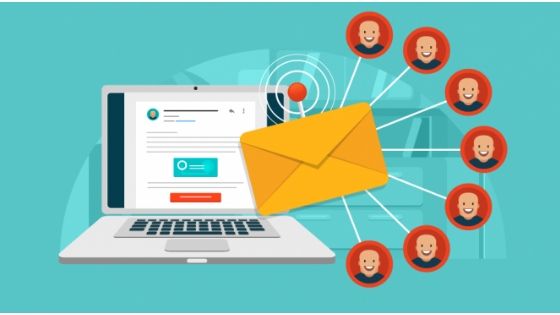 This is one of the best ways to promote your Writecream affiliate program. Email marketing gives you direct access to your audience.
This is you bringing your products closer to them. However, the challenge is that a lot of people abuse it.
As much as you have access to people's email lists, you should avoid spamming their inboxes with your emails.
The major challenge that most people have is that they are too conscious about the marketing, they completely forget that the KLT factor must be present.
Build the trust factor first, then sell yourself.
Here are three main email marketing tips that can help you promote the Writecream affiliate program successfully
Establish a Relationship With Your Email Lists.
This is a golden tip that can speed up sales in email. You don't want your audience to see that you are only interested in their money.
Sending promotional content and affiliate links all the time is a big turn-off.
Rather than that, share valuable content that is related to them. People naturally tend to the direction of value.
The moment they realize that you always share content that is either educative, informative, or entertaining, your audience begins to look forward to your content.
You can start sending the promotional content to them and it will be well received.
Writecream has some done-for-you campaigns that you can use to send this promotional content. This will help minimize the bulk of your work.
Leave a medium for a reply.
Another way to build a relationship is to encourage a reply by leaving a medium for a reply. After sharing the content, leave your contact information. It could be an email address.
Once your subscribers send you messages, always create time to reply to them. It makes them feel connected to you.
Start with the A/B test
Another tip for your email marketing is that you can start with an A/B test. At this point, you only send to a fragment of the email lists and watch their responses to the different emails that would be sent.
This will help you determine which category of emails you should send more often.
 2. Through Facebook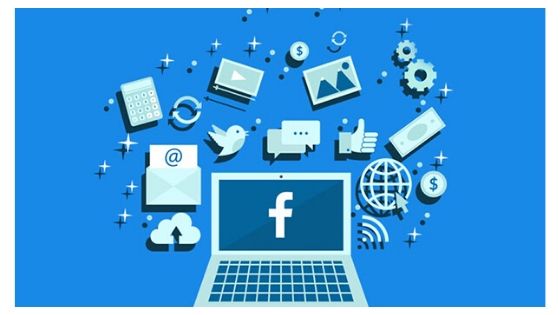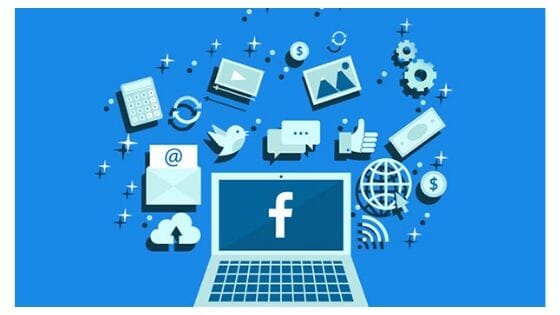 Facebook is one of the largest social media platforms. Therefore, it is a good place to promote your Writecream affiliate program. Facebook has over 4 billion users and it has great potential for marketers.
There are two ways by which you can earn affiliate commission on Facebook. They include;
Facebook Ads
Facebook Groups
Facebook Ads
This is a good way to reach a wider audience range. You can run (Facebook ads) to target niches.
This you first do by determining what category of people will benefit more from the product. Having a targeted niche helps you convert easily.
While running your ads, you must pay close attention to your marketing copy. Good thing Closerscopy is there to do justice to that.
You want to ensure your copy is convincing enough. You could also attach sample texts and copies Writecream has written for you.
Everyone wants proof that something works. Before running the ads, ensure that you have a lead funnel in place.
You should collect their emails over the funnels and remarket using the email list strategy.
To run a Facebook ad, you must have a Facebook page.
Facebook Groups
This is a way to position yourself as an expert in the field that Writecream works for.
All you need to do is to create a Facebook group that addresses writing and all the subjects around it.
Just like the email list, you don't begin by pushing your Writecream affiliate link to the face of your audience.
They want to know what is in it for them in your group. That is why you have to start by dishing out valuable content that will interest them.
Offer those content for free and finally introduce your affiliate link.
Your audience would have come to trust you and they will readily accept whatever offer you bring to them.
3. Through YouTube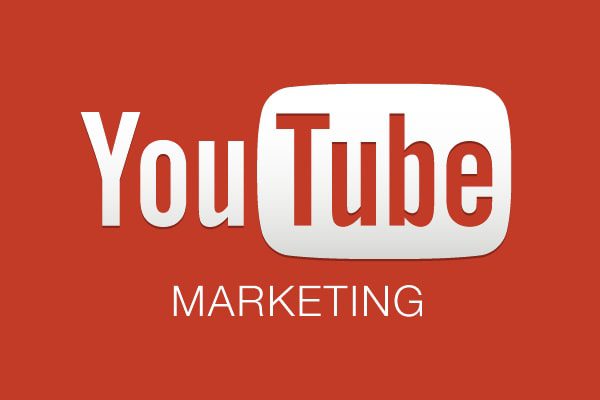 YouTube is the second largest search engine and it has billions of users and views. It is another good medium to promote your Writecream affiliate program.
Just like Facebook, you do not have to spend any dime to set it up. You do not need any form of domain buying or hosting payment.
All you need to do is to have a Google account and you are good to go.
The only challenge that most people have about YouTube is the showing of faces on the screen but guess what?
You can run a cash cow YouTube channel) where you do not have to show your face.
Asides from that, you could go with the method of sharing your screen. You could share how-to videos about any subject that revolves around using Writecream. You could create Writecream reviews and comparison videos as well.
Here are a few of what you need to take note of as you use the YouTube channel
Screencast-o-Matic. This tool will help you record and share your screen for any video you make.
Optimize your video description
Do proper keyword research. You can use tools like Google Keyword planner, VidiQ, or the Surfeo SEO tool.
Use catchy thumbnails
Shorten your affiliate URL
4. Through Niche Blog
You could set up a niche blog to promote your affiliate link as well. In this case, you will need to get a domain name and set up your web hosting.
(Bluehost) is a good medium to get your domain name for free. Bluehost also offers a free SSL certificate with a 45-day money-back guarantee.
Once your hosting platform and domain name are set, you need to do keyword research to write relevant keywords that will make your blog rank.
At the end of each blog post or somewhere around it, you can add your Writecream affiliate link.
And you know how interesting it is that the same Writecream you are promoting is what will help you to create the content.
Therefore no worries about the rigor of writing content over and over. Here are a few examples of content you can put up.
How-to Post
Comparison post
Review post
Case study post
5. Through Google Ads
Google Ads is the opposite of SEO. In SEO, which is majorly what the niche blog entails, you have to create good content and add a few backlinks so that your blog's ranking can be boosted.
However, it might take a little while before you begin to see results. It's a gradual process of visibility.
But with Google ads, it's as if you are telling Google that you need an immediate result.
All you need to do is to bid for Writecream keywords through Google ads and then include your affiliate link.
As long as people search for those keywords, they will land at your Google ads and then see your link.
The more the click-through rate you have, the more chances you have to make more money with Writecream affiliates.
You might want to check out this A-Z content on how to run Google Ad words by Neil Patel.
Finally, you must confirm whether Writecream affiliate terms and conditions allow Google Ads. This will help to prevent your affiliate account from terminated.
6. Answering Questions on Quora

Quora is the Biggest Question and Answer website. Regularly, there are millions of questions that users ask.
All you need to do is (create an account on Quora). Then look for questions that are related to Writecream and provide an in-depth answer to them.
Inside your answer, you must include your landing page link. This will help to drive traffic to the landing page that has your affiliate link and they can click on it.
Quora does not accept that you add your affiliate link directly to the answers you provide. It is against their ethics.
However, if you must add your affiliate link directly, ensure you use a (link shortener).
How To Track Your Referrals on Writecream
You track your referrals on the Reditus dashboard.
That is where they see the statistics of everything that transpires on your unique affiliate link. Some of the statistics include;
Total number of clicks on your link
Number of users who sign up with your referral link
Number of users who signed up for the paid monthly plan using your link
Total commissions earned
These and other information you will see on the dashboard.
Once a user clicks on your link and signs up, the statistics of the number of referrals will be updated.
Apart from that, you will see a notification in the activity log that a particular email has just signed up. Writecream will also send an email containing that information to you.
FAQs about Writecream Affiliate
Here are some frequently asked questions about Writecream affiliate
What is the minimum payment threshold?
The minimum payment threshold for writecream is $15. That is, once you have $15 in your writecream account, it would be credited to your bank account.
When does Writecream pay its affiliates?
Writecream pays its affiliates on the 7th of every month.
Can I join the affiliate program if I sign up for the free forever plan?
Yes, you can. The moment you sign up on Writecream, you are eligible to join the affiliate program and start earning.
Final thoughts on Writecream Affiliate
Writecream affiliate program is one of the best ways to (make money with affiliate marketing). Irrespective of the promotion methods you decide to use, the major thing is consistency.
If you decide to use Facebook, YouTube, or a Niche blog, you need to keep at it.
Your audience should trust you for a regular dose of valuable content. Once your consistency is there, you will see the Writecream affiliate commission coming in, in no time.
But remember that you need to have an account first. You can do that by signing up here