Can You Drop Servicing With No Money? [Let's Find Out]
Yes, it's possible to start to drop servicing with no money or with a small budget. 
However, it's important to remember that having some capital to invest can help accelerate the growth of your business. 
With some funds, you can invest in marketing efforts such as paid advertising, website development, or hiring a virtual assistant to help manage your workload.
In addition, having a budget can also help you establish a professional image for your business.
You can invest in a website domain and hosting, purchase a professional email address, and create a logo or business card.
Regardless of your budget, it's crucial to provide high-quality services and focus on building strong relationships with your clients and service providers.
Word of mouth and referrals can be powerful marketing tools for your drop-service business, so delivering excellent results and customer service is important.
In summary, while starting to drop servicing with no money or a small budget is possible, having some capital to invest can help you grow your business faster and establish a more professional image. 
We've written a more elaborate post on how to start a Drop service business.
How Does Drop Servicing Work?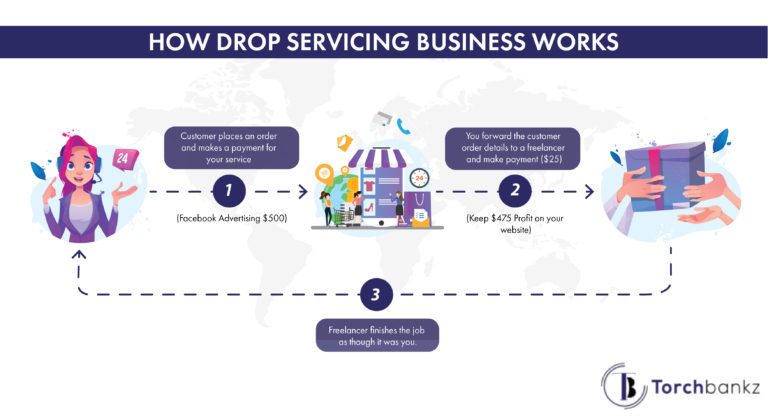 Drop servicing is a business system where you sell digital tasks to clients and assign the work to freelancers or business contractors instead of doing it yourself.
Owning a drop service business is more or less like dealing with services instead of physical products.
As a business owner, you sought out freelancers on various freelancing platforms to get a freelancer that works on your line of niches. Niche means your area of specialty, in other words, your niche is your line of work.
Your freelancer is also known as a service provider. Your service provider works for you, and as well delivers to your clients on your behalf.
But for better understanding, you would have introduced your service provider to your clients, so they would be familiar with them.
Also Read: Is Drop Servicing Legal?
Drop Servicing with No Money?
Yes, you can start a drop-servicing business with little or no money.
All you need to start this business system is your computer and a good wifi connection. You'll stay in your comfort zone and control how things get done right from your computer.
It's equally important to know how to target your audience. This means how to converse with those who need the service you offer.
Every business has an audience and a potential audience, so you need to learn how to identify these two and how to work with them.
As I've said, you need no money to start a drop-servicing business. These steps will help you.
Also Read: Is Drop Servicing Profitable?
1. Start with a Narrow Niche
I'm sure you know this phrase: "Start with a narrow niche".
A narrow niche means that by working in a specific field, you can choose to work as a content writer, a web designer, or a graphic designer.
You can work on that specific area you're good at. It is advisable to focus on a particular niche.
It is advisable to avoid disappointing your clients.
You should be known for a specific thing and be a master in your field. It shows you're stable and ready to work at any time. Find service providers that offer at a rate you can afford
Also Read: Drop Servicing Niche
2. Identify Low-cost Service Providers
You probably might have wondered how to get these freelancers; I got you. You can get potential service providers on online platforms like Fiverr and Upwork.
On both of these platforms, multiple freelancers are there waiting for you and other business owners to come to hire them.
However, most of the freelancers on the Fiverr platform are willing to work at a reduced price that is convenient for their employer.
They'd do this, especially if they'd be working for you for a long time.
Finally, I'd say Fiverr if you asked me which freelancing platform you should use when searching for a competent freelancer.
Fiverr is used globally and is user-friendly, to say a few of its amazing characteristics. I'll help you with ways you can get a service provider that matches your requirements.
After you've gone to these platforms to check for good freelancers, check their portfolios or dashboard for the price they posted there that they would work for.
Compare their prices. Check for the ones you can conveniently afford, or you can still talk with them about the price reduction. 
Let them know the amount you can afford to pay per hour or per service they do for you.
3. Sell Your Services Using Social Media Marketing
Social media marketing is one of the best ways to get potential clients.  On platforms like Twitter, Facebook, and Instagram, you can reach potential clients who are ready to work with you long-term.
In addition, using these platforms, you can market your business to a large audience at a time, and also preach your service to a targeted audience.
Here are some steps to follow in marketing your services through social media marketing.
To begin, choose a platform that is best suited for your type of customer.
Build a Profile
Create an account for your business on the particular platform you've chosen. Then edit your profile, which should contain your business name and high-quality pictures of your service.
Write concise, understandable Content.
This is also an important step. Write a short, catchy, and explanatory write-up advertising what you sell.
Build Your Audience By Engaging Them
At times, engage them with your posts, host live videos, and respect their opinions or suggestions.
Also, reply to their messages, and answer their questions. Build a good and reasonable relationship with them.
Make them trust you, and always be available. Don't let them see you as their other choice. Grow with them.
 Use enticing designs or images. Post catchy pictures of your service on your profile page, and let your posts always be about what you offer.
4. Make Use of Free Tools.
There are free tools online you can use as a business owner to promote, expand, and make yourself second to none.
However, using these free tools also depends on how creative or strategic you are as a business owner.
Free tools such as Canva, Trello, and Google Suite. These tools are free and available to establish a Drop service business instead of spending a lot on pricey solutions.
Here are what the free tools are used for:
For Social Media Management
Example of social media management tool you can use is Buffer or Hootsuite.
These tools are free and effective. You should try them out.
With both, you can schedule posts, keep track of the information you gather, and monitor your accounts.
Communication Tools
 Also, there are free tools you can use to communicate or relate with your audience easily.
Tools such as Whatsapp, Facebook, Instagram, and Twitter, or any other effective platforms you can use to reach potential clients.
But, using any of these tools, you should be punctual and ready to reply and work.
Email marketing tools
Email marketing is one of the ways you can pitch your business and reach or pass on information to your clients.
For email marketing, you can use websites like Mailchimp or SendinBlue.
With both tools, you can successfully send email messages and advertise your business. Remember, it's free.
You can use these tools to create emails, monitor analytics, and manage your email list.
Tools For Graphic Designing
Some tools offer various kinds of templates and designs that can be modified to produce attractive and classic graphics.
You may create graphics and images for your social media profiles or websites with Canva, Pixlr, GIMP, SVG-edit, and Inkscape.
Tools for collaboration
 You can use free collaboration tools like Trello, Asana, or Google Docs to coordinate tasks and interact with business teams.
These free tools can help project collaboration with your business team, beat deadlines, and commit assignments.
You can use these free tools instead of spending money on expensive software.
With these tools, you can provide a high-quality service. You should study each of these tools to know which one best fits your area of specialization.
Can You Drop Servicing with No Money: Final Thought
We can now see that launching a Drop service business is feasible without any money.
Starting a Drop service business undoubtedly calls for a lot of effort, ambitious ambitions, and resourcefulness.
Your work can surely be distinct and unique from your competitors if you choose to do it in a specific way (a narrow niche).
Finding affordable service providers is an essential means to reduce expenses.
However, you may connect with outstanding freelancers who can cheaply get your work for you. This is possible by making use of platforms like Fiverr and Upwork. Fiverr is the best.
Service providers are willing to work at a reduced price on these platforms, especially if they will be working for you for a while.
Using these free tools is beneficial when launching a Drop service business with no money.
Without the need for expensive software or tools, you can manage your business more successfully with the help of these tools.