Kartra Pricing Plans [2023]: Real Cost, Discounts & Packages
In case you haven't noticed, trying to check Kartra pricing plans on their platform will require you to opt-in to their mailing list.
It could be a bad thing if you're not going to be using the platform for your online marketing business.
However, as a result of that, I took the liberty of breaking down their pricing plans, discounts, and packages and of course how to get the 30Days free trial!
You'll only see the 14-day trial by default if you visit the Kartra website. The 30Days free trial could be good if you want to be sure of the platform.
And yes!
You can cancel the trial before the 30th day if you don't want to use the platform anymore.
Anyways, more on that later…
Let's quickly go over the Kartra prices and figure out the best plan for your business either big or small!
I'll break down each of the Kartra pricing tiers and show you the perfect one that suits your current level of business.
And also, you can check my detailed Kartra review, if you haven't seen one already!
Kartra Pricing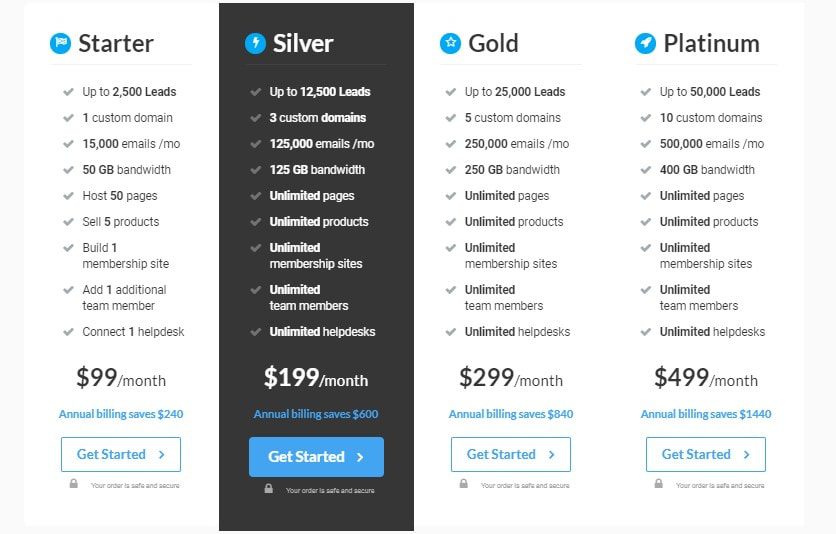 Kartra pricing tiers have 4 major plans and 5 in total. The first 2 is popular for smaller businesses while the fifth is their Enterprise plan for large-scale business.
However, there used to be a plan before, the diamond plan. I believe the diamond plan used to be the bigger plan before it was recently removed from the Kartra sales funnel pricing plan.
I'll compare the entire plan so you can see the differences in each plan and choose the best one to start your business!
However, you should also know that all plans come with a $1 trial for 14Days for any of their plans.
Now, let's compare the pricing plans:
#1: Kartra Starter Plan ($99)
The Kartra Starter Plan is the most limited plan of all the Kartra plans. However, it's ideally good for those just getting started with less than 2500 email lists.
You can automate your email and send up to 15,000 emails per month. This may look big but wait till you start setting up automation and having more opt-ins.
I've listed the basic feature and what to expect in the starter plan below:
You can acquire up to 2,500 email list
Can connect 1 custom domain
Easily send 15,000 emails /month
Access to 50 GB bandwidth per month
You can also host up to 50 pages from your account
Ability to sell up to 5 products from your account
Limited to a single membership site
You can only add 1 additional team member to your team
Connect 1 helpdesk
Starter Plan Discount
In this discount offer, you'll get a 25% discount which will drop to $79/month if you choose to pay per year. This means that you will be able to save a total of $240 per year.
Try Kartra for $1
#2: Silver Plan ($199 Per Month)

The Silver plan has been the second Kartra plan is the most popular of the Kartra plan. This is because it's the ideal plan to grow your business. (USD 199 per month)
The silver plan raises your limitation from the previous plan in areas of bandwidths, total emails sent and the size of your list.
Currently, with the Silver Plan, you can acquire up to 12,500 leads and send up to 125,000 emails per month.
It's good for average business owners and those ready to take their business to the next level! The basic features include:
This plan limits you to 12,500 Leads
Then allows you to connect up to 3 custom domains
It allows you to send up to 125,000 emails /month
Access to 125 GB bandwidth per month
Sell unlimited products
Build unlimited membership sites
Add unlimited team members
Connect unlimited helpdesk portals
Silver Plan Discount
This plan saves you a Whooping $600/year and reduces the monthly sub to $149 per month if you opt in for the annual billing.
Try Kartra for $1
#3: Gold Plan ($299)
The Gold Plan is basically taking your business to the next level with less limitation compared to the previous plan.
Below are the basic features of the gold plan:
You can have up to 25,000 Leads
Connect up to 5 custom domains
Send 250,000 emails /month
Access to 250 GB bandwidth per month
Create unlimited pages
Sell unlimited products
Build unlimited membership sites
Add unlimited team members
Connect unlimited helpdesk portals
Gold Plan Discount
The gold plan discount saves you $840 a year and reduces your monthly sub to $229 if you opt-in for the annual billing.
Try Kartra for $1
#4: Platinum Plan ($499 Per Month)

Just like the rest, the bigger the plan the bigger the size! You can find the Platinum plan features below:
Acquire up to 50,000 Leads
Connect up to 10 custom domains
Send 500,000 emails /month
Access 400 GB bandwidth per month
Create unlimited pages
Sell unlimited products
Build unlimited membership sites
Add unlimited team members
Connect unlimited helpdesk portals
Platinum Plan Discount
The platinum plan discount saves you a Whooping $1440 a year and reduces the monthly sub to $379 for the annual billing.
Finally, as part of the Kartra review, you should know all plan comes with a 30Days guarantee if you want a refund.
Try Kartra for $1
#5: The Enterprise Plan
This is basically the biggest plan of the entire plans and it's not available by default.
If your business has more than 100 000 leads then the Enterprise plan should be your kind of thing.
To get this plan, all you need do is contact support about your business plans.
Included in All Kartra Pricing Plans
Irrespective of your pricing plan on Kartra, all plans come with these features available at your disposal, except for the AGENCY FEATURES.
The Agency feature is only available for users from the Silver plan upward. While other features are included in the rest of the plans.
Kartra Checkouts
Kartra's sales funnel allows you to sell products or services online through Kartra's secure and gorgeous checkout forms for both credit card and PayPal payments.
Kartra Pages
You also get to use their amazing drag-and-drop page builder with hundreds of professionally designed templates.
The good thing about Kartra pages is that they are 100% optimized on all devices! Be it mobile, tablets or desktops.
Kartra Leads
The size may vary on the plans, but you can easily build your leads, prospects, and customer database.
The platform allows you to organize them in lists and via custom tags.
Kartra Forms
The form features are available on all plans allowing you to capture leads via their gorgeous leads forms.
You can also create your own custom fields with powerful tagging and automation rules.
Kartra Funnels & Campaigns
Enjoy the "done for you" funnels and marketing campaigns with multi-page funnel flow to convert visitors into leads, leads into customers, and customers into loyal recurring clients!
Kartra Mail
The Kartra mail feature allows you to create campaigns of leads with either email marketing or SMS integration.
This basically allows you to communicate your list in the most convenient way.
Kartra Memberships
The membership features irrespective of your plan allow you to deliver your content, course, or training material with ease.
You can basically do this with their professionally designed, drag-and-drop membership portal builder.
Kartra Affiliate Management
This helps you to easily recruit, manage, and track your army of affiliates to promote your products. Moreover, you can monitor everything that pertains to your affiliate from commissions, milestones etc.
These are done from one single dashboard irrespective of your chosen plan.
Kartra Videos
Kartra's video feature also gives you access to a clean and sleek way to showcase your video to your customer.
We all know embedding YouTube videos on your website will still show links to YouTube which can be distracting to your potential customers.
But with the Kartra video feature, you don't have to worry about that.
Kartra Helpdesks
The Kartra Helpdesk portal support ticketing and live chat. In essence, this means that you can easily handle customer complaints; provide billing support, technical issue and other pressing issues from your customers.
You can also issue cancellation and refund from your Helpdesk system
Kartra Calendars
This feature lets you have a branded calendar with your brand logo on it for scheduling live sessions with your customers.
You can define your available free times and days so your registrants can choose their preferred date and time slot.
The calendar also notifies both parties about the appointment so no one forgets about the appointment.
Integrations & API
If you're code-savvy and want to program your own custom add-ons, Kartra's comprehensive API will be of great help to your business.
Try Kartra for $1
Summary of Kartra Pricing Packages
Here's a quick summary of what to expect on every Kartra monthly pricing plan:
Kartra Starter Plan = $99/month
Silver Plan = $199/month
Gold Plan = $299/month
Platinum plan = $499/month
Enterprise Plan = Custom price
How To Get Your 30Days Free Trial on Kartra
If you prefer the 30days trial compared to the 14days trial on Kartra, then you can simply follow my steps.
You can't find this by default on the Kartra page, so you need to click the button below to continue.
This same trial will cost you a dollar ($1) just like the 14 days trial too!
Once you get to the Home page…
Click the "Start Trial" button in the right-hand corner of the website.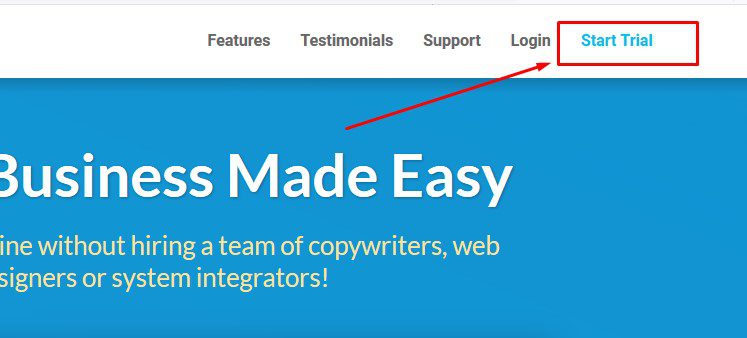 Then after that, the next page will prompt you to create a free account with Kartra for just $1. Enter your name and email address and proceed to the next page.
On the next page, you should see the Kartra pricing plan and the option to choose your preferred plan.
Here, all you need to do is move your mouse as if you want to exit the page and the exit pop-up will bring up the 30Days free trial.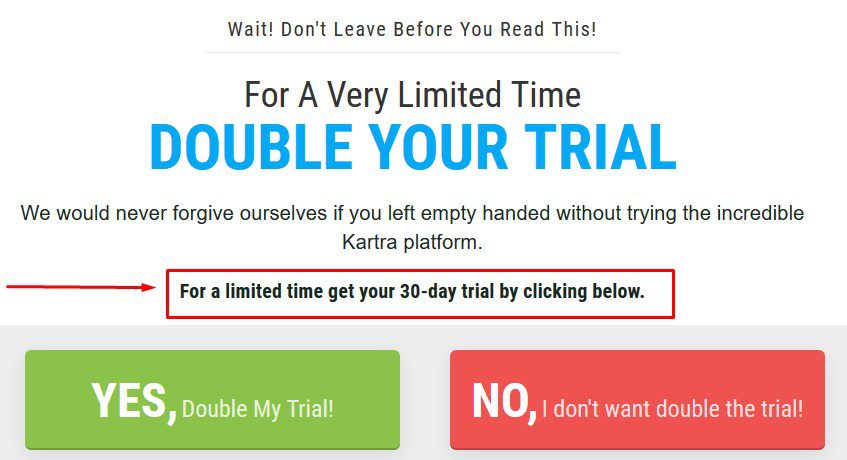 Once you've chosen the 30Days free trial, you can then proceed to make your $1 payment and you won't be charged until after 30 days.
Kartra payments support:
Visa cards
MasterCards
American Express
And Discovery
30Days Money-Back Guarantee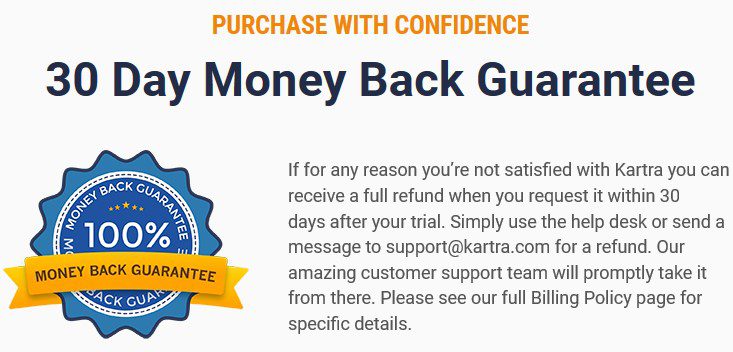 All Kartra plans come with a 30-day money-back guarantee if for one reason or another other you feel the Kartra software is not worth it for your online business.
Therefore, this means that you'll get your full refund if you request for your money back within the 30 days policy. All you have to do is send a message to support@kartra.com and ask for your refund.
The Kartra team will take it over from there.
FAQs about Kartra Pricing
Below are some of the Frequently Asked Questions about Kartra Pricing;
How much is Kartra monthly?
Kartra monthly pricing plans are $99 per month for Kartra Starter, $199 for Kartra Silver, and $299 for Kartra Gold. However, if you choose to pay annually it comes with a discount.
What is Kartra?
Kartra is an all-inclusive online sales platform with email marketing, list building, web hosting, and a business management platform designed just for marketers! It saves you the stress of connecting these tools one after the other by having them under one roof.
Is Kartra a CRM?
Yes, Kartra is a customer relationship management software that helps manage all your business relationships and interactions with customers and potential customers checked. The goal is simple: To increase your sales and acquire more leads.
What is the Best Plan?
As listed above, it all depends on your business and how you want to scale it. The Silver Plan, however, is the most common plan on Kartra with lots of users.
You can get started with the Silver plan or the starter plan if that's what you can handle for now!
What is included in Kartra?
Kartra gives you a complete sales funnels tool — pre-built, beautifully designed and professionally copywritten by renowned internet marketing experts.
All ready for you to customize and activate in just minutes. It also gives you a complete set of ready-to-use tools like:

– Auto-responder, Email marketing campaign platform

– Sales funnel platform

– Website builder software (e.g landing pages, squeeze pages, sales pages, thank you pages, product launch pages, checkout pages, video sales letter pages, and more)

– Split testing and link tracking software

– Online form builders

– Calendar and appointment scheduling software

– Shopping carts

– Advanced marketing video hosting system

– Membership portal builders

– Helpdesk ticketing systems, including live chat

– Affiliate management system

– Campaign analytics platform

– Custom programming seamlessly integrates all of the above

Graphic designers etc
Can I use my Domain name with Kartra?
Absolutely!
Kartra allows you to use any of your domain names for your pages. All you have to do is point them to Kartra pages from your Cpanel.
How Secure is Kartra?
Highly Secured!
All data stored in your account – including the personal information you collect about your leads and customers, is protected by multiple firewalls and Cloudflare security.
Can Kartra connect with WordPress?
Yes, You Can!
If you already have a WordPress site and you want to connect it with WordPress, it absolutely doable!
You just need to log in to your WordPress dashboard and go to the plugin area then search for "Blank Slate" plugin.  Install and activate then follow the provided procedure.
Can I cancel my Kartra at any time?
Absolutely!
To do this, simply head over to the billing portal from your Kartra account and cancel your plan whenever you want to.
Do I need coding skills?
Not at all!
Kartra's simple drag-and-drop interface wizards let you do everything without any code whatsoever.
Anyone, regardless of experience, can easily build a complete online business presence in just a few hours with no coding required.
Conclusion
That's it on my Kartra pricing plans review!
Which of the plan are you going to choose for your online marketing business or what do you think about the Kartra pricing?
Let me know what you think using the comment box.
If you haven't read the full Kartra review, you can do so here!
Try Kartra for $1
Learn More: