Copypro.ai vs Conversion.ai: Which is The Best AI Tool?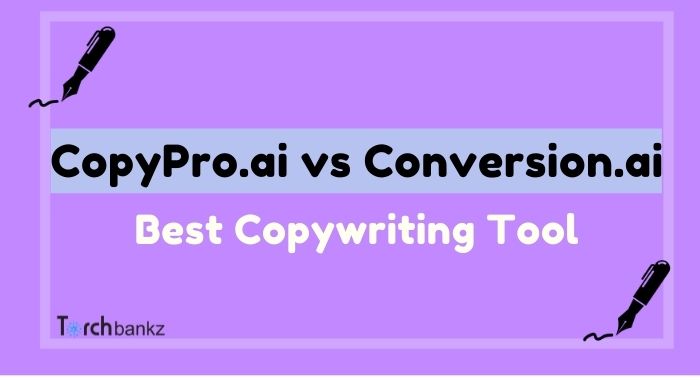 In today's Copypro.ai review, we're going to be looking at Copypro.ai through a holistic view and at the same time compare it with one of the most popular AI copywriting tool.
Hence our conversion.ai vs copypro.ai review
Understandably, it's not every business owner or company that has the time or resources to craft content, sales messages, and direct responses for their brand.
As important as these types of content are in today's market, entrepreneurs have to find ways on how to generate sales copy that will appeal to their customers or audiences.
And this is exactly what tools like Copypro.ai does and other AI copywriting software that you can use to generate amazing copies for your business.
So, in this article, we'll be looking at its features, usability, pricing plan and every other thing you can expect from the tool.
At the end, you should be able to deduce if Copypro.ai is the right tool for your kind of works or better still look into other Copypro.ai alternatives.
In a bit a really evaluate Copypro.ai, we also bring alongside a unique copywriting tool and we'll be comparing them alongside.
We'll be comparing their features, user's experience, pricing and every other thing worth looking into. With this, you'll have a better understanding as to how they work and what's better for your business.
Let's go through this shall we?
What Is Copypro.ai?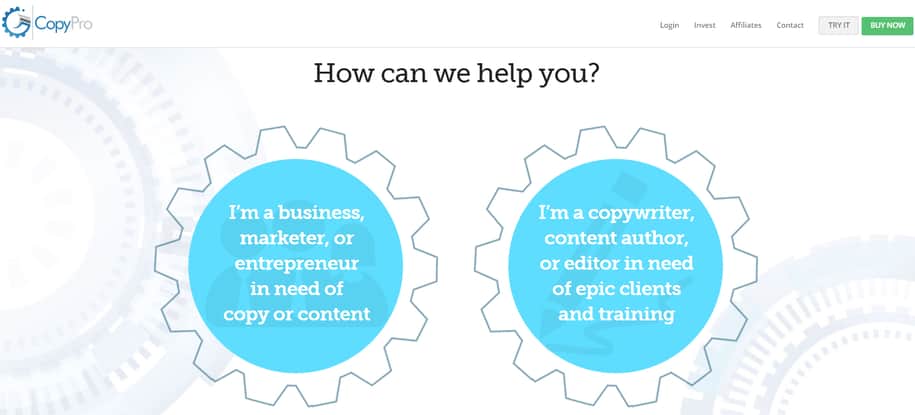 Copypro.ai is an online system that gives you access to skilled wordsmiths that can generate content that meets the exact needs of your business.
This marketing platform is a more efficient and advanced alternative to hiring copywriters. Unlike the latter, you get to enjoy premium content, timely deliveries, and most importantly you don't have to strain your budget.
This advanced solution offers business owners well-written sales copies that have been integrated with their own language patterns, messages, tones, and structures.
All this is made available to you at only a fraction of the cost you will have paid to get content written.
How Does Copypro.ai Work?
This powerful tool uses a very different approach when it comes to generating content such as articles, VSL scripts, sales page copy, webinar scripts, and emails amongst others.
It brings together professional authors and marketers who generate content that is used by entrepreneurs.
On this platform, any type of content that you may need for your business is already written for you. They are referred to as Copypro blueprints.
These blueprints are available to all industries and niches. All you have to do is answer a couple of questions regarding your product, industry, or business.
Then the AI technology will combine your message with the available blueprints and in a couple of minutes, you will have a unique piece ready to be used on your website or sales page.
Or, you can change it to suit your business or niche.
Who's Behind Copypro.ai?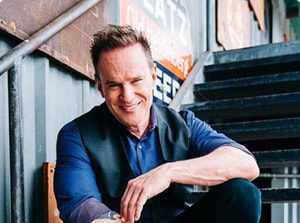 Our Copypro.ai review would be incomplete if we didn't mention who came up with this useful software.
It was made by Jon Benson, one of the most popular digital marketing geniuses of this era. He has written several sales copies for some of the most renowned marketers in this industry.
Jon has sold more than a billion copies and his reputation precedes him. Therefore, you can be assured that whatever he is selling, will be worth every coin.
Being both a successful copywriter and digital marketer, Jon's Copypro.ai is one of the many software he has made.
He is the guy behind the first software-driven VSL copywriting system, NOW VSL, and also a copywriting machine known as Sellerator.
Copypro.ai Review: Features
The Copypro.ai software is your one-stop shop for all content for your business. This service enables you to write different types of documents for your industry or niche.
This AI doesn't censor your creativity and neither does it edit your style of writing. It is packed with lots of excellent features that make generating unique content easy and fast.
Here are some of the key features of Copypro.ai.
CopyBlock Technology – This technology enables you to create content from existing articles and tweak it to suit different niches and clients. With this software, you can create sentences and assemble them with our neural net.
Access to Copypro Academy – If you are using such software for the first time then you may run into challenges at first. That's why Copypro has an academy where you get training on how to generate content faster and easier. Here you will also learn how to use blueprints and tweak them to your liking.
Automated Copywriting – Writing a piece by yourself is difficult and it takes a lot of time. However, using AI software such as Copypro.ai, you automate the entire copywriting process, therefore, saving a lot of time and effort. Provided you answer the questions asked by the software, it will generate ad copies, emails, webinars, and sales scripts.
CopyPro Blueprints – These are marketing structures that are combined with your personal messages to sell and engage your clients.
CopyPro Pricing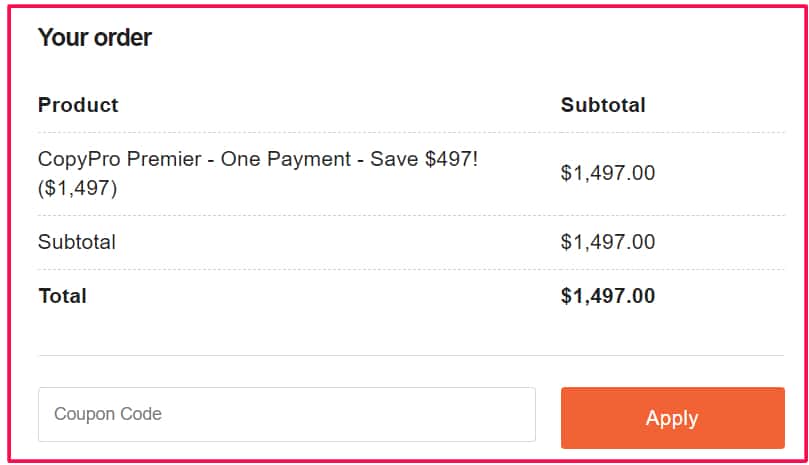 This software is available in different packages with each having a specific token amount. Copypro utilizes a payment currency known as tokens.
Every content goes for a certain amount of tokens. For example, a small ad goes for 100 tokens, an email is worth 25 tokens, a short video sales letter will cost you 400 tokens, and so on.
This information is available on their website.
When selecting a package, you should consider the type of content that you want and estimate how many tokens you may need.
Here is the pricing guide for Copypro;
Starter level Package that goes for $1499. This comes with 250 tokens and therefore ideal for those interested in generating content every once in a while
Pro Level Package which is worth $1999. This is ideal for small business owners because it comes with 750 tokens.
Business level Package has 2500 tokens and is worth $2,999. If you have several copywriting jobs then you can benefit significantly from this package.
Enterprise Level Package that goes for $4,999. This package has 5000 tokens. It is ideal for any business irrespective of its size. As long as you have weekly copy needs, this package has got you covered. Professional marketers can utilize this package to create marketing content.
Copypro.ai vs Conversion.ai
There is no doubt that Copypro is one of the best content AI out there. However, there are others that have lots of excellent features and one of these AI's is Conversion.ai.
This is an advanced copywriting tool that can help you generate quality content faster. Conversion.ai recent pricing structure has made it the biggest competitor to Copypro.
And as a digital marketer or business owner interested in using a copywriting tool. You must compare both and identify which suits you the most.
What is Conversion.ai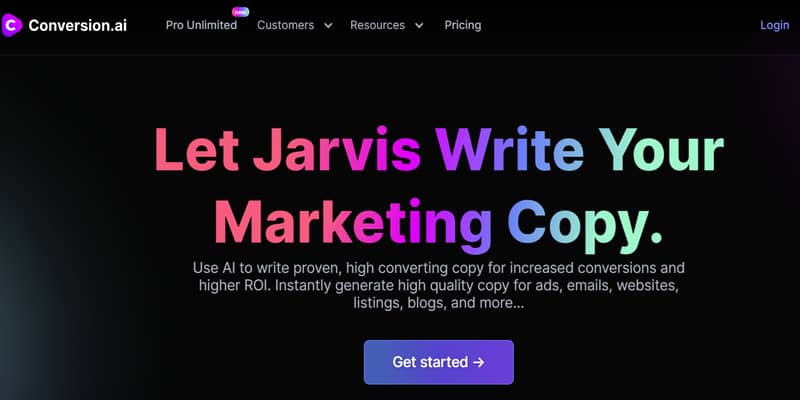 Like Copypro.ai, this is a copywriting tool that still uses artificial intelligence to generate copies with a high conversation rate.
If you need help with content creation, this site can help you out. It features many pre-written pieces that you can easily access.
You, therefore, do not have to waste your time going through online articles to find something that your audience can relate to.
Conversion.ai creates unique content using machine learning. It can generate converting copies and persuasive marketing messages within seconds.
While it can generate ideas for a new copy, you can also use it to improve existing content and make it more interesting and engaging.
This service was created by the UseProof company and it's designed for those who want to increase leads, sales, and conversion rates on their website.
Conversation.ai can help you create catchy email subject lines, Attention, Interest, and Desire framework, SEO blog posts, including the title and meta descriptions, product description, blog topic ideas, etc.
To learn more, Here's an In-depth conversion.ai review to understand how the software really works.
Copypro.ai vs Conversion.ai – Features Compared
Conversion.ai and Copypro.ai have tons of useful features that you can use to generate quality content.
You can utilize the AIDA (Attention, Interest, and Desire) marketing framework to create highly engaging posts.
With both copywriting tools, you can take your website's SEO to the next level.
Be it keyword integration into blog posts or writing of meta descriptions, you can do this and much more with either of these two AI's.
Using any of the templates on either copypro.ai or conversion.ai, you can improve the content or expand sentences.
In terms of availability of features, Copypro has more features than Conversion. However, if you have a strict budget, conversion.ai has enough features to help you generate content.
What AI Platform Do They Work On?
Conversion.ai offers you access to Jarvis, a GPT-3 AI copywriting assistant that will write high-converting copies for you.
Using this AI, you can enjoy higher ROI by getting high-quality emails, listings, blogs, emails, ads, and other types of content you may be interested in.
On the other hand, Copypro has an AI-driven interface that will help you search and find the best copy blueprints from their system.
Every copy is written by a team of talented authors from Copypro. So quality is guaranteed. Copypro.ai has all words that your business might need.
When combined with your personal messages, you get an excellent piece that reflects your tone and brand.
Type of User Interface
Both writing tools have an editor-based interface. This is one of the key similarities that conversion.ai and copypro.ai share.
Once logged in, you will be assigned a dashboard by the AI platform. There you will find templates that you can use.
All you have to do is click on a template and edit it to suit your business needs.
Your experience with both interfaces will be quite pleasant because they have been designed to be intuitive and simple.
The AI's, Jarvis, and Copypro will give you options as you edit the structures. Because of the easy-to-use interfaces, generating content using these tools is quite fast and easy.
What Kind of Languages Can They Write-In?
For digital marketers and business owners that deal with international clients, it is crucial that you find a copywriting tool that supports various languages.
Conversion.ai supports English, French, Spanish, Japanese, Chinese, Dutch, Italian, and German.
Copypro supports Polish, Dutch, Portuguese, Italian, Spanish, German, French, and English.
Content Templates
The types of templates in both copywriting tools are almost the same. However, copypro.ai appears to have fewer choices than its counterpart.
Here are some of the templates you can use from copypro; video sales letters, adverts, emails, headlines, blogs amongst others.
With conversion.ai, you can choose from the following templates; books, email marketing, video content, blog content, amazon, fun, customer support, social media, and paid ads and many more…
Long-Form Content
Conversion.ai can write long-form content but copypro.ai can't. It is very important that customers are aware of this before subscribing to any package.
Depending on your niche or industry, you need to evaluate whether you may need long-form content or not. If you won't, then you can go ahead and use copypro.ai.
Copypro.ai vs Conversion.ai: Pricing
Earlier, we had listed the different prices for copypro packages.
The starter level package costs $1499, which is followed by the pro-level package going for $1999, then the business level package that costs $2,999, finally there is the enterprise-level package that costs $4,999.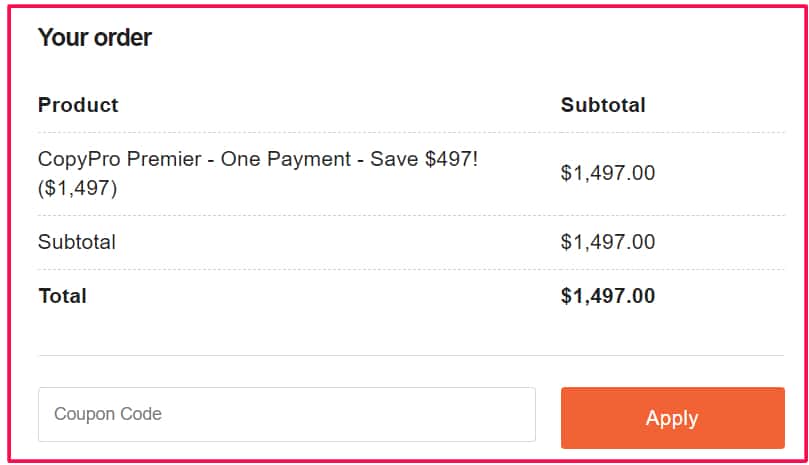 All these packages are available monthly.
On a head-to-head basis, conversion.ai is way more affordable than copypro.ai. You can have access to Jarvis copywriting AI for only $29 a month.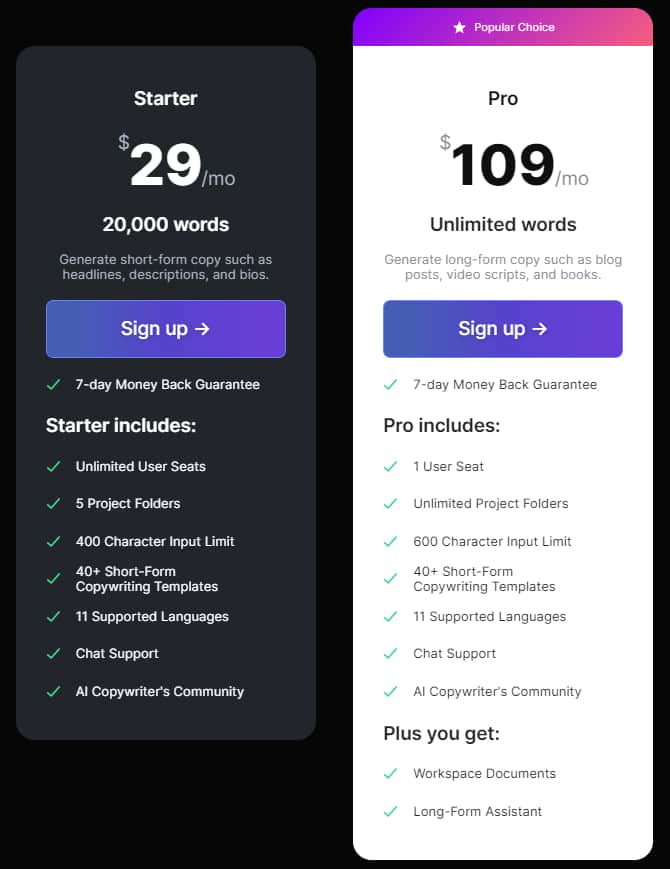 This is the starter plan that gives you 20,000 words. With this package, you can generate short-form copies like bios, descriptions, and headlines.
You also get access to more than 40 copywriting templates, unlimited user seats, chat support, and access to the network's community.
Conversion.ai also has a pro package that goes for $109 a month. With this, you can generate an unlimited amount of words and project folders.
This premium package supports 11 languages and you also get a long-form assistant. They also have a seven-day money-back guarantee should you not be pleased with the services offered by this tool.
User Interface and Ease of Use
As you look at what a copywriting tool can do for you, it is crucial that you also assess its usability and user interface.
Because this is a software that you will be using regularly, choosing one with an appealing interface and easy usability will ensure you get your content generated faster.
In terms of the user interface, conversion.ai has better graphics and layouts than copypro. The latter has more of a rigid interface.
It is however very easy to use. Therefore, depending on your preference, you should opt for the copywriting tool with appealing visuals.
User Community (Facebook Groups)
There are so many perks of being in a community group. You get insight into many things from other users.
Also, you can interact with other members on matters related to both AI's. These two copywriting tools have Facebook groups that are quite active.
Conversion.ai has the highest number of users which is currently 13.3k. Copypro doesn't have an official group, however, they do have a page where users can interact with one another.
Quality of Support
Even though both AI's work flawlessly, should you run into any issues you can always reach out. Conversion.ai has an FAQ and help center where you can look into some of the most common problems.
There are articles there that explain how to use AI to generate content. They also have an email which you can use to contact them 24/7.
Copypro doesn't offer the above communication channels. However, they have a contact client service page, which is very active.
Copypro offers fast responses. From user reviews, Copypro offers high-quality customer support compared to conversion.ai.
With that being said, it doesn't mean that the level of customer support offered by conversion.ai is below average.
Their knowledgeable customer service team offers fast replies and will help solve any of your issues.
Learning and Training Portal
Both copywriting AI's have an academy where you can get training and learn how to either become an author or how to generate content.
Conversion.ai academy will educate you on using Jarvis AI to write quality copies that will market your brand.
There are live webinars that happen all week long. You will need to visit their website and see when they are available. You can also watch replays of the best practice training.
Copypro.ai also has an academy where authors and content generators can get training.
If you are struggling with using copypro's contributor portal or in creating content, the academy will teach you everything that you need to know.
CopyPro Review: Conclusion
As pointed out already, great copy plays a significant role in any online business and as such you need to invest in it heavily.
Writing great content is not enough to achieve your desire result, you need to put in consideration the cost, and time of producing the content.
While hiring copywriters might be an expensive choice, using AI might as well save you the cost and time of getting it done.
Copypro.ai and Conversion.ai are both great tools when it comes to writing great copy for your business but choosing one of them totally depends on what you want.
I discovered conversion.ai is actually more affordable and saves more cost compared to Copypro.ai and it also comes with more unique features.
There you have it, Copypro.ai review with conversion.ai comparison. Let me know what you think about the tools.
So which one is it going to be?

or