Go High Level vs Infusionsoft (Keap): Which Is Better?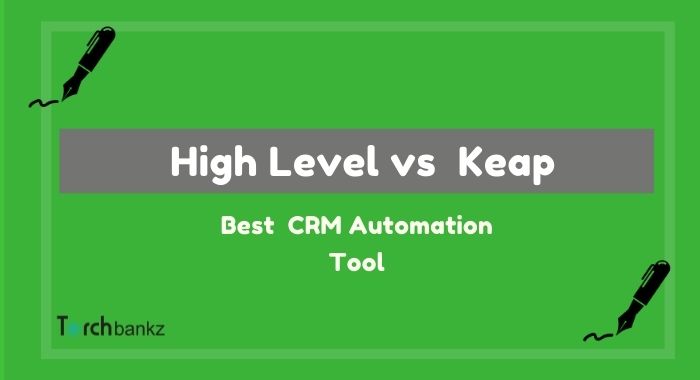 Are you thinking of the best marketing software for your business and you are confused about which of Go High Level vs Infusionsoft (Now Keap) to use?
If you are, then you are in the right place.
The sole aim of any business is to generate leads and the lifeline of a business lies in its marketing strategy.
This is why as a business owner, you want to choose software that can ease the marketing stress on you and more importantly, convert leads.
Both Go High Level and Infusionsoft (which is now Keap) are all-in-one marketing software that helps you carry out every marketing activity on your business and boost sales.
Their features which are mostly automated have made them one of the go-to CRM software.
In this article, I will be comparing Go High Level vs Infusionsoft (Now Keap) so you can see their main features, pros and cons, Price comparisons and other details you might need to choose right.
What is Keap (Formerly Infusionsoft)?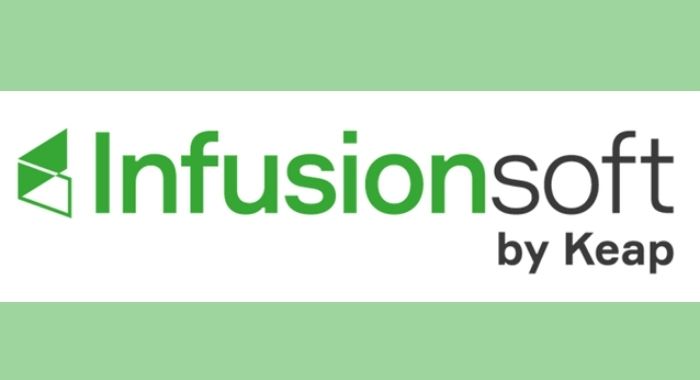 Keap is an all-in-one marketing platform that helps you to generate more leads, convert the leads to clients and also build a customer relationship with them.
It offers sales and marketing automation, customer relationship management and other e-commerce functions all in one tool.
With Keap, you can segment your contacts, send them automated emails and track all the interactions. Asides from this, it has an e-commerce functionality that can help you take stocks of all inventories.
You can set up your shopping carts, and payment methods, send invoices and receipts and generally make the purchase process smooth.
Keap has helped small and medium businesses across different various industries grow and maintain good sales while also having customer retention.
The system also has analytics tools that can help you keep track and proffer evaluations on your sales, the performance of campaigns and emails. This will help you in the monitoring of all returns on investments made.
Features of Keap (formerly Infusionsoft)
Here are some of the main features of Keap that make it an all-in-one marketing platform.
#1. Marketing Automation
Keap helps you to automate all tasks – especially the ones you have to carry out repeatedly.
This feature helps to maintain a level of consistency and organization in the marketing process. It also helps to meet up with all the demands that marketing entails.
With Keap, you are sure that the right content is being delivered to the right people at the right time.
#2. eCommerce and Payment
Keap has a feature that caters for your eCommerce business. With it, you can create your online store, the purchase order form and also create a shopping cart.
It helps you to follow up on clients who have not completed the purchase process.
You can send invoices and receipts to customers easily. Also, payments are made right on the platform. The payment method is easy for customers to navigate.
#3. CRM
Keap has Customer Relationship Management that grants you access to all information about your client right on the platform. You can categorize your customers and send emails accordingly.
It has web forms that help in capturing leads and monitoring the conversion process. You can manage the calendar to keep up with appointments with customers on it.
#4. Email Marketing
Keap has an automated email marketing feature. First, it allows you to create email sign-up forms and manages your subscribers' list.
There are Email templates on it that can help you with that. Then, you can send the emails in bulk. Before sending each mail content, you can test the performance with the A/B testing integration.
This feature also comes with an auto-responder that helps you attend to the requests of your customers.
#5. Text Marketing
Research shows that the open rate for text is 94%. This shows that text marketing is another good way to reach out to your customers.
The CRM feature in Keap includes a text messaging integration that helps you connect with your customers on a closer level.
Pros and Cons of Keap (formerly Infusionsoft)
Below are the unique pros and cons of Keap and how they can benefit your business.
Pros of Keap (formerly Infusionsoft)
It helps you to automate your sales and marketing activities in one platform
It is very suitable for small and medium businesses
It possesses a user-friendly interface making it quite easy to set up
All the pricing plans grant you access to a customer success manager and 24/7 chat and phone support.
The analytics help you to know which aspect of the marketing process to divert more focus on.
It helps to ease sales in your eCommerce business since customers make payments with just one click.
Cons of Keap (formerly Infusionsoft)
It has contact-based pricing which means that the more your contact grows, the more the monthly subscription increases.
Keap does not work well with WordPress
The Campaign builder on Keap does not function in Firefox
What Is Go High Level?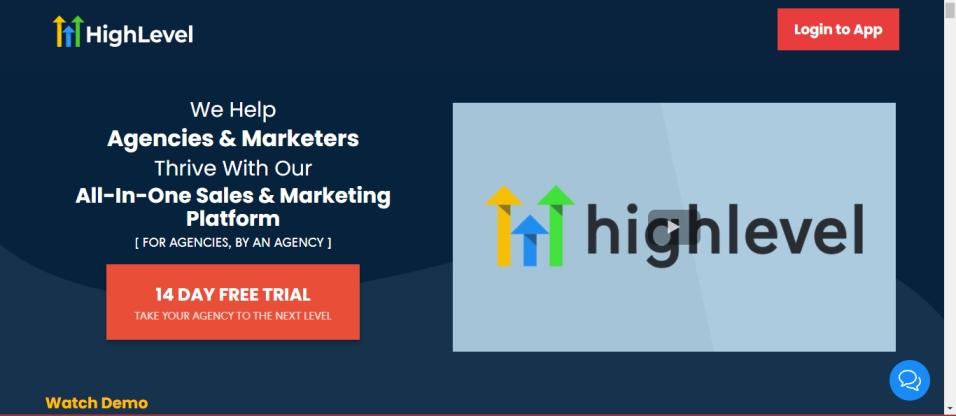 Go High Level or High FreeLevel is a marketing automation platform that combines the most useful marketing tools in one place. You can use GoHighLevel to create emails, newsletters, forms, and contacts for your business or service. 
With GoHighLevel, you get a CRM, a funnel builder, email and SMS marketing automation, an appointment and booking system, a membership site (for course creators), and more.
Your company or agency might want to replace most of the existing marketing tools with this one. 
Go High Level lets you manage your campaigns from one dashboard. And you won't need to log in to different dashboards and sign up for different software.
Plus Go High Level integrates with lots of applications like Zapier, MailChimp, Twilio etc, giving you the freedom and accessibility to your favorite software 
Cool, huh?
The applications are designed to help sales teams achieve greater productivity and increase their revenue by providing you with all the tools you need to effectively engage with customers, track their interactions, and close more deals in real-time.
Go High Level Features
Go High Level CRM comes with all of the features you need to grow your business:
#1. CRM and Pipeline Management
High level has a robust CRM tool that helps in managing all your company's relationships and interactions with customers and potential customers.
It helps improves your business relation with your clients and help grow your business.
GoHighLevel CRM and Pipeline Management work in the following way:
It's an integrated platform. GoHighLevel integrates with Salesforce, Pipedrive, and other platforms to give you a complete view of your pipeline across all your accounts.

It's mobile-friendly. GoHighLevel is available on mobile devices to track leads and manage accounts no matter where you are or what device you're using at any given moment. And it has a responsive design, so it looks great on every device, from phones to tablets to desktop computers. You'll never miss another opportunity just because someone couldn't reach their laptop.

It provides data insights for better decision-making on the fly!
This feature provides useful information so that sales reps can see how their efforts are paying off in real-time without having to wait until after close for an invoice update before making decisions about pricing or which deals should move forward next week versus those slated for later down the road (or even into next quarter).
#2. Detailed Client Dashboard
As an agency owner, you can provide your clients with a detailed dashboard reporting data on campaign progress and lead conversion.
It also displays up-to-date tasks for your sales team to monitor old and new clients' interactions. Get a clear view of what is going on with your client's sales.
With Go High Level dashboard you can:
Opportunities: See how many leads you won, lost, or still have open.

Pipeline: An overview of how much money was won, lost, and is still pending

CONVERSION: Check your close rate and monitor your performance.

 VISUAL: Get a complete picture of your business – sales, traffic, reviews, and more…the ultimate business command center.
#3. Reputation management
Use High Level to manage your business reputation. High level allows you to take control of your brand's reputation.
The software lets you send a "Review Request" to your clients so they can leave you a review on your chosen platform.
You can link your "Google My Business" account with High level to make the process of requesting reviews and managing them faster.
If you have a business page on Google, you can add a link to your Google My Business page in your email to ask clients to review it. Then, from your dashboard, you can pick the clients' contacts. Then, click the Check-in Client button to select the contacts you want to send the reviews to.
#4. Built-in Calendar
Stay updated and organize your appointment and daily schedule with the built-in calendar. 
It allows your clients to schedule appointments. This feature also serves as a real-time notification system, so you don't miss out on important events, meetings and tasks.
Go HighLevel's calendar makes it easy to capture leads because it's integrated. Plus, it works with Google Calendar to keep you truly connected.  You can Use High Level native calendar  on:
Your site

link to it in your emails

funnel

and include it in your email signature
#5. Funnel Builder
Go High Level's Drag and drop funnel builder option helps you easily customize and build actionable landing pages, forms, funnels, and surveys optimized for desktops and mobiles.
Despite being cheaper than other sales funnel software, Go High level has more features.
To give you a better understanding of Go Highlevel's funnel builder, let's take a look at how you can use it to create sales funnels that work.
Because it's a drag-and-drop interface, it's similar to using ClickFunnels.
There's a bunch of funnel templates on Highlevel that you can use to start your funnel quickly. You can customize the templates with the drag-and-drop editor.
With the same builder, you can make a simple site with navigation. You can make it more impressive by adding your own domain.
I've broken down everything about Go High Level in my in-depth review here.
Go High Level vs Infusionsoft: Pricing
It's important to understand what either of these software offers your business. But most importantly, what it would cost you.
Keap Pricing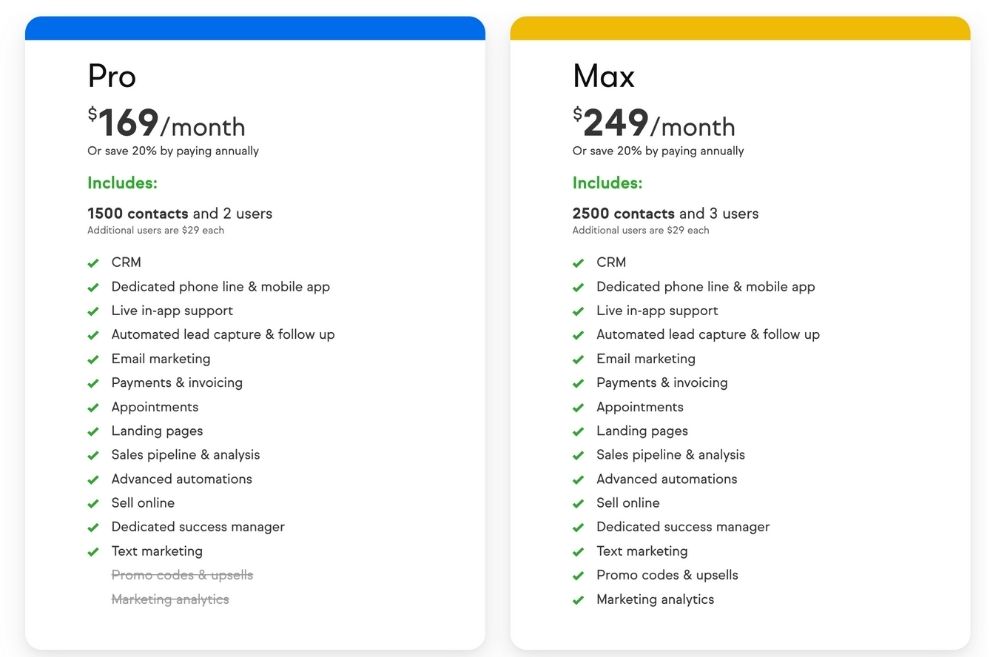 Keap comes in three pricing plans-
Pro,
Max, and
Max Classic.
Let's examine the three.
Keap Pro – $169/month
The Pro version gives you access to some features. Some of which include-
Two users. Upon purchasing the software, two users can share the platform for different purposes. If you intend to share with more users, each additional user comes with a payment of $29.
It can only cater for 1500 contacts
Accessible to a dedicated phone and Live in-app support. If peradventure you are stuck at any point, there is customer support and success manager to put you through.
Email Marketing. There are email templates to guide you and all email marketing processes are automated.
Landing Pages. This pricing plan comes with different templates for your landing pages. you can also create as many landing pages as you desire.
Ecommerce and payments. In this pricing plan, you can manage some of your eCommerce business activities. You automatically send invoices to the customers and also generate receipts for them when payment is made. The payment process is also made easy as it is done in one click.
Sales Pipeline and analysis. You can monitor the conversion journey of clients from the beginning till when the deal is closed. It also provides an automated sequence for customers to make purchases.
You can schedule appointments with clients and also receive a notification when it's time.
Keap Max – $249/month
Its features include everything in Keap Pro, including-
Three users. The Max pricing plan grants access to three users.
It caters for 2500 contacts
Promo codes and Upsells. This is where you enjoy the affiliate marketing aspect of the platform. With the Keap Max plan, a promo code is generated for you which can encourage people to purchase the software with your affiliate link. The Upsell feature helps you to convince customers to buy the upgraded version of Keap.
This pricing plan also provides detailed analytics on all transactions and campaigns. It is only on this plan that you can get all the analytics for your transactions and campaigns.
Keap Max Classic- Custom
With the Keap Max Classic, the platform is customized according to your business needs. It is designed to include the features that are not in the other pricing plans but are needed for your business. In addition to that, it comes with features such as-
Shopping cart and Order form. This feature is not available in the Pro and Max version. In this plan, you can set up your shopping cart and also create an order form that customers can fill out to place orders.
Go High Level Pricing
HighLevel has dedicated payment plans, including:
Agency Started Account  –  $97 /Month

Agency Unlimited Account –  $297 /Month

White-Label Mobile App + Custom Zap Upgrade   –   $497
Each of these payment options has a slightly different offering from its predecessor.
Go High Level is a software platform that helps digital marketing agencies manage all of their agency clients.
Using a pricing plan starting as low as $97 gives you one account to manage your Agency and one other account to manage your Agency's client.
Choose another pricing plan if you have more than one client so you can manage them all.
Agencies with plans to minimize budgets might be tempted to go for the most affordable $97 plan, but that only works if you've got just one client and don't have plans to take on more.
Agency Starter Account –  $97 /Month
Twilio – Enter API to enable 2-way texting

Mailgun – Enter your API for Unlimited Sending

Single Account – Setup 1 Client or Use for your Agency

It comes with a 14-day free trial

CRM and Pipeline Management
Unlimited Sales Funnels
Website builder
Surveys and forms
Email marketing
2-way SMS Marketing
Booking and Appointments
Workflow automation
Courses/products
Call tracking
Reputation management
Tracking analytics
Grey-labelled mobile app
White labelled mobile app
Agency Unlimited Account —  $297 /Month
Includes everything in the agency starter account.

Gives you unlimited sub-accounts: Create as Many Accounts for Clients or Other businesses.

Branded Desktop App: Ability to use own Domain and customize the look and feel of the platform.

Comes with a 14 day free trial
White-Label Mobile App + Custom Zap Upgrade  –  $497
Includes everything in the Agency, unlimited account, and features
Mobile App

Zapier Requirements
Go High Level vs Infusionsoft (Keap): Differences
Having read a few details about Keap, how then does GoHighLevel differentiate from Keap. We will look at the differences with respect to the following parameters.
#1. Pricing Plan
Both GoHighLevel and Infusionsoft come in three pricing plans.
For GoHighLevel, we have:
Agency Starter Account – $97/month
Agency Unlimited Account – $297/month
Agency Pro- $497/month
For Infusionsoft (Now Keap), we have;
Keap Pro – $169/month or $1548/year
Keap Max- $249/month or $2388/year
Keap Max Classic- Customized
All the pricing plans of GoHighLevel come with Unlimited Users and Unlimited Accounts. In Keap however, the Pro and Max version comes with 2 users and 3 users respectively.
Considering all the features that come with GoHighLevel, we might say GoHighLevel is more affordable than Keap.
For the Agency Pro in GoHighLevel that looks like the highest, different users can come together to purchase that version which eases the burden on each user.
Not only that, but since it comes with unlimited accounts, you can sell as many as you can and make your money back.
It is also noteworthy that both GoHighLevel and Keap come with a 14-day free trial. With this, you can decide to test-run the platform for a while to see if it meets your marketing needs.
#2. White Labelling
White Labelling is the ability to remove a certain brand name or logo and replace it with another. GoHighLevel allows you to resell the software as your own while Keap does not.
This feature in GoHighLevel is only available in the Agency Unlimited and Agency Pro plans. You will be able to customize the account as yours and make use of your domain with it.
Your clients will not have to know that you are using GoHighLevel for them. All they will see is the name of your business and the URL that comes with personalizing it.
It gives your business more reputation and value offer.
Since GoHighLevel Unlimited and Pro come with Unlimited accounts, you can decide to sell some of the platforms without infringing any copyright law.
The accounts are now yours so they can be sold as yours.
All these benefits are not available on Keap. It is very easy for your clients to see that the marketing platform you are using is Keap.
#3. Reputation Management
GoHighLevel allows you to request a review from your client and boost your reputation online. Keap does not make provision for that. It is often said that review is one of the greatest influences on customers' opinions.
Beyond what you promised that your business can do, customers want to see the experiences of other customers with you. they want to know what others are saying about you.
Asides from that, when you allow customers to share feedback with you, you create a form of relationship with them and it also makes them feel like they are part of your business.
When you provide them with quality service, they leave positive feedback for you. This is another marketing technique.
If for any reason, they did not get what they expected from your business, they would leave feedback stating the challenges faced in the process. They would also be ready to offer suggestions and a way forward.
You as the business owner can leverage these suggestions to improve your services.
More importantly, Reviews help your business rank. Research shows that pages that have reviews, especially when the keyword is mentioned, have higher rankings in Google's local pack.
Therefore, even if you have low-quality profiles, reviews can help improve the rankings.
Unfortunately, Keap does not have this feature.
#4. Account Users
Keap charges an extra $29 on all additional users based on their pricing plan. On the other hand, GoHighLevel is unlimited except for their starter plan which is limited to 1 client.
With GoHighLevel, you can create as many accounts as you desire for different functions. It is most suitable for companies that are a conglomerate of different categories of business.
You also have unlimited users which means that you can dedicate different operations on the platform to different members of your company. This can help in the division of labour.
Apart from this, different users can contribute together to make 1 purchase. They can individually use the software without interfering with the activities of others.
In Keap, the pro plan only allows 2 users while the Max plan allows 3 users.
If there is a need to increase the number of users and accounts on the platform, each user comes with an extra charge of $29.
This might not be convenient for a company that needs to have a lot of users' hands on deck.
This is why Keap is more suited for small business owners while GoHighLevel can cater for any level of business.
Go High Level vs Infusionsoft (Keap): Final Thought
As we round off the Go High Level vs Infusionsoft comparison, it is evident that both platforms are all-in-one marketing platforms.
Only that Keap might be satisfactory for one who is just starting a small business. The features on Keap are not too overwhelming and can be easily understood.
However, when you critically analyse the features of the two platforms, Go High Level happens to be more robust and more price-friendly than Keap.
I'll suggest you try Go High Level free for 14Days and see how the platform fair.

Then camcel if you don't like it
You May Also Like