Best Shopify Spy Tools For Spying on Your Competitors 2023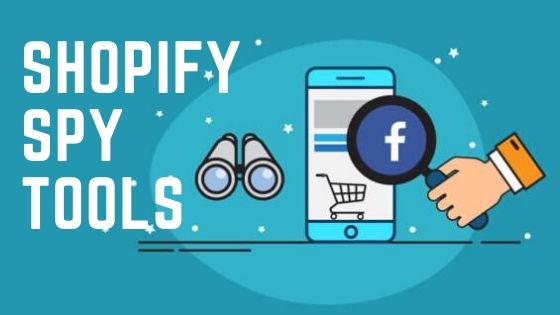 You're here for the best Shopify spy tools for your online store. If one thing is certain, it's the fact that we're all competitive.
This is why we're going to be looking at ways to spy on all your competition using the Shopify platform to sell products online.
I've you ever wonder why you're not making much of a success with your Shopify store.  And then you see several people talking about how they make $$$ with their Shopify store?
It can be frustrating because you'll be wondering what is it that they are doing that you're not doing. Or perhaps there's something you're not doing right.
The truth is there's no need to re-invent the wheel s, you just need to look for what's already working and make it work even better.
When it comes to Shopify competition, there are several factors that can be considered for the success of these successful Shopify stores.
This could be the products they are selling, marketing tools or perhaps their store themes. There are just so many things to be considered.
However, with these spy tools, you'll be able to uncover even more fascinating things you didn't know already.
So without any further ado… let's get down to it.
Best Shopify Spy Tools
Below are the lists of software or tools that can be used to spy on your competition selling on the Shopify platform.
#1: Ecomhunt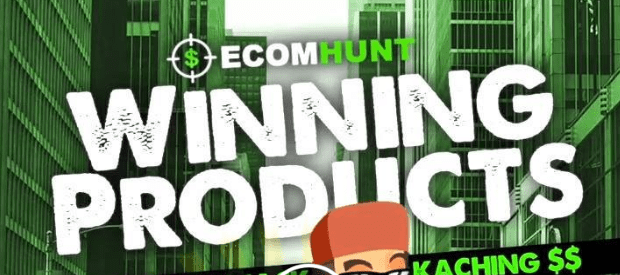 Ecomhunt functions basically around winning products. Its primary purpose is to curate winning products for Shopify users.
However, what you don't know is that they also give out links to top Shopify stores selling these hot products.
This way, not only will you have access to their winning products you'll also be able to browse through the store and see the design and customization of the store.
Plus, you'll also get more access to their top products which can be of great advantage to your own store.
Additionally, what also makes Ecomhunt a cool software is the fact that it comes with a chrome extension that allows you to hunt down sponsored ads on Facebook.
Not only will you have access to their selling products you'll also gain access to their advert on Facebook. This includes traffic countries, how long the ads have been running and other useful data.
Ecomhunt has both free and paid plan. However, the free plan is limited while the paid plan includes unlimited data for $29/month.
But here's a discount that gives it for $20/month if you want the paid plan.
#2: BigSpy
BigSpy is also a robust platform for spying on competitors both on Shopify and outside the Shopify platform.
This tool's feature for Shopify stores includes several URL of top-performing stores on Shopify. Their niche category, targeted country, their social media ads and their Facebook likes so far.
Apart from Shopify, BigSpy supports 6 other social media platforms:
Facebook
Twitter
Instagram
Pinterest
Yahoo
Admob
So basically, you can use BigSpy to check out this top-performing Shopify stores and see what's working for them.
You can also check out for stores in the same category as your store or new category you'll like to explore and see their store design, targeted country and as well the social media awareness.
This data will help you have a better plan for your Shopify store as well as things you should ignore that's not working and focus on the most important task.
Best part? BigSpy is free to use and their other pricing plan is pretty much affordable.
#3: NicheScraper
NicheScraper is also one of the best when it comes to spying on stores on Shopify. It gives you access to general stores with inventory and also verified Shopify dropshipping stores.
With NicheScraper you can analyze an entire Shopify store and gain access to their entire top-performing products as well as links to their product suppliers.
You could also search for stores using a certain keyword or analyze using the store URL.
Another interesting trick with NicheScraper is that you can push any products to your own store with just a click of a button.
Alongside access to Shopify stores on Nichscraper, you'll also gain access to their traffic data, sales estimate and other important insight to plan your entry into the competition.
#4: Xpareto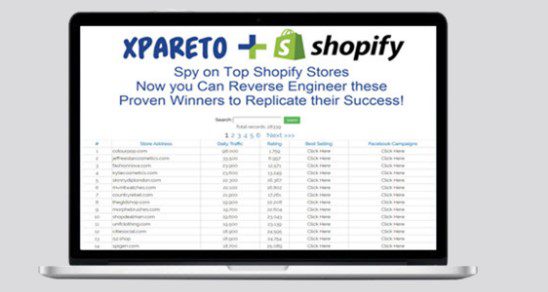 Xpareto is a simple tool with very limited functionality. However, it does help with spying on Shopify stores.
You can search for Shopify stores with their URL or simply use a keyword. It provides you data like traffics and links to store products.
This is basically a simple tool with limited data however, it still does the trick. At least you'll gain access to major data of the Shopify store you're spying.
Other Ways to Spy on Shopify Competitors
Besides the Shopify spy tools, there are other unique strategies that can help you spy on your Shopify competitors easily.
Let's explore them, shall we?
#1: Facebook Ads Info
The Facebook Ads info is another unique tool by Facebook that can be used to spy on your Competitors Facebook ads.
You can visit their Facebook page and click the Info and Ads icon at the rear end of the left-hand-side of the Fan page.
This feature will provide you with all ads that are currently running across Facebook's advertising platform. This includes Facebook, Instagram, Messenger etc.
This can be an inspiration to create a better campaign to promote your own product and enjoy better conversion.
#2: Reverse Image Search

Did you know you can do a reverse image search on Google and use it to spy on other e-commerce stores?
Let's say you have a product in mind and you want to spy on every store selling the product. You can easily download the image and upload it into the search bar.
With the results you'll be able to see what their price is and as well as the platform they are using to sell their product.
#3: BuiltWith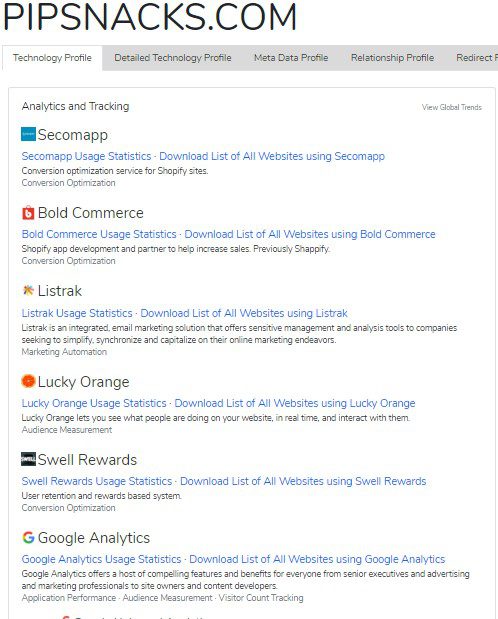 BuiltWith is a tool that can be used to get a sneak peek of what's going on behind the surface of a website.
Have you ever thought about what your competitors might be using to optimize their store for better sales conversion store?
Well, with BuiltWith you can now easily find-out and what's more interesting is the fact that it's absolutely free.
To make use of BuiltWith, you just need to enter the URL of the Shopify store or any store into the BuiltWith search bar.
The result will bring out every tools and app being used on the website. This way, you'll be able to find out the best Shopify email provider they're using or best analytic and tracking tool etc.
What's important here is the fact that you can replicate this in a better way and increase your website conversion.
#4: Shopify Store Analysis
This simple trick lets you know how much a Shopify store is doing per month. Perhaps you want to know how much a Shopify store is doing on a monthly basis; you can easily use this trick to find out.
Here's what you have to do…
Visit the store you have in mind and buy one of thier cheapest products on the first day of the month.
Yea!
You have to buy a product from the store in order to get an order no. You'll get the order no in your order confirmation email.
After that, repeat the same process using another identity at the end of the month to buy the same product or another cheap product you can afford for the test.
Finally, calculate the difference between the order number to get the total orders the Shopify store is running on a monthly basis.
#5: Diamond SKUs
Diamond SKUs are top-selling products in Shopify stores. Normally when you visit these Shopify stores you can't know these products except you add these strings [ /collections/all?sort_by=best-selling ] to the store URL.
After doing this, a page with their best selling products and categories will populate, plus other valuable data.
#6: Fadfeed
Fadfeed is a free Facebook ad chrome extension that's used for spotting ads only on the Facebook platform.
If most of your ads are run via Facebook, then this might just be the tool you need to spot your competition ads and spy on what they are selling.
Once installed and activated, instead of seeing the normal friends and family post on your Facebook feeds, all you're going to see is adverts.
This is good, because not only will you spy on ads but also see good products that people are pushing via adverts.
You'll see their strategy and as well see their store as well as what running behind the surface that you replicate for better conversion in your store.
#7: SimilarWeb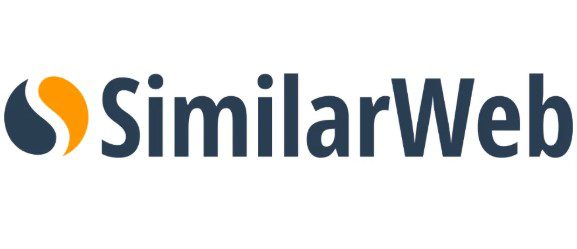 SimilarWeb is also a robust tool you can use to spy on your Shopify competition. It lets you know the total traffic a site is getting and most importantly the channel at which they are coming from.
This way you'll be able to know the social media your competition is using to get most of their sales and traffic engagements.
You'll get an overview of the store entire traffic as well as the source and it will equally let you know the most impactful channel.
Equally awesome is the fact that you can compare 2 or more competition together and have an entire overview of their website.
Conclusion
As you can see there's a lot that can be done to successfully track your competition on Shopify and check to see what's working and what's not for them.
Most of the paid tools does the work for you and saves you tons of valuable time, but if you prefer the manual spy done by yourself, they also provide valuable data.
But be willing to put in some time and effort from your own side.
That's it for today on the best Shopify Spy tool. Let's hear your thought on this or perhaps there a tool and trick we didn't mention.
Let's hear it using the comment section.
Learn More