ClosersCopy vs Jasper AI – Which is Best?
Today, we are going to compare (Closerscopy vs Jasper ai) two of the most popular AI writing tools in the market, These two have some of the best features you can ever want in an AI writing assistant.
And this is what makes it hard for you to choose between either one of them, especially if you don't perform a deep analysis and comparison.
The latter is exactly what this review is all about. We are going to start by looking at each AI Copywriting Tool and its features, then compare head to head, so that you can know the ideal pick.
What is ClosersCopy?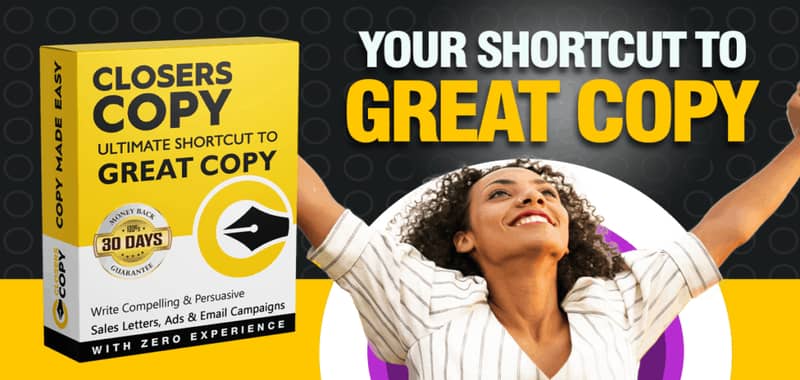 ClosersCopy stands out as a sales copywriting tool that is powered by artificial intelligence.
Unlike other content generator software, this one is more geared towards sales page writing and that makes it perfect for marketers.
This includes eCommerce store owners, digital ads agencies, and many other online business that can benefit from a feature-packed marketing and writing software.
It is one of the easiest platforms to use when you need content.
The dashboard provides you with tools that you can use to create folders and then generate articles whilst saving them in these folders.
For a content creator that appreciates an organized design, you will love ClosersCopy layout and ease of use. Here is our in-depth Closerscopy review in case you'd like to learn more.
Features of ClosersCopy
Below are the outstanding features of ClosersCopy and what to expect while using the platform to generate content.
#1. Compete
Just from what the name suggests this is a feature that allows you to compete with other high-ranking websites and blogs.
This newly introduced feature researches keywords and provides you with top-ranking websites. You can then extract the outline on that post and use it on your document.
Using this feature, you shouldn't struggle much with getting Google algorithms to notice your new post.
#2. Compose
This is another feature, though useful, it has received mixed reactions amongst content creators.
Using the compose feature, you can type in a keyword and it will give you heading suggestions. At times, this feature may not give you headings that suit your context and this in some way, limits your control.
#3. Longform
Bloggers love this feature the most as it generates long posts for them. To get the most out of ClosersCopy long-form assistant, you will have to enter the article description and let it generate the content for you.
At times, the content isn't usually flawless, and you may have to direct the AI by adding more lines.
#4. Marketing Communication Frameworks
To ensure content is convincing, ClosersCopy uses frameworks such as BAB, PAS, and AIDA.
#5. Multi-Language Support
ClosersCopy also allows you to write or translate copies fluently in Swedish, Spanish, Russian, Italian, French, and German amongst others.
#6. Wizard Tool
Because not everyone is conversant with writing sales copies, ClosersCopy gives you access to a step-by-step wizard that guides you through the entire process.
#7. Content Sentiment Analysis Tool
At the end of writing and editing an article, it should have a tone that suits your potential readers.
Using ClosersCopy content sentiment analysis, you can know whether the copy sounds friendly, passionate, professional, or funny.
This will determine the type of emotion that post will evoke amongst your readers.
What is Jasper AI?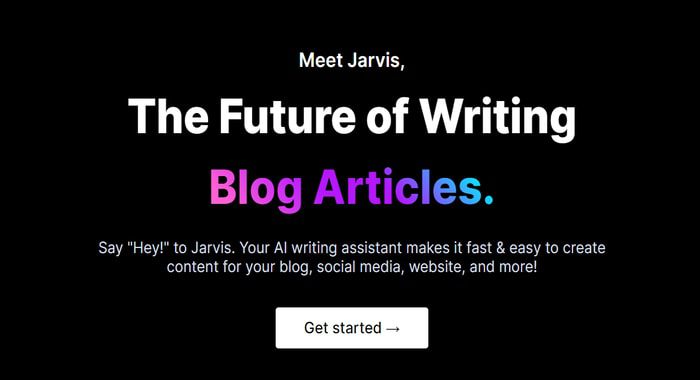 We have to applaud Jasper's AI marketing efforts. Because this far, it is the most famous AI writing tool on the internet.
Everyone is talking about Jasper, previously known as Jarvis AI.
If you have been hearing rumors about Jasper, or you have discovered it from research, you are probably wondering; is Jasper really that good?
Well, keep on reading to find out.
If you have heard about Jasper, you can be assured that it's not just being hyped. This AI writing tool is a game-changer and can really improve your brand's online presence.
Giving you access to more than 50 templates, the number of copies you can generate using this tool are many.
From emails to blog posts, there is nothing that Jasper can't write for you. Jasper gets content from its own library as well as from all over the internet.
Then using natural language generation and machine learning technology, it creates a unique copy that reads as if written by a human.
Jasper is practically one of the smartest AI's around. Other than the above language technologies, it also uses statistical models to understand the content and ensure it meets the description you had provided earlier.
All this happens in seconds.
Features of Jasper AI
Below are some of the unique features of Jasper AI and what to expect while using the platform to generate content for your business.
#1. Multiple Documents Organizer
You can work on multiple projects at once and save each document in an individual folder. This organization comes in handy when you are running several projects at once.
#2. Many Templates
Jasper is one of the few AI writing tools that has more than fifty templates. Be it ad copies, blog posts, or landing pages, you can create all of these using Conversion AI.
#3. Incorporates Marketing Communication Frameworks
It uses marketing communication frameworks such as PAS and AIDA in generating text. This ensures all copies are persuasive and urge readers to take a certain action.
#4. Boss Mode
This is a new feature that has been added to Jasper. It gives you total control over content creation.
For instance, you can command the AI to write a blog post about the benefits of eating healthy and it will do just that. This level of control and flexibility is rare in AI writing tools.
#5. Longform Assistant
Jasper is famous for having the best long-form AI writing assist in the market. This tool gives you more control of the content being generated and if you are new to writing, this tool will make your life easier.
#6. Blog Post Workflow
Starting a blog post isn't easy and that's why Jasper developers added this tool. To create the workflow of a post, you just have to type a description of the article.
Jasper will then provide interesting titles and when you choose one, it creates an intro for you. Thus getting you started with the workflow of an article.
#7. Integration with Surfer SEO
This extension added to Jasper helps optimize your blog posts for SERPs.
#8. Multi-Language Support
You can write and translate text in a wide range of languages including Italian, French, Dutch, and Chinese amongst others.
ClosersCopy vs Jasper AI [Similarities]
Both being the best AI writing tools in the industry, it shouldn't be shocking for you to find out that Jasper and ClosersCopy do have lots of similarities.
Let's look at some of the things these two article generators share. Both;
From a post published on MIT Technology Review, they describe GPT-3 as the only language that can create exceptional human-like text.
And if you use software that features this language model, then you can testify to the claims published on Technology Review.
Both Jasper and ClosersCopy run on Open AI's language generator known as GPT-3. On the two platforms, these AI's have been trained to understand commands and create unique content from that.
Another feature that these two share is the ability for users to create multilingual copies. With Jasper, you can create copies in 25 languages.
And the AI also supports translation from one language to another. ClosersCopy on the other hand supports 24 languages.
If you compare, they support the same languages which include English, French, Italian, Spanish and other languages that are spoken by a huge population.
Whether you opt to use Jasper or ClosersCopy, at the end of the day, you can be assured of generating content that can be understood by readers from various corners of the continent.
Very few article generators offer long-form content. And these two happen to be in that short list of AI writing tools that can be used to write long blog posts.
In each of these platforms, you can access an AI long-form assistant that gives you control in writing long blog posts that can help convert readers into buyers or you can push for a certain agenda.
Even though ClosersCopy and Jasper don't share the same SEO tools, they do at least help with the optimization of content for search engine result pages.
ClosersCopy offers you content analysis tools and Jasper integrates Surfer SEO.
With both these tools, you can make your content friendlier to search engines and this can boost your rankings on Google and other search engines.
If you work together as a team, then you can either choose Jasper or ClosersCopy because both offer team collaboration.
The team support feature on Jasper and ClosersCopy has a different layout but it's almost the same. Because with either, various users can work on different projects at the same time.
And this can ensure your agency enjoys AI writing assistance from the same platform.
Because Jasper and ClosersCopy produce content in seconds, you may be worried about the uniqueness of the articles created.
You don't have to worry about that because all articles generated by these two platforms pass the plagiarism check.
ClosersCopy vs Jasper AI [Differences]
We have seen the similarities, but that doesn't mean ClosersCopy and Jasper are equal. Here are sectors where the two differ.
ClosersCopy has got three pricing plans and that's the same case with Jasper AI. The lowest plan for ClosersCopy goes for $49.99.
This gives you access to the template library, AI editor, more than 18,000 copy examples, drag and drop copy builder, and a limit of 50 SEO audits in a month.
Jasper, on the other hand, has a Starter Plan that goes for the same rates. This package comes with access to more than 50 short form templates, 5 project folders, unlimited users, and access to an AI copywriter's community.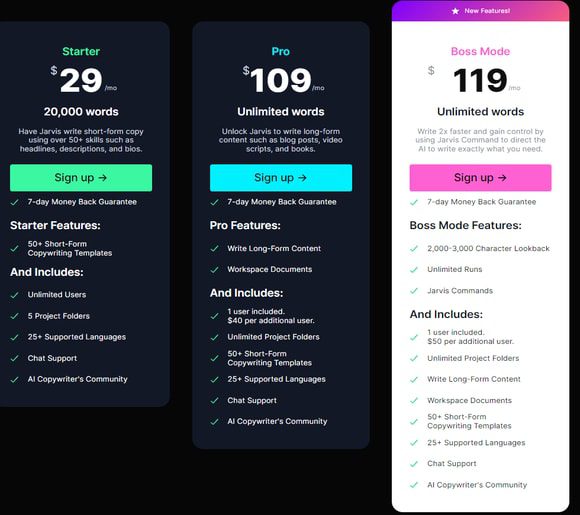 Regarding the professional package that costs $79.99 for ClosersCopy, you get features such as a 200,000 character limit, a template library, and an Ai editor.
Jasper Pro plan costs $109 per month. Though expensive you get more features such as a long-form assistant, unlimited number of users, five project folders, workspace documents, chat support, and access to a community.
In the ClosersCopy superpower plan that goes for $99.99 it has all the above features and the only difference is the no-character limit.
Jasper has a Boss Mode which gives you all the power of content generation in the palm of your hands.
It comes with Jasper commands that make writing easier, unlimited runs, up to 3,000 characters look back, chats support, and plenty of other features.
The presence of a community says a lot about a writing tool. It's an indication that this is a reputable platform and it's an environment where you can meet and interact with others.
Jasper has got a strong FB community with thousands of members and hundreds of new ones joining every day.
Unfortunately, ClosersCopy doesn't have an active community. ClosersCopy now have an active commumity on Facebbook as well as jasper ai.
A money-back guarantee is a critical feature that should be included in nearly all platforms. With ClosersCopy, you get a 14 days money-back guarantee, and in Jasper, you only get 7 days.
Considering the duration both AI writing tools offer, that is adequate time for you to know whether you should discontinue using the services of both sites.
Similar to a money-back guarantee, a free trial gives you a sneak peek of what an article generator can do for you.
It's better that you work with a tool that has a free trial instead of one that forces you to dive straight into subscribing.
ClosersCopy doesn't have a free trial. But Jasper does.
With a lifetime deal, you can forget about making monthly or annual subscriptions.
All you have to do is make a one-time payment and enjoy the services of an AI writing tool for the rest of your life.
Jasper doesn't offer lifetime deals, but you can find them in ClosersCopy.
If you have never used an AI writing tool before, some features might confuse you. That's why Jasper provides plenty of tutorials for users to learn from.
With ClosersCopy, you will just have to get used to it. However, that was before but now, a full pledge course has been created on how to use ClosersCopy, you can check it here.
Conclusion
After reading the above, you can clearly see that this was a very close race. However, in every race, there must be a winner and ours today is Jasper.
Jasper is more user-oriented because they offer weekly webinars on how to use the platform efficiently.
And thanks to such input, navigating the site should be a breeze, and the more you know how to use their AI, the more quality articles you will generate.
Also, Jasper has got more features than ClosersCopy, this can be very useful for a content creator who needs many types of articles in a short duration.