Sell The Trend vs EcomHunt: Best Winning Product Tool [Review]
In today's Sell The Trend review and EcomHunt, you'd understand they are two of the popular winning product research tools in the dropshipping industry.
According to statistics, 23% of global sales online were fulfilled via the dropshipping model. And more and more online retailers are choosing the dropshipping model.
But two of the major problems dropshippers face is choosing a good product and finding a supplier for the product, and perhaps marketing the products.
When it comes to choosing a product, you need a trending product with a good volume of buyers and a bit of assurance of sales.
Finding those products without a good product research tool not only waste your time but also your funds on testing products that might work.
So perhaps you've been finding it difficult to make a decision. I understand Sell The Trend and Ecomhunt are one of the top tools, which is why i'm helping in exploring the two.
In this post, I'll cover Sell The Trend's review, comparing it to Ecomhunt in terms of their features and pricing plans.
So let's get started.
What's Sell The Trend?
Sell The Trend is an E-commerce research tool that allows you to find trending products in a niche. Finding a trending product will enable you to sell products to an already huge market
Founded in 2017, Sell The Trend is doing an excellent job in providing a research tool to find trending products in various mediums.
Besides, it also includes an Amazon research tool to discover trending products on Amazon.
Sell The Trend promises to help you discover trending products using their A.I. technology, and at the end of this post, we'll find out if it lives up to its promise.
What's EcomHunt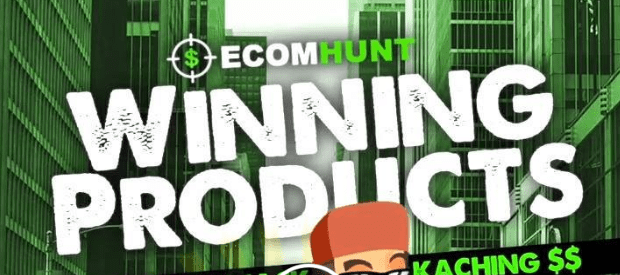 EcomHunt allows you to find and discover trending products likewise. EcomHunt is owned and founded by a dropshipper, Mordechai Arba, and has also grown to become one of the best product research tools.
You can discover trending products alongside their price recommendations and other features too. Recently, EcomHunt did an update to EcomHunt 2.0, which is a paid version to use the platform.
In this post, I'll be putting Sell The Trend and EcomHunt to the test to see which performs better.
Sell The Trend Review Vs EcomHunt – Features
Choosing the best between Sell The Trend and EcomHunt is only possible by going through what they offer (features).
Although both tools help you find trending products, they offer more added features to make them competitive and attractive.
In this comparison post, I'll be reviewing Sell The Trend alongside EcomHunt based on the following criteria:
#1: Selling/Trending Products
This is a common feature between both, and this is their primary function. With this feature, you would be able to find trending products to dropship as a seller.
However, given the fact that there are different marketplaces and options to dropship, a trending product on Amazon might not be trending on Aliexpress.
For EcomHunt, you can quickly locate trending products on Aliexpress and Shopify stores. EcomHunt product research tool analyzes Aliexpress to find trending products.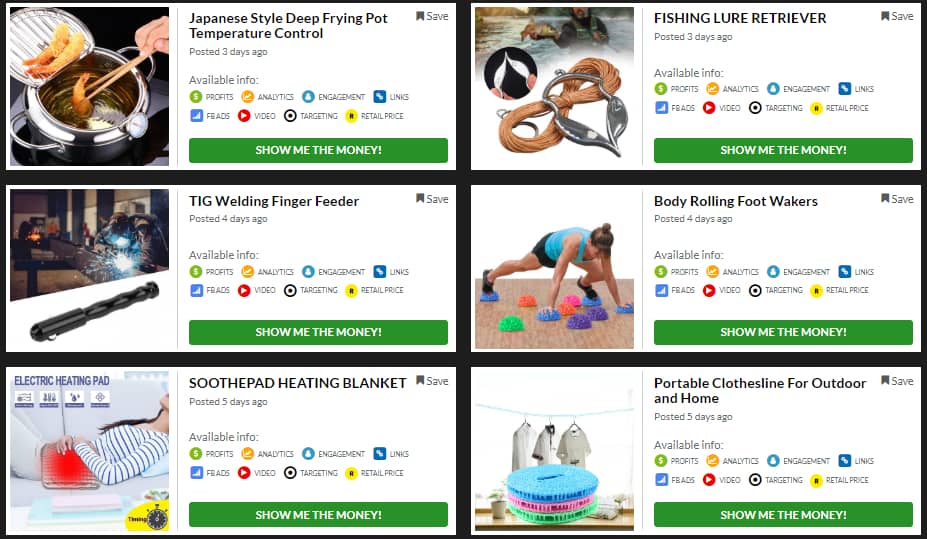 Besides the trending product, EcomHunt allows you to narrow your research based on categories to get a better result.
You have a whole lot of categories to choose from, and they are listed alphabetically.
Some of the categories you'll find are;
Art

Automobile

Motorcycles

Beauty & health

Camping and hiking

computer and office

consumer electronics

Pet products

And many others.
But, it isn't without a shortcoming. EcomHunt only provides trending product data based on Aliexpress and Oberlo (Shopify).
And that's where SellTheTrend excels. Sell The Trend doesn't just allow you to see the trending products on Aliexpress.
The algorithm analyzes the trending products individually based on the platforms. To be exact, Sell The Trend has a separate interface and tool to find the trending products on AliExpress.
There's also a separate interface for finding the trending products on Amazon known as Amazon explorer.
Besides, you can also analyze the trending products on Shopify stores individually without having to use a general result to predict the industry or niche you are going into.
And the most interesting is the Nexus research machine that allows you to find trending products from e-commerce stores around the world.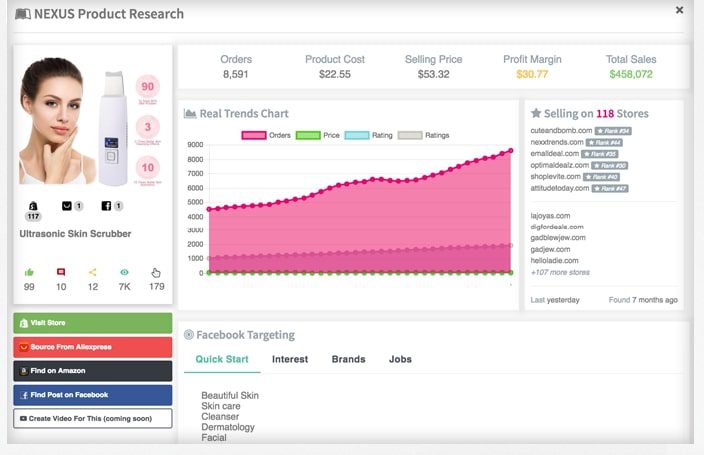 With this, you can guarantee a better and accurate result.
Between, the categories feature isn't missing on Sell The Trend. As expected, Sell The Trend allows you to find products using filters.
The filter allows you to choose a category you are interested in just like we have in EcomHunt.
Sell The Trend wins here thanks to the all-in-one product research tool that allows you to find trending products based on different marketplaces; Amazon, Aliexpress, and Shopify.
#2: Product Profits and Details
Sell The Trend and EcomHunt both excel here. Sell The Trend displays the selling price of the product, the cost, the profit margin, orders, and the number of stores selling the products.
The selling price is the average price of the product in online stores. And this is gotten from different stores.
The orders figure represents the total number of orders the product has gotten in stores. And stores in this place are mainly Shopify stores.
Likewise, EcomHunt doesn't lack here. EcomHunt displays the selling price, product cost, profit margins, and the number of stores selling the products.
But EcomHunt takes this a bit further by including reviews and ratings. These reviews are lifted from Aliexpress, and that could be a way of vetting if the buyer is worth dealing with.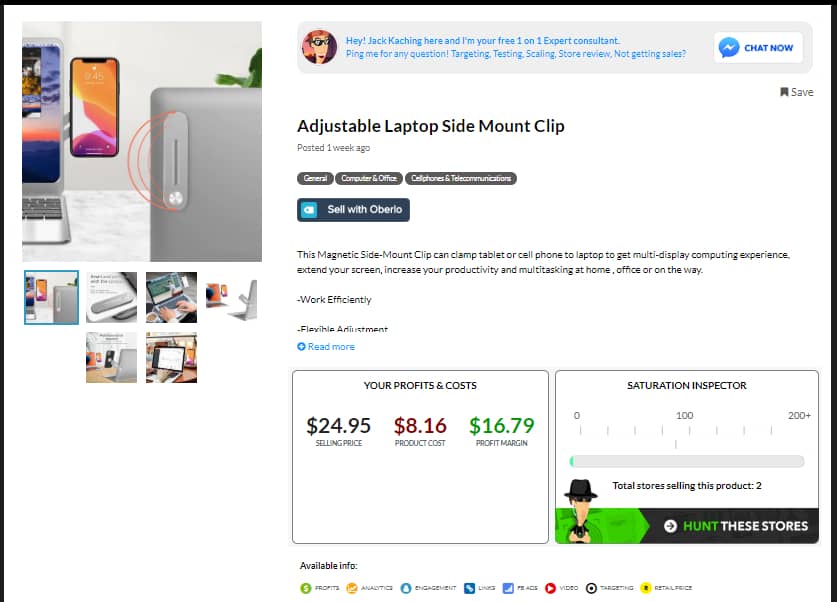 Also, you can also use these reviews on your site in order to build trust with your buyers. As you do know, reviews go a long way in driving sales.
Needless to say, this feature is missing on Sell The Trend.
#3: Importing Products to Shopify
Speaking of dropshipping and eCommerce stores, you can't but mention Shopify. Both EcomHunt and Sell The Trend allow you to import your products to Shopify easily.
In order to import products from EcomHunt, there's a button "sell with Oberlo." The button directs you to the listing on Oberlo, and from there, you can import the product details to your Shopify store.
For Sell The Trend, the process is a little different.
While with EcomHunt, you'll need to go through Oberlo to make the import. But for Sell The Trend, there's no need to do that.
Sell The Trend allows you to import your product directly to your Shopify store. Also, while you will need Oberlo to fulfill your order, Sell The Trend offers a chrome extension for that.
So using Sell The Trend makes the process shorter and cuts out the need for Oberlo.
So, in this section, Sell The Trend wins.
#4: Store Intelligence
A rare feature present in Sell The Trend. With the store intelligence feature, you can easily copy what your competitors are doing with little stress.
The store intelligence feature allows you to put in a Shopify store URL and then get the details of the store including their trending products and their monthly revenue.
You'll also get to see their monthly traffic and other data about the Shopify store.
It's an amazing feature to help you copy your competitors or maybe learn from them. Not to go too far, this feature is missing on EcomHunt.
#5: Influencer Marketing Tool
I don't know what best to call it. But both tools offer different influencer marketing tools to ease your influencer marketing.
For EcomHunt, you'll find an array of influencers listed below your product details.
Those Instagram influencers are possible influencers that have promoted similar products before or those that can be effective for you.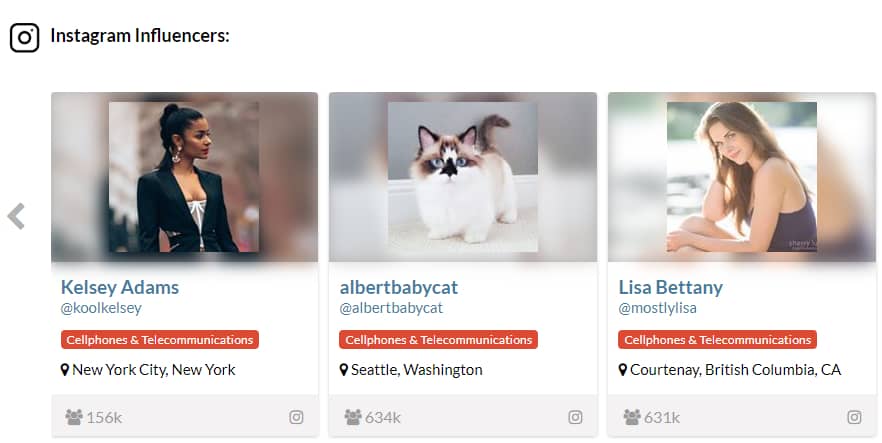 For Sell The Trend, the tool comes in another form. Sell The Trend allows you to see the engagement ratings of influencers.
You get to gauge if the influencer is worth spending on. With this feature on Sell The Trend, all you need to do is to enter the influencer's info.
Upon entering the influencer's info, Sell The Trend displays their followers, comments, and likes. And for Twitter, you get to see the number of retweets.
It's safe to say; Sell The Trend has taken this feature a bit forward than EcomHunt. Because on EcomHunt, you don't get to see twitter influencers.
#6: Facebook Ads Targeting
This is an interesting tool if you don't have any idea of Facebook ads marketing. In order to get results with your ads, you need to target the right audience.
And as a beginner, there's more tendency of not getting it right. So, should you fret? No. Both Sell The Trend and EcomHunt provide a tool to support you in running optimized ads for your products.
Absolutely, the services offered by both differ. For Sell The Trend, the tool is called Facebook Audience Builder. Facebook audience builder helps you to target the right group of people when running ads.
With this tool, you can find an audience to target easily with little to no stress. It's the closest thing to a done-for-you service.
For EcomHunt, it offers a Facebook targeting tool that helps you target the right audience for your product.
You don't have to be an expert to run converting ads on Facebook.
However, if you do have some experience in running Facebook Ads, you would want to make some edits to make it better suited for your store.
Besides this, EcomHunt allows you to copy your competitor's ads and also replicate it for your own store.
The tool is called Adhunter.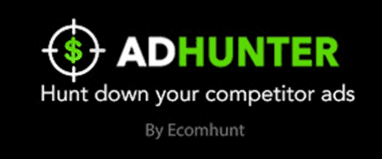 Adhunter makes it easier for you to copy your competitor's ads on Facebook. With the Adhunter, you'll be able to see the Facebook ads engagement, likes, comments, and shares.
However, it comes as a chrome extension and not a built-in feature.
Well, this feature is also present on Sell The Trend as Facebook ads explorer. With the Ads explorer, you can find well-performing ads on Facebook.
But you don't have the option of entering a competitor's address to find their Facebook ads. Instead, you have a few filter options to choose from.
You can search for some keywords, and the tool will bring out all the ads containing that keyword.
You can also list the ads based on the number of views.
#7: Video Creator
This is an amazing tool to assist you with your ads. It's offered by SellTheTrend and missing on EcomHunt. The video Creator tool helps you create short videos that you can use to run your ads campaign
And it does this by allowing you to insert a store's URL, while the tool then imports all images and then compiles them to make a video.
You have the option of choosing the order of the pictures, adding texts in any position, adding music, frame rate, and many others.
#8: Webinars and Video Tutorials
To be honest, no matter how good looking a site is, you still need some appropriate training or tutorial to find your way around the site.
Although, not always, some are very simple and easy to use, that you don't need any training to find your way around them.
For EcomHunt, they offer webinars and tutorials to assist you with learning all you need about the platform. Aside from discussing the platform, EcomHunt also provides tutorials on dropshipping as an industry.
Sell The Trend is not left out. Sell The Trend provides video tutorials to help you with using the tool.
Just like you guessed, not all videos are about Sell The Trend; there are other tutorials on dropshipping too.
Sell The Trend vs EcomHunt – Pricing Plans
In terms of features, both Sell The Trend and EcomHunt do have their wins and losses.
In this section, let's compare the Sell The Trend pricing plan to its opponent.
Sell The Trend Review Pricing Plans
Sell The Trend offers a 7-days free trial with credit card included. That is, you'll need to fill in your credit card information to set up your free trial account.
So after the free trial, if you feel the need to subscribe to a paid plan, you will get two options; monthly and the annual plan.
Both plans give you access to all the tools offered by Sell The Trend, but the difference is the duration of the plan and the cost. Just as you know, for the monthly plan, you'll be billed every month as you move on.
The monthly plans cost $40 per month. For the annual plan, you're billed yearly. The cost of the plan is $33 per month if evenly divided.
So the actual amount you get to pay is $396 per year.
EcomHunt Pricing Plans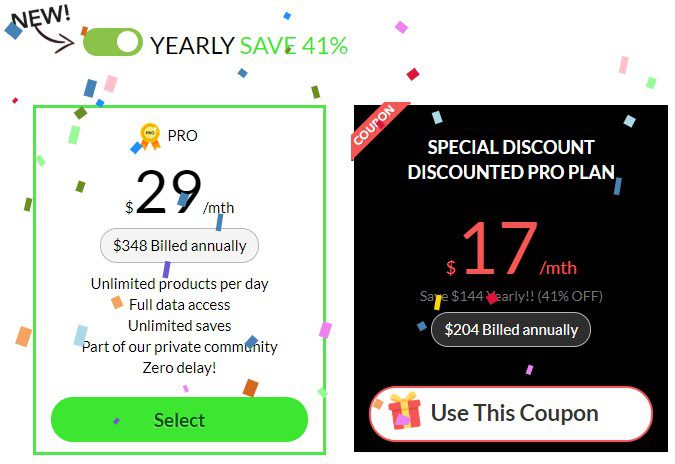 EcomHunt doesn't offer a free trial instead you get a free plan. To be exact, EcomHunt offers basically two plans; free and pro plan.
As expected, the free plan comes with quite a few limitations.
First of all, you don't get to see all the trending products and most especially what you get to see are over a month old trending product.
Besides, you only get to see two newly added products every day. You have access to a maximum of 5 saved products. And lastly, you've no access to the community.
But for the Pro plan, it costs $29 per month. But by using a coupon, you could purchase this plan for $20.
The pro plan gives you access to unlimited products every day, full data access, unlimited saves, and many more.
Sell The Trend Pros
It's user friendly and easy to use

SellTheTrend offers a robust product research tool

Sell The Trend offers a video ads creator.

Offers store intelligence that allows you to assess your competitors
Sell The Trend Cons
Lacks a forever free plan

It's more expensive compared to Ecomhunt.
EcomHunt Pros
EcomHunt offers a Facebook community.

It's affordable

Provides Adhunter tool that allows you to spy on your competitors

EcomHunt provides webinar and training for beginners.

Allows you to easily integrate with Shopify stores.
EcomHunt Cons
Its product research tool is limited to AliExpress

The user interface is clumsy and old-fashioned
Conclusion
Both tools are on point when it comes to product hunting. However, as you can see they both have their strength and weakness.
With the Nexus research tool, amazon explorer, retail explorer, Sell The Trend has taken product hunting to another level.
While on the other hand, EcomHunt performs well in marketing tools for your store products.
To be more detailed, the Adhunter tool by Ecomhunt that allows you to spy on your competitors' ads has no replacement on Sell The Trend.
Besides, the EcomHunt Facebook community is the best thing you can ever ask for as a beginner. To crown it all, it isn't expensive; it's cheap and also offers a forever free plan.
In the end, the decision is up to you. Either a powerful product hunting tool or a powerful Facebook community and marketing tool.
That's it on the Sell The Trend review, which one are you going for? I would love to hear from you.
P.S: If EcomHunt is your choice, then you can leverage the ongoing discount and get started with $17 per month for the annual plan.
Learn More