Systeme.io Review: Best Affordable Sales Funnel Builder Tool?
In today's Systeme.io review, I'll be introducing you to this latest and affordable sales funnel builder tool for your online business.
You'll agree with me, selling products and services online aren't always easy! It goes beyond creating your website and adding products.
There are so many factors to be considered…
You can pay so much for beautiful website customization and pay for tons of traffic and yet still not convert.
Why?
This is because:
Most websites come with lots of exits and distractions
Website isn't designed by default for conversion
There are no back end sales automation on your website
No marketing follow-up in place for captured leads
And so many other reasons…
However, in line to tackle this is the sole reason we're looking into sales funnel solution and all in one marketing platform like Syeteme.io
Systeme.io happens to be sales funnel software that does more than you can imagine by helping you acquire leads, turns them into customers and automate the entire sales process for you.
How true could this be?
Just stay with me and read along as I unclothe everything you actually need to know in this Systeme.io review.
Systeme.io Review
In this post, I'll breakdown everything about this platform and let you see if it's the ideal solution to make you more money in your business.
And at the end, you're going to discover if it's worth your TRIAL, MONEY and also know how legit the tool is before deciding to use it for your business.
But before we go on…
Let's take a look at the highlight of what we're going to be discussing:
What Is Systeme.io
What Is It Used For?
Features of Systeme.io
Systeme.io Pricing
Pros and Cons
Conclusion
Now that we have that out of the way… let's get started shall we?
What Is Systeme.io?
Systeme.io is affordable all-in-one sales funnel software that helps business owners like you and I in build a sales funnel for any business.
Not only does it create a sales funnel for your business, it also helps automate the entire process with other functionalities like creating:
A Squeeze pages
Landing pages
eMail autoresponder
Membership sites
Online courses
Physical product
And few others…
Systeme.io allows you to create a business that requires little to no integration from a third party website.
Everything you need is made available inside one platform. Most of all, it's quite affordable compared to other sales funnel builders out there!
What Is It Used For?
Now that we understood Systeme.io to be an online tool for creating a sales funnel around your business.
Let's see what you can actually do with it.
Since Systeme.io is an all in one marketing platform, it won't be fair to leave you hanging on the thought of "What can it be used for"?
Here, you'll discover everything you can use the System.io software to do and what to expect once you've jumped on the bandwagon.
Below are the core uses of Systeme.io:
#1: Marketing Pages
Marketing pages are pages that actually help with the process at which your products and services are been sold online.
Most importantly they help you make money online with your business. This page includes:
Sales Pages
Squeeze pages
Opt-in Pages
Webinar Pages
Order Pages
Checkout Pages
Etc…
Building all these from scratch will take a lot of time and resources from your business, however, with Systeme.io, you can leverage on the ready-made available templates.
All you need do is select your preferred template and customize it to what you want.
#2: Selling Online Courses & Membership Websites
Systeme.io membership features make it easy for course creator to launch and host their content on the platform for easier access to their users.
Perhaps you've been thinking of creating a course from your skills and passion and you're looking for an easy to use platform…
With Systeme.io you can set everything up like ABCD… without stress unlike using WordPress to set everything up or other expensive course selling platforms.
This software allows you to create coupon codes to promote your course for better conversion and also allows you to create course bundles for more upsell.
Even better is the fact that you get to sell your course using funnel templates available on the platform and every other necessary integration tool without having to use any third-party software.
#3: Building Email List and Follow Up
When it comes to email marketing, Systeme.io has also got you covered. It gives you the ability to capture and grow your email list easily.
Not just that, you can also store them and do follow-up for proper nurturing for your business and all is done within your dashboard.
With Systeme.io you can get up to 15,000 email subscribers with unlimited emails to your subscribers.
The email marketing features let you handle your email properly because email list is very important in every business.
With this functionality, you can directly relate with your customers on an individual level based on their information available.
This includes:
Where they've come from
The product they've bought
Who they are
Actions they've taken…
All this information provides you with better ease to market your subscriber list perfectly and having them constantly engaged.
#4: Shopping Cart Solution
Systeme.io Also allows you to sell your products (physical or digital) with proper checkout functionality without having to stress yourself in the process.
If you're trying to set up a funnel for your dropshipping product where you don't have to handle delivery, with Systeme.io you can easily set this up.
There's no need to integrate with any other third-party software before setting this up. Everything needed is made available inside one dashboard.
All you need do is add your product and fill out the necessary details of the product and you're good to go with your dropshipping business.
#5: Webinar Events
Thinking of creating a webinar to pitch your products? Then Systeme.io has got the right tool for you.
If you've been online for a while you'll understand the importance of webinar and how powerful this tool can be for marketing your products.
With Systeme.io you can run unlimited webinar with the highest-paid plan and pitch your products as many times as possible to your potential customers.
#6: Blogging Platform
The blogging feature makes Systeme.io quite different from the rest of the sales funnel builder tools. This feature makes it easy for you to quickly set up your blog most especially if you're not skilled in web development.
It doesn't require all the technical steps when it comes to creating a blog with WordPress. Here you just need to create your blog and start posting.
#7: Affiliate Management
The affiliate management features is an amazing features that lets you have other people promote and drive traffic to your business.
Systeme.io lets you have army of affiliate creating awareness for your business and you can easily manage them from your dashboard.
From your dashboard, you can customize the way you want your commission structure to look like and you can add other promotional materials.
Systeme.io Review: Features
Having seen what you can actually do with this software, let's see some of its other features to know what else they've got to offer.
#1: Ease of Use
Systeme.io drag and drop features make it pretty easy to quickly get around the whole funnel creation phase to launching your campaign.
The software interface is user friendly, making it easy to create beautiful pages and designing them to what suit your business.
Even if you're a complete beginner, you'd find it easy to use and easily create pages as a result of the drag and drop features.
No coding skills are required and you can have everything up and running within few minutes.
#2: Getting Onboard Video Course
The on-boarding video course will walk you through the whole process and features available on the systeme.io platform.
It includes how to create your first page or understanding how to set up your first email campaign or creating your first product.
So even if you've never build a website or webpages before the drag and drop features coupled with the video training will serve as guide to put you in the right direction.
#3: A/B Split Testing
The A/B Split test allows users of systeme.io to compare funnels templates or two versions of funnel template variants to see which one converts the best.
This, however, isn't limited to funnels, this could be anything like variations of your;
Landing pages
Ads copies
Squeeze pages
Opt-in pages
Media etc…
This could be basically anything; the point is to discover the best version that converts the best or the one with the best results.
#4: Payment Integration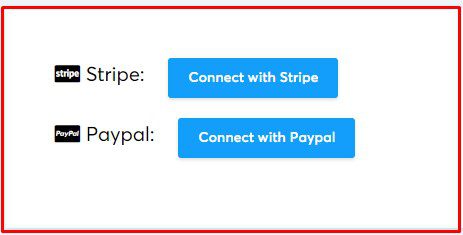 Systeme.io allows you to integrate with two of the most popular payment processor which is Stripe and PayPal.
This will allow you the ease of selling to any country in the world without worrying about how to receive payments from your customers.
#5: Custom Domain
Adding custom domain increase the branding of your business and it also helps in getting the word out quickly to people that might be interested in your services or product.
With this, your customer will be more assured and also have more confidence in what you're selling to them.
Systeme.io gives you the ability to add up to 5 custom domain names to any of your sales funnels or services and products you're trying to sell.
The 5 custom domains are, however, available on the enterprise plan while the previous plan makes it 2 custom domain connections.
#6: Automation
The automation feature makes the systeme.io software a unique platform that provides you with a hands-free method of running your business.
Once your funnel and necessary web pages are created and launched. You can relax and let systeme.io automate the entire process from lead acquisition to email follow-ups and the actual sales.
You just need to set up your sales funnel and systeme.io takes it from there.
#7: Email Autoresponder
The email Autoresponder saves you from paying additional fee to third party email providers. With this features, you can acquire emails and organize them with tags for proper marketing.
Best part, everything is managed from one single dashboard which makes it indeed an all-in-one marketing platform.
Systeme.io Pricing
Systeme.io offers a flexible and affordable pricing plan which makes it a unique platform for all. It also comes with a 14 days trial to get started.
So basically they have 3 pricing plan which is Start-up, Webinar and Enterprise packages.
Let's break it down and see what each of the plans has to offer.
#1: Startup Plan/ $27 Per Month
The startup plan is the cheapest plan and it cost $27 to get on board. It gives you access to 5k subscribers and also lets you create up to 3 membership website.
Other Pricing Features Includes:
Up To 5000 Contacts
Send Unlimited Emails
Create Unlimited Funnels
You Can Create Up To 3 Membership Sites
Unlimited Membership Sites Members
Access To Unlimited File Storage Space
Complete Marketing Automation
1-Click Upsells
Order Bumps
Stripe Integration
Paypal Integration
In-House Affiliate Program Management
Access To Support Within 24hours
The Startup plan also comes with a 14days money-back guarantee if at one point or the other you're not happy with what you're offered.
#2: Webinar Plan/$47 Per Month
The webinar plan gives you access to 10k email subscribers, 5 membership website and ability to host 3 evergreen webinars.
It also lets you create or add to custom domains.
Other Pricing Features Includes:
Up To 10000 Email Subscribers
Send Unlimited Emails
Create Unlimited Funnels
Build Unlimited Blogs
Create Up To 5 Membership Websites
Add 2 Custom Domains
Access To Unlimited File Storage Space
Unlimited Members
Complete Marketing Automation
1-Click Upsells
Order Bumps
Stripe Integration
Paypal Integration
Access Support Within 24hours
Create 3 Evergreen Webinars
Coupon Codes
A/B Tests
This is the most popular plan on Systeme.io and it includes all necessary features to scale up and optimize your business.
It also comes with a 14days money-back guarantee.
#3: Enterprise Plan /$97 Per Month
The enterprise plan being the highest plan provides you access to everything the software has to offers. It comes with 15k email subscribers 5 custom domain and several unlimited features.
Other Pricing Features Includes:
Up To 15000 Email Subscribers
You Can Send Unlimited Emails
Build Unlimited Funnels
Start Unlimited Blogs
Create Unlimited Membership Sites
Add Up To 5 Custom Domains
Access To Unlimited File Storage Space
Unlimited Members
Complete Marketing Automation
1-Click Upsells
Order Bumps
Stripe Integration
PayPal Integration
Run Your In-House Affiliate Program
Access To Support Within 24hours
Create Unlimited Evergreen Webinars
Create Coupon Codes
A/B Tests
1 Hour 1-On-1 Coaching Session
Pros and Cons
Let's take a look at some of the pros and cons of systeme.io whether or not it's going to be ideal for your business.
Pros of Systeme.io
Unlike other sales funnel software, systeme.io is quite easy to use and easy to understand even for a complete beginner.
The price too is quite affordable compared to their competition like Kartra and Clickfunnels. The first plan makes it easy to jump on board and see what the platform offers.
Systeme.io comes in 2 languages which are currently French and English this makes it easy for more users to get on board from non-English speaking countries.
14Days Money Back Guarantee
If for any reason you happen not to like the software after gaining access, you have 14days money-back guarantee to seek a refund with no questions asked.
Cons of Systeme.io
Well, not all is sunshine and rainbows when it comes to systeme.io. It also has its own shortcomings like every business out there!
This includes in terms of payments and other third-party tools. The payment processor available is only stripe and PayPal.
This means users in countries where PayPal and Stripe don't work might not be able to sell in local currencies.
Conclusion
I have an account myself and I think it's totally perfect for anyone who would want to give it a trial. Systeme.io comes with 30days trial.
I believe this is more than enough for anyone who would want to test how the platform works.
However, you should also know that systeme.io is a new platform and they bring more and more features on board with no additional cost to the existing users.
So if you've haven't joined this might just be the right time to get onboard. That's all on today's systeme.io review, let me know what you think about the software.
Learn More