SaleHoo vs Oberlo: Which is the Best Dropshipping?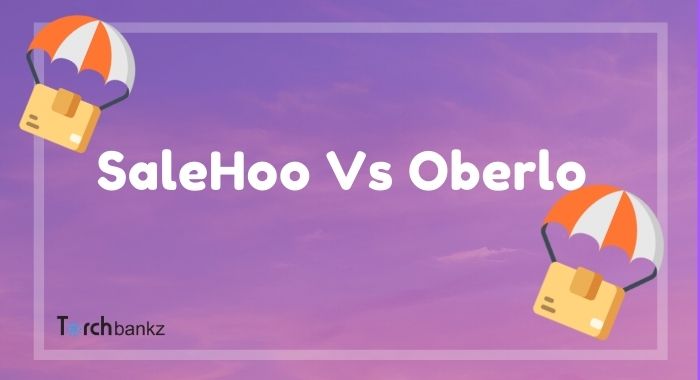 Are you stuck picking the best dropshipping tool between SaleHoo vs Oberlo? Speaking about dropshipping solutions, Salehoo and Oberlo are the main plugs.
These two provide access to wholesale directory services on the internet and act as an automation tool for your dropshipping business.
Thousands of businesses have risen thanks to dropshipping tools like Oberlo and SaleHoo simplifying the process.
This blog post is centered on comparing Salehoo vs Oberlo to which is better? I'm sure you would have been ruminating on this for a long time.
You should also know that there are a lot of differences between the platforms and we will try as much as possible to clarify all facts about the tools (SaleHoo vs Oberlo).
Both are amazing, but we will highlight their differences in this article for you to know the better side.
Considering the features, the pricing, and the differences, you should answer this BIG question for yourself.
Let's get started.
What is Salehoo?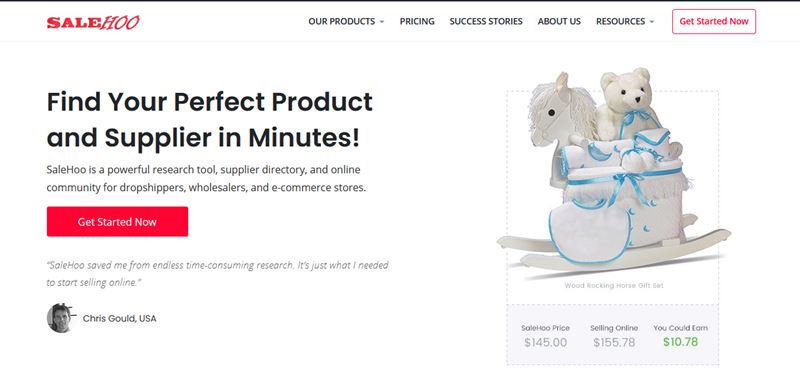 Salehoo is a top-rated online wholesale directory. They have thousands of manufacturers, liquidators, and wholesalers that offer directories in selling items for magnanimous profits.
This basically means if you want to sell products online without wanting to invest in product inventory, then SaleHoo has got you covered.
They protect you from doing business with fake suppliers that might rip you of your hard-earned money by linking you with only vetted suppliers.
Best of all, SaleHoo recently developed a new tool… called Salehoo Dropship. This tool helps integrate your Salehoo suppliers directly with your Shopify store.
With this, you can import products and fulfill orders automatically on Shopify using the Salehoo dropship tool. More on this later…
What Makes SaleHoo Unique?
What makes Salehoo unique is that they scrutinize the suppliers in their directory.
They don't just feature suppliers carelessly. Before you can use the directory, you must have gone through specific high standards.
It is done now and then to ensure the safety of goods and services. One of the biggest problems you encounter is trying to put your trust in a supplier as a retailer.
Retailers are afraid of this because of the fear of scams. Although, it can be depressing when you get scammed of your money while running a business.
Using the Salehoo directories, you are free from the worries of fraudulent activities.
They provide a portal that gives valuable information about the shipment of goods, sourcing for items from the best suppliers, etc.
Salehoo has helped more than 100,000 businesses and establishments to source for trustworthy and low-cost suppliers.
They are accommodating with information. Most times, people end up getting more insights than they want.
What is Oberlo?
Oberlo is an online platform that makes it painless for you to sell goods. They give access to various learning materials on their Blog.
These materials provide content on dropshipping, marketing, retailing, etc.
Basically, what Oberlo does is that it syncs the products you want to sell from AliExpress to your Shopify store.
These include the product image, description and also help you update the product inventory automatically.
This way, you won't have to promote products that are out of stock from the supplier on AliExpress because it auto updates it for you.
What Makes Oberlo Unique?
You have access to a wide range of products on Oberlo. They help you find products from reliable suppliers from AliExpress using scores rating.
Oberlo is one of the best dropshipping software for eCommerce. You don't need to search for manufacturers yourself; their services take care of that.
Oberlo is free to use under some considerations on import and export. So many online stores make use of Oberlo for the importation of products.
The wholesale directory allows you to rebrand your products, change the cover images and names. Your products don't necessarily have to be displayed like everyone else's.
You can edit the description of your products, too input keywords that boost SEO. Oberlo makes it easy for customers to complete an order once necessary payments are made.
You can keep track of your sales to know the products that need to be supplied. You can refresh your store to adjust sales progress.
SaleHoo vs Oberlo: Main Difference
People always ask for the differences between Salehoo and Oberlo, knowing fully that they both help you sell products online.
However, there are differences between them, and you should be aware of these before signing up for either of them.
Still with me?
#1 Supply of Products
Salehoo is an online company that assists you in looking for a supplier.
They don't just provide suppliers; they give the best to avoid scamming and the supply of counterfeit or low-quality products, and bad services. With Salehoo, your money and products are safe.
For Oberlo, they synchronize your supplier's products to your store. It means they update every description of your products -from the images to the inventories- on your store.
You receive regular updates on the status of your store. So in an actual sense, they don't provide access to suppliers only work with what's available on AliExpress.
However, they do provide tutorials and guides, in fact, one of the best on dropshipping and how to scale your business.
#2 Sales of Products
With Salehoo's Research tool, you will be able to find the trending and latest products online. The taste of humans changes every minute; one minute, they like this, the next minute, they lose interest.
Salehoo got you on that part; they search online markets like eBay, Amazon, etc., for the hottest products that give a high profit.
Oberlo handles the automatic constant updates of your product's inventory. The changes in prices also get updated alongside.
It means you won't mistakenly sell a product that is out of stock. You won't even sell over the regular price because the prices are automatically updated on the site.
For instance, Oberlo provides an automatic update on the supplier's product, Salehoo scrutinizes the suppliers if they are completely legit.
#3. Product Sync with eCommerce Platform
The primary purpose of the Oberlo app is that it helps you sync products on AliExpress directly with your Shopify Dropshipping store.
This means, whenever you see a product you like on AliExpress, with the help of Oberlo you can easily import every details of that product to your Shopify store.
These include product variations, images, description,s etc. You can also edit to your preferred taste. SaleHoo on the other hand not only provides access to Suppliers they also help integrate your store with AliExpress.
So with this, you can basically do everything the Oberlo can do using the Salehoo dropship app.
If you'd ask me I'll say Salehoo is more like an all in one dropshipping platform just like Spocket. While Oberlo is merely a syncing tool for Shopify and AliExpress.
Salehoo – Main Features
Let's see what's unique about SaleHoo as compared to Oberlo.
#1. Astounding customer service
"Customer satisfaction is our pride" is not just a cliche for them; it is in their practice.
They have a tireless customer service team. Salehoo seldomly has issues concerning supplies and business, but if the need arises, the team must rectify any errors as soon as possible. They deal with customers with utmost kindness and respect.
Some retailers had canceled the ties before and needed a refund; the refunds were made promptly without hassles.
They give quick responses to queries from customers. There are reviews of customers testifying to the selfless help of the service team.
The FAQ section offers more support than customers need.
#2. Access to Educational materials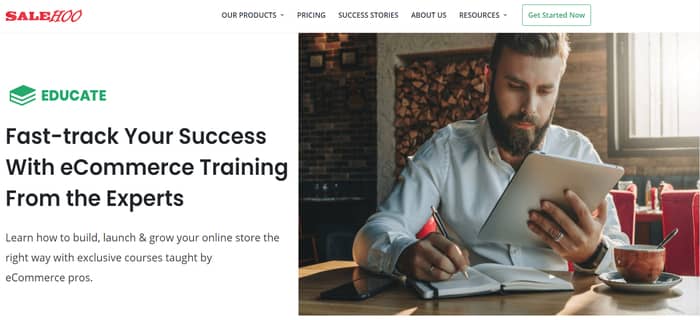 Salehoo offers educational guides on their education portal. These guides answer countless questions about wholesaling, dropshipping, etc. From the guide, you can understand how to find the best items to sell. Some things are best sold in a niche at a particular time; they provide vital information like this.
For international sales, they also give guides to open your knowledge about importation and exportation of goods.
They feed you with details on finding the right items to sell and getting the right source to supply these items. The guide extends to giving you tips on how to prevent scams and fraud.
#3. Busy community forums
Salehoo organizes encouraging forums for Salehoo members. In forums like this, thousands of Salehoo members gather to share information, rub minds together, provide advice, etc.
The community manager also provides answers to the troubling questions bothering the members. They share tips on how to boost your business.
This selfless service comes from the willingness to serve people. Some customers have used the information gotten from the forum to establish a fast-growing business in the online world.
In these forums, you also meet people who have been in the game before you; you can hook up with them and start something big!
#4. Updated blog posts
Salehoo regularly refreshes their blog posts. These posts consist of helpful articles, reviews, and how-to contents to suit your business. They provide selling tips for the customers.
These posts also contain solutions to particular problems that online retailers face. As an online retailer that wants advice on business management, you can get help from articles.
There are reviews to blow your mind even if you doubt the service of Salehoo. They don't limit their articles to local businesses; Salehoo provide contents to help customers orchestrate a seamless international transaction.
They have posted on how to sell on online stores like Amazon and eBay. With Salehoo guides, you can't run at a loss.
Oberlo – Main Features
Let's go over the main features of Oberlo as compared to SaleHoo.
#1. Freedom to change suppliers
Oberlo gives you access to change the suppliers of your products. You can use multiple suppliers for different products.
With Oberlo, you can be sure to rely on these suppliers. Each supplier has its pricing and delivery time.
As an online retailer, you will come across customers who love to buy products from a specific maker; patronizing multiple suppliers can give you the edge of providing various choices.
#2. Automated Product updates
Oberlo automatically refreshes the product inventory. This feature gives you the advantage of evading the risk of negotiating on a good already out of stock.
With regular updates, customers can know about available goods. Automatic inventory updates save you a lot of time.
You don't have to go through the stress of collating and keeping inventory records and reports.
Another benefit is that it saves you from negative reviews and comments from customers.
They would discredit your business when they find out that what they ordered is out of stock. Negative reviews can ruin the credibility of a business.
#3. Customization of Goods
Oberlo allows you to change specific details concerning your product. You can make your products stand out from others by customizing them.
Change the titles of the products to something attractive and catchy; it converts traffic to your store. You can also change your products' cover images to depict a clearer picture of stock.
Every online product has extended details attached to them. You can edit the details of your goods, fix specific SEO keywords, and underscore the benefits of having those goods. Steps like these can increase the traffic to your store.
#4. Automatic tracking of orders
Online customers always quest for a speedy response to orders made on an online store.
In addition to the quick response, they appreciate detailed feeds on the delivery process.
Oberlo makes an order and delivery process swift and problem-free. Once you have confirmed the payment, they organize a fast and simple delivery.
When you notify the shipping service of the product you want to deliver, Oberlo will provide seamless tracking of the orders.
With this tracking, you can monitor the status of your customer's goods. However, this feature is only available for people that subscribed to higher plans.
Salehoo vs Oberlo – Pricing
Here, we'll see how they both fare compared to each other in terms of pricing.
Salehoo pricing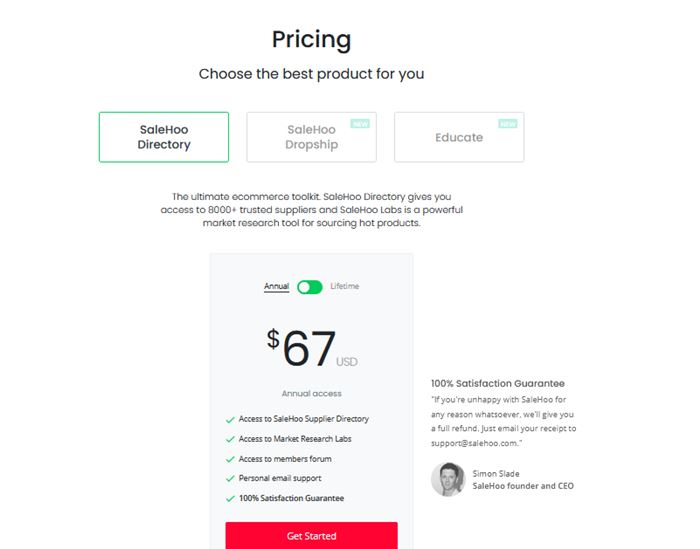 Salehoo directory used to cost $67 for a lifetime membership as a retailer. But now, the services and program have been upgraded and rebranded a lot. The price has gone up; it is now $67 for a year.
The new price is to cover the new features and add-ons. They have improved the search feature and improved the app functionality.
There are new suppliers added to improve the service.
The membership price is $67, and you will have so much to benefit from the platform. Some of the benefits are:
#1. Access to community forums
There are amazing and supportive discussions that can blow minds in the forums organized by Salehoo.
In these gatherings, there are helpful tips to help you grow your business within a short time.
These tips are directly heard from experts, not just some mediocre trying to win people's hearts.
Selected leaders provide solutions to pressing issues bothering the members. They also help you on how to avoid unnecessary risks.
#2. Partnership with lots of suppliers
Salehoo provides daily updates on newly recruited suppliers added to the platform.
Currently, there are more than 7000 suppliers available, and more are adding up daily.
It gives you the freedom to choose the suppliers you desire, change suppliers if need be, and also meet new people as they are added.
#3. Research and analysis tool
This tool keeps you updated on the latest trends of products, not just the latest products but products that yield handsome profits.
Every time, they research products that you can quickly sell online and put you through it.
#4. Full customer support
Apart from the regular support the customer service team renders, they go further when you are on paid plans.
They provide emails to drop messages based on what you are facing; there are also chat platforms that you can communicate them on.
These benefits are what you need to enjoy for your business to top the big leagues.
Oberlo Pricing
First of all, do you know why Oberlo still stands out from all other online wholesale directories companies?
Yes! Even in terms of pricing, they are different. Oberlo offers a free lifetime option; I'm sure there are not many companies that provide this.
Some other platforms give you trials for some days, after which you have to subscribe to continue enjoying the service. Oberlo allows you to continue with the free plan,
However, there are features attached to the free plan. Examples are:
Unlimited monthly orders
Automatic product pricing
Sales reports
Inventory updates
Chrome extension, etc.
These are small out of the benefits you enjoy despite being on the free plan.
Now, moving to the paid plans.
There are two main paid plans in Oberlo; if you want to enjoy the full features of Oberlo, you need to subscribe to these plans. They are 'The Grad Plan' and 'The Boss Plan.'
The Grad Plan –
is available for $7.90 per month. For this plan, you would enjoy everything in the free plan and some other essential add-ons.
You would be able to manage more products in your store. Some other features you can enjoy from the Grad Plan are:
Access to multiple suppliers
Affiliate program support
Tracking of orders
These extras are essential to every online business.
The Boss Plan –
is the most expensive and advanced plan of Oberlo.
The plan costs $29.90 per month. Although the fee is quite high, it is worth considering all the features you are open to.
You get to enjoy all the benefits associated with the Grad Plan and even more. Your product limit for this plan is three times higher than the limit for the Grad Plan.
Additionally, you have access to multiple accounts; different people can manage your company from their profiles.
When you can have the financial strength to use this plan, trust me, you would be overwhelmed with the advantages of subscribing to it.
Salehoo vs Oberlo: Conclusion
Oberlo and Salehoo are the top of their kind in the world. They both work to give you a seamless service, boost your businesses, and make you recognized worldwide.
Oberlo is an app that converts your website to a dropshipping store, while Salehoo is a wholesale directory that looks for wholesale and dropshipping suppliers and also integrates products to your Shopify store.
After comparing and contrasting, Salehoo is the better one. Salehoo offers almost all the services that Oberlo offers. However, for some businesses, Oberlo might offer what you need. But overall, Salehoo is better.
Which one are you going for? Leave a comment below.
Learn More: